The anticipated UEFA Champions League quarter-finals draws were finally out and trust me, it is quite interesting. The tournament is just getting started because this is where it gets heated up. This is the stage where the very big boys get to play against another big side. Maybe I could say that it is the stage in the competition where the best of the best meets and only the best side will scale through. Remember the saying that goes thus; to be the best, you have to beat the best. I say again that every of the game will be very interesting to watch.
---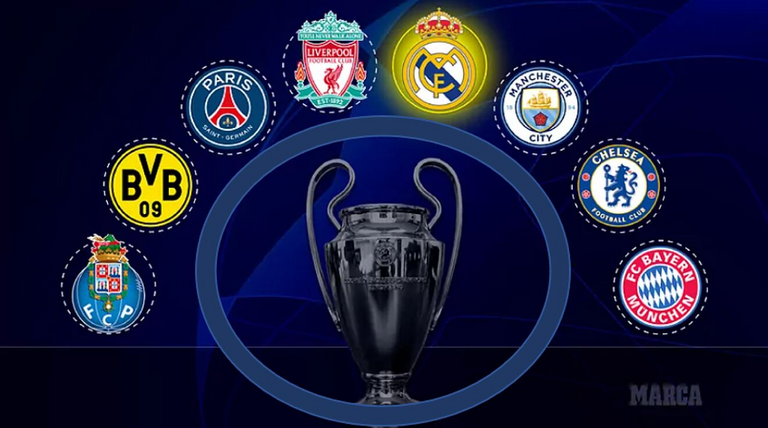 source
---
Also, it is a knock-out stage so, I'm expecting to watch tough matches because once you lose on aggregate, off you go; back to your home till next season. So, we look forward to seeing a lot of emotions after each game including the happy ones and the sad ones. I can quite remember Neymar Jr and Mbappe crying their eyes out when Paris St Germain were being defeated by the German side, Bayern Munich in the finals of the 2020 Champions League season. The sad truth is that two sides cannot win one trophy; only one team will get to be Champions.
---
Tears won't cease but if you don't want to cry or be moody after the game, ensure to give in your best as an individual and as a team when in the field of play. Scoring opportunities are usually rare and once a player gets such opportunity to score a goal, he should ensure to capitalize on it. This is one reason I was a bit upset while watching Sadio Mane mess up some fine opportunities for scoring in the game against Wolverhampton Wanderers in the EPl recently. Thanks to Diogo Jota, Liverpool won.
---
The Road to the Finals
The most interesting and outstanding fixtures are that of Bayern Munich vs Paris St Germain (PSG) and Liverpool vs Real Madrid. For me, I see the Real Madrid vs Liverpool fixture to be like the revenge of Monday Night RAW in wrestling (lol); it's a payback game for me. Who is paying back who? Who is revenging? - Liverpool FC. In 2019, Liverpool met Real Madrid in the Champions League finals and it didn't end well for Liverpool. Real Madrid got to win by a 3-1 scoreline. Aside from the costly errors by goalkeeper Karius of LFC, Liverpool's key player, Mohammed Salah was being fouled and injured by Sergio Ramos which appeared to be premeditated.
---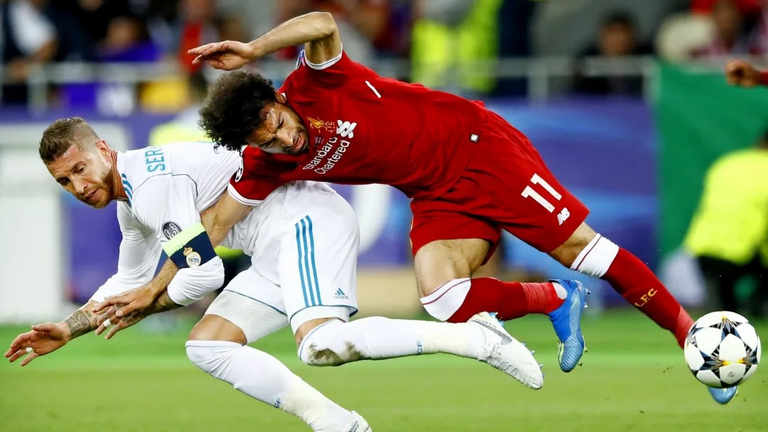 source
---
The annoying part was that Sergio Ramos wasn't being shown a yellow card and because of the hand injury, Mohammed Salah who was in top form then was being substituted from such a crucial game. This grossly affected the outcome of the game. Liverpool were now a bit disorganized and less of a threat to Zidane's men then. Sadio Mane was almost being the only player for Liverpool that night and he scored the only goal for Liverpool. You needed to see Salah shedding tears; I felt sorry for him but if he had acted smartly, the hand injury for him would have been avoided.
---
I'm still wondering why Sergio Ramos wasn't being cautioned for such an act because it looked like a pre-planned action. Salah was key and more like the point man in the game for Jurgen Klopp. Eliminating him was a great strategy from Sergio Ramos, I must say. However, Liverpool played the finals in the next season and they came out victorious as they bagged their sixth major European trophy. Six Champions League trophies is such a great achievement for Liverpool and I'm hoping that they will win more in the neareas future. So, what revenge and payback I'm I talking about?
---
I'm in no way saying that a Liverpool player should give a Real Madrid player any critical injury; far be it from me because I personally dislike rough plays and bad tackles on an opponent. The more reason I wrote about Thiago Alcantara in one of my publications. The payback I want is that Liverpool should eliminate Real Madrid. This I know will be painful for them; they better not let the Spanish side defeated them twice in a row. They have all it takes to beat Real Madrid. It's not going to be so easy but with more hardwork and carefulness at the back, they can progress to the semis. What a joy I will have!
---
However, I don't know what will be the outcome of the fixture but I'm hoping for the best for the Merseyside Reds. Although Real Madrid are not really in their best form (as well as Liverpool), they have a lot of experienced players in their line-up in the persons of Luka Modric, Sergio Ramos, Karim Benzema and a lot more. So, it's not going to be an easy one for both sides hence, we're going to enjoy watching it - that I know. But my bet is on Liverpool to qualify.
---
Bayern Munich vs Paris St Germain
This is the biggest fixture for me in this stage of the Champions League. It's going to be quite interesting watching two elephants fight for just one slot. Bayern Munich are the defending Champions of the competition and they have shown that they deserved the trophy. They are mostly known for their brutality in scoring their opponents; need I mention that they trashed the might Barcelona 8-0 last season? The list is actually long. I mean, the German machines are a really strong team to play against, well-coordinated at the back, highly composed in the midfield and accurate in the frontline. They ensure that they capitalize on every opportunity they get and this has been helping them scale through.
On the other hand, Paris St Germain is also a good team with great and experienced players. My only problem in the squad in Neymar Jr who always prefers making shows than being more of a team player. I think that he hangs on the ball too too much and this is not good for the squad. PSG thrashed Barcelona to qualify to this stage and this shows that they mean business. It has been a long while a French side won the UEFA Champions League trophy. Hence, I think they are going to narrowly defeat Bayern Munich to get to the semi-finals of the tournament. The scoreline I'm finding difficult to predict but my bet is on PSG. Reason being that I do not want Bayern Munich to win the trophy back-to-back. Not a good reason though...lol
Furthermore, more pleasing to me is the fact that we have three English league teams in the quarter-finals stage and they are; Liverpool, Manchester City and Chelsea. The last time this happened (2019), two English teams played the finals. Can we see a repeat? That I cannot say. Manchester City have been very fierce and ruthless this season as we have seen them smash any side that opposes them. They have been quite aggressive in their scoring and this has made them very successfully not only in the Champions League but in their domestic league as well. Pep Guardiola's men will be playing against Borussia Dortmund and I am tipping them to be the heroes on aggregate. So, I'm betting on City to win.
Chelsea on the other hand have been very consistent and improved ever since Frankie departed and Thomas Tuchel came in. This consistency has seen them getting into the top four in the EPL. Their defeating Atletico Madrid flawlessly shows that the mean business but FC Porto are looking more dangerous. So, should FC Porto qualify, I won't be surprised. The Portugal side are the reasons behind Christiano Ronaldo's absence in this stage of the tournament so, everyone should be on the watch out of this side; they could surprise everyone.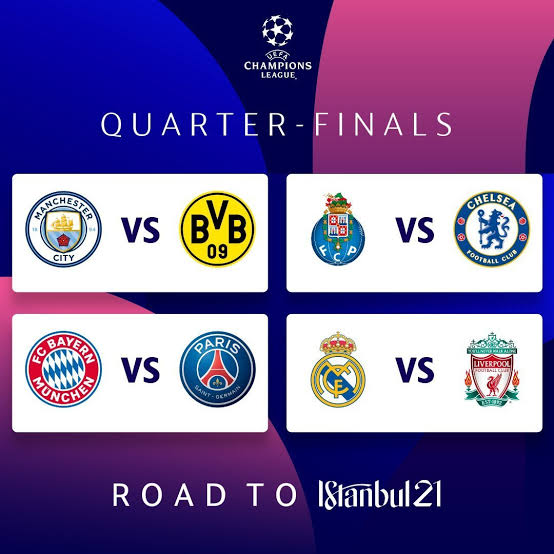 source
---
It is going to be an interesting quarter-finals that will see four teams being eliminated while four teams progress. From my predictions, these are the sides I think will make it to the next round; Liverpool, Manchester City, FC Porto and PSG. I could be wrong though but let's watch out and see what will unfolds.