A GREAT SPIRIT FROM CHELSEA DESPITE BEEN A MAN DOWN TO EARNED A POINT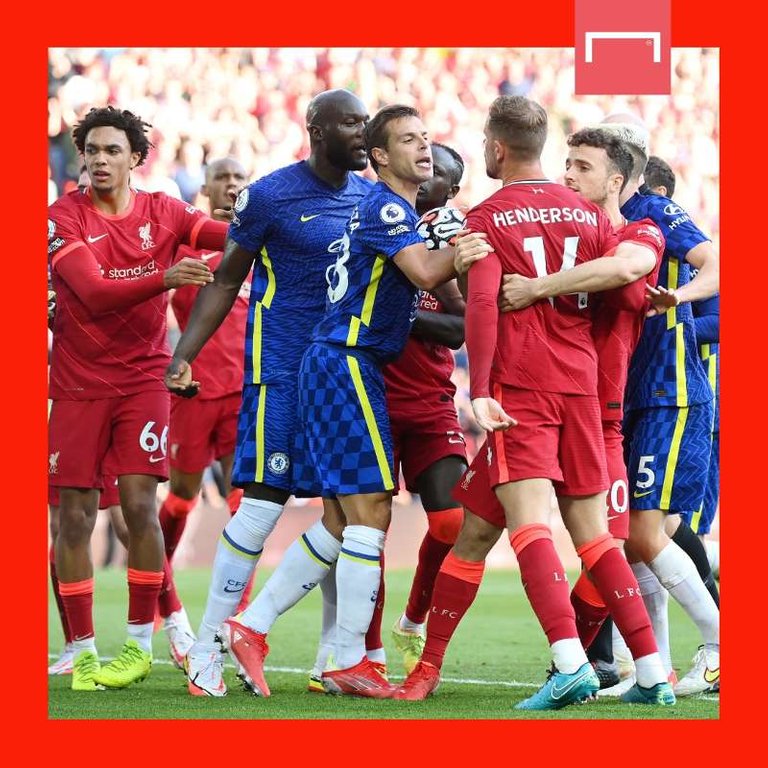 sources
Liverpool vs Chelsea match is the mouthering match for this weekend as Chelsea demonstrate their defensive prowess despite having a one man down to hold Liverpool down and settled for a draw.
Chelsea had been leading, through a clever header from Kai Havertz from Chelsea corner kick with the clock ticking toward halftime when Reece James handled the ball on the goal line and being sent off and awarded a penalty to the Liverpool side.
Sallah converted from the spot kick sending Mendy to a wrong side and eventually we go in to the halftime with a 1-1 draw .
Liverpool started brightly in the second half knowing that they have the edge ahead of 10 man Chelsea but they could not go through the wall of a very defensive Chelsea side.
Chelsea don't have much to do in the second half as they are busy trying to keep Liverpool at Bay for the whole 45 minutes of the second half to get a vital point the really worked for.
Chelsea new striker Romelu Lukaku don't really have a glamorous second half because he was busy running and darting into the space of either side of Liverpool central defenders hoping for rarely ball that barely comes.
Lukaku spent much of the second half going backward, rather than forward because he is contributing in helping the team defensively.
And despite all the stone thrown at my Chelsea we surely contain it and settled for a point.
I felt so happy to shared the point with Liverpool side after my Chelsea have fought all the way to overcome their threats. It was a good outing for my darling club.
---
---