After two amazing evenings with Champions League football, I am now ready to stream some Europe League football tonight. And I was extremely happy to discover that I can stream all the fun on CBS All Access in the USA (for which I have a subscription). And even cooler, they even have this program called The Golazo Show in which they show the highlights from all the ongoing matches. In other words, I get to see all the goals from all the matches, as it takes place and happening!
Of course, there are some matches more interesting than others tonight. The highlight is Real Sociedad vs Manchester United, but I am very curious to see how Arsenal will perform against Benfica as well.
However, all the other matches are interesting as well. Will AC Milan get an easy win against Red Star (I doubt it)? What about Tottenham against Wolfsberger?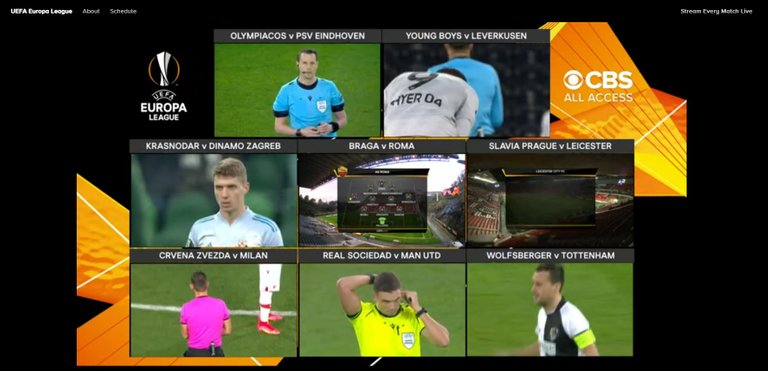 Watching highlights from all the ongoing Europe League matches on CBS All Access in the USA.
I have a feeling, that it will be an evening packed with surprises. I will not be surprised if Real Sociedad can beat Manchester United, and even though the English team might be considered favorites, Real Sociedad is one of the best teams in Spain, and that says a lot.
After less than 2 minutes, Real Sociedad had a great chance at getting a lead after an ugly mistake from Manchester United, but they were lucky to keep the goal clean.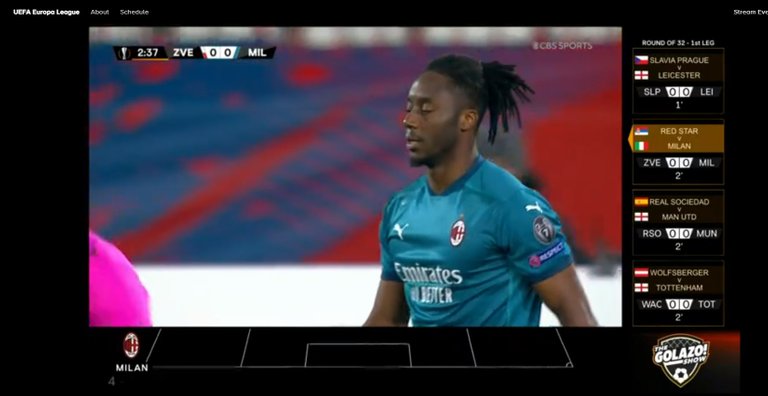 Here I am seeing highlights from Red Star Belgrade against AC Milan. Ibrahimovic did not start the match, but he might get in later. Instead, Mario Mandzukic is in the starter. I am curious to see if he will be able to deliver!
Matches played elsewhere
It is also interesting to see that quite a lot of matches tonight are played at alternative venues. Just like RB Leipzig played their match against Liverpool at the Puskas Ferenc Arena in Budapest (Hungary) due to German COVID regulations, the same is happening tonight as Wolfsberger is playing against Tottenham at the same stadium in Budapest. The match between Real Sociedad and Manchester United is played at the home field of Juventus in Turin in Italy.
So, the home-field advantage isn't the same as before, and considering that all matches are arranged without an audience, I guess the home-field advantage doesn't really matter at all anymore!
---
Which matches are you looking forward to tonight?