This is the day I have been looking forward to since the start of Euro 2020. It is time for Group F to be released, and it is going to be powerful. Not only because of the match between France and Germany that will be played at 21.00 tonight, but also because Hungary will play against Portugal at 18.00, and considering that I live in Hungary, it is going to be a blast!
And let us not forget, Ronaldo also expressed that he was looking very much forward to play a match in front of a packed stadium, knowing that Puskas Stadium in Budapest is the only one that will be packed to 100% during the European Championship in football (meaning that there will be more than 60,000 people present).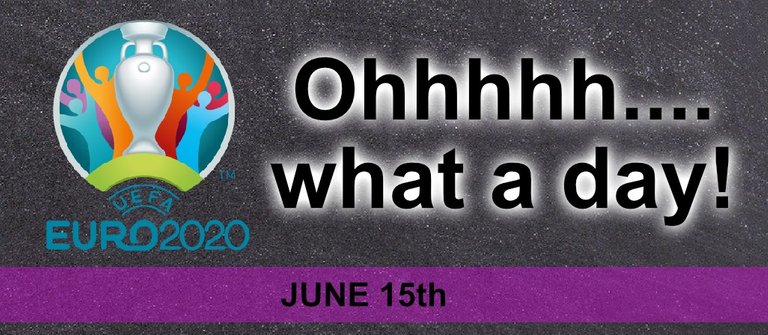 Will Hungary stand a chance against Portugal?
Portugal has one of the strongest squads in the entire tournament. If you look at the team, you can easily say that Hungary doesn't have a chance at all. But, we really shouldn't forget that it is said that 95% of the audience at the stadium will be Hungarians. And we all know how it can impact players in a positive way when they have a big stadium cheering for them and when they play with their hearts and fight like lions. I believe the fighting spirit of the Hungarians might cause trouble for the Portuguese team today.
Of course, I don't really believe that the Hungarians can stand up against the Portuguese super-power, but I do have a slight hope at least that they might surprise, and that they can even get a goal or two. Because, the Hungarians have a good habit of scoring goals in almost every match they play, and that might make tonight's match very interesting!
What about France - Germany?
The match between France and Germany will be the very highlight of the first leg of group stage matches. It is going to be crazy! France is the favorite, but the last German match ahead of the tournament was extremely promising (against Latvia), and we all know how German discipline is capable of miracles. We also know how it is illegal to forget about the German team in an international tournament.
It is also interesting to see that this is quite similar to the PSG - Bayern Munchen matches. These teams are very close to one another, and one year the French team will win, the next year the German team will win.
I just know one thing - I look forward to watching two entire matches from Euro 2020 tonight. I even have friends coming over, we will order pizza, and it is going to be fantastic!