I feel sorry for @josevas217, but what a final we can look forward to in Copa America!

Yesterday the last semi-final in Copa America was played between Argentina and Colombia. The match didn't actually evolve the way I expected it to, because Colombia possessed the ball more than Argentina (55%) and both teams had an equal number of shots on goal and so. In other words, it was a quite tight match. To be honest, I expected this to be a match that Argentina would rule quite easily!
Martinez scored the first goal for Argentina in the 7th minute, but the equalizer from Diaz in the 61st minute made sure that the match would go to extra time.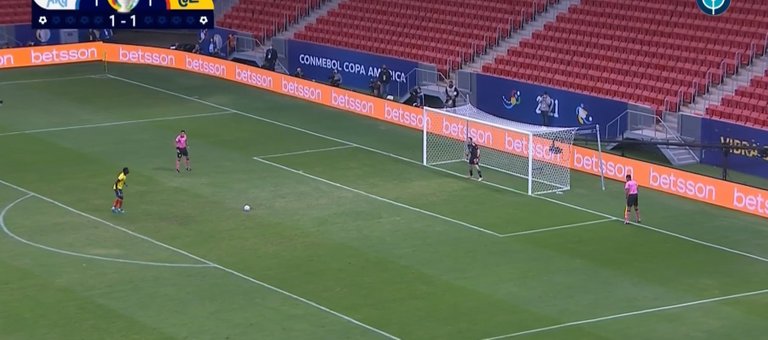 In the penalty shootout, Argentina did a better job, and as a result, they will play the final in Copa America against Brazil on July 10th. To be honest, I am happy about it, because a final in Copa America between Brazil and Argentina is like a dream final. Not because they are always playing fantastic football, but because they are the teams with the biggest profiles and it will be awesome to see them play against one another.
At the same time, I feel very sorry for @josevas217 and everyone in Colombia. They were so close at actually getting to the final, and it feels so bad to be so close, but not get to the final. Of course, they still have the bronze final left against Peru which I believe they could and should win, but that isn't the same as playing a Copa America final against Brazil on July 10th.
At the same time in London - Chiellini is just so cool!! :)
A few hours before the match between Argentina and Colombia in Brazil, Italy won the penalty shootout against Spain in London. It was a quite good match, but to be honest, the highlight of the match for me was watching the Italians sing their anthem at the start of the match, and then seeing Chiellini smile throughout the match, and then see him just joke around with Jordi Alba before the penalty shootout. Unfortunately, Jordi Alba didn't seem to enjoy joking and smiling as much as Chiellini, but at least Chiellini had a great time!
Small update
Now we know that Italy will play against England in the final of the European Championship in football. I believe this will be the best possible final based on what we have seen so far in the tournament. If you want to know more about how you can stream England vs Italy online, check this article.
---
---