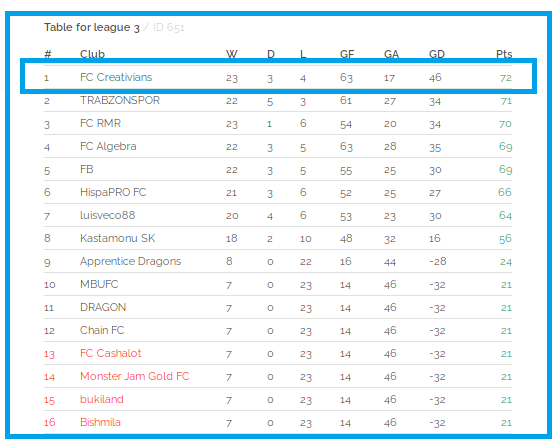 Sometimes failing in an attempt can help one sit back and re-strategize to one's best advantage. That's exactly what happened in the just condluded 26th Rabona Season. Getting relegated to league 3 two seasons ago was a bitter pill to take especially when I was trying my best to get my best for the players and the team. We were actually entering a thrive mode as far as Team finances and income are concerned.
Lo, we went down and dotted the "i"s and crossed the "t"s and now the boys seem to get better and stronger for league 2 and perhaps league 1 on this next ride upwards. With 66 Overall Strength, over 4 million fans, the financial journey of the team is climbing on an upward spiral.
More awesome was seeing FC Creativians take lead on the table as screenshot above in many aspects of the teams rating on the just concluded season. It was just a clear win.
Top counts of matches won.
Top count of Goals for team (GF)
Least goals conceded (GA)
Top Goals difference (GD)
Top points (72)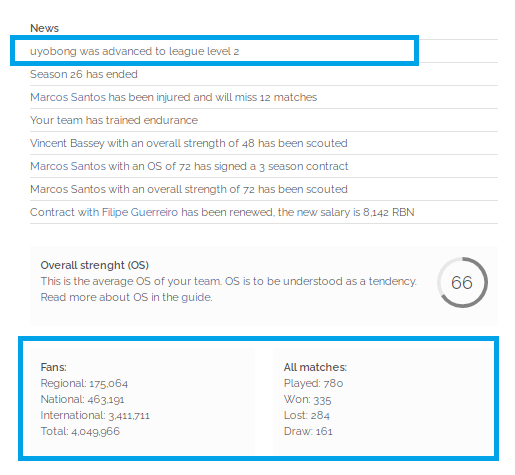 The emphasis this time would be to win all the matches possible and secure a safe spot on the league table in the first 15 matches of the season. Glad I was able to retain all the players at a minimal cost and still scouting for good ones too.
The ride with Rabona game has been fun all the way so far and I hope it can only get better. We anticipate Bank of Rabona come through sooner and the true value of the game would be defined. Thanks to @Randras and team for the beautiful build so far.
Join Rabona game with my Referral link let's build our team and financial management skills.