Game: Rabona
Sports Category: Soccer
Season: 23
League: 2
Match Day: 13
Date: 2021-03-19
Kick Off: 9:16 AM
Stadium: FC Creativians
Visitors: 5,999
Match ID: 959605

Playing with Galatasaray owned by @veterinarian has always constituted a scary moment in my Rabona game journey. My team is a Season older but we've played about 15 seasons together out of the entire 23 seasons participated by FC Creativians. Though a moderate Club, its been difficult to always secure a win (back to back) and perhaps would always end with a draw (0:0 or 1:1).
It seems things are drastically changing with the FC Creativians side and the boys are now playing a dominating run in their home. It's been a fun journey in our home matches except for a few when my key players were either injured out of the game or suspended from matches. Finishing with a 2:0 win against Galatasaray is all fun and we wan to keep the tempo with other seeming difficult teams like Crypto Lemon and others.
The Creativians side had a dominating all contact of 110% with 30 dribbling and 64 81% successful passes against Galatasaray. Out of 3 shots on goal, 2 hit the net. Kudos to the awesome strikes by Casper Bak who made the 4' opening and Tim Strasser crowning things up at the 62'. The match earned the 21 years old Bak his second carrier goal ever with FC Creativians. Strasser has been an old player (27) with 61 goals to hos credit yet. I wish he could hit the 80 OS mark before retirement.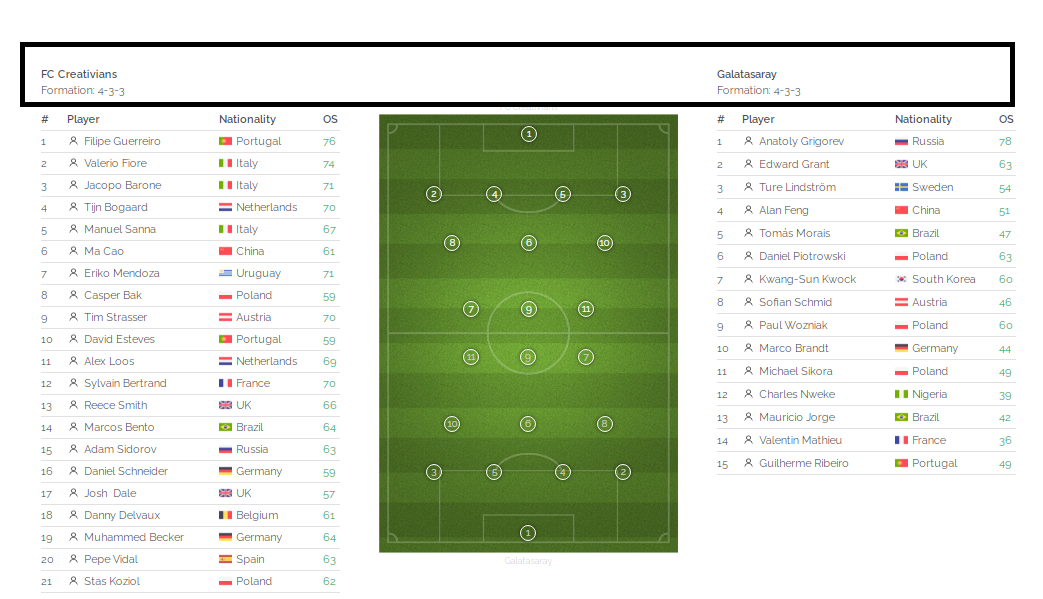 Yesterday, I wrote about formation, We both used the popular 4-3-3 with my 21 player list against Galatasaray's 15. My present squad are really doing great and I wish I can retain them for the next 10 seasons ahead while still looking for a better replacements. The journey has been fun all the way and we can only look for a better future. League 1 in view.
I'll be glad to engage your teams in the future Rabona Season. Join now and build your business managerial skills.