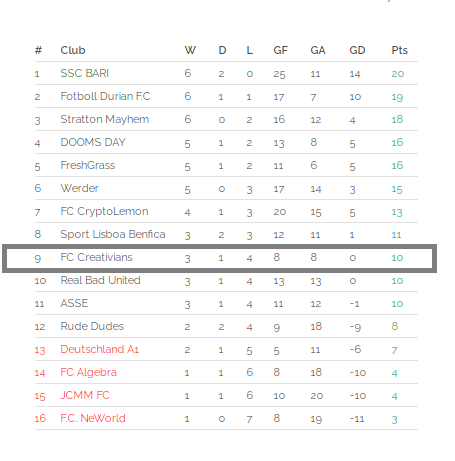 We're already two days into the 24th Rabona Soccer Season. I have been quite busy and couldn't give updates on the growth experienced by my FC Creativians in the just concluded Season 23. That seamed to have been one of the toughest season for my league as the winning margin was slim.
Staying on the 9th position after 8 games is somewhat unlike my team which I was expecting to see prepare for a higher league. With my team at 66 Overall Strength (OS), I expect a finish at 60+ points though other teams are also growing. Losing 4 games already wasn't very cool and it was to the least teams expected.

I am keen to not just improving my player stats nut also to get myself prepared for the big investment option that is loading in Rabona's kitchen. meanwhile, I seem to be unsure how playing League 1 in the next Season would be.
Here's my referral link to join us: https://rabona.io?ref=uyobong