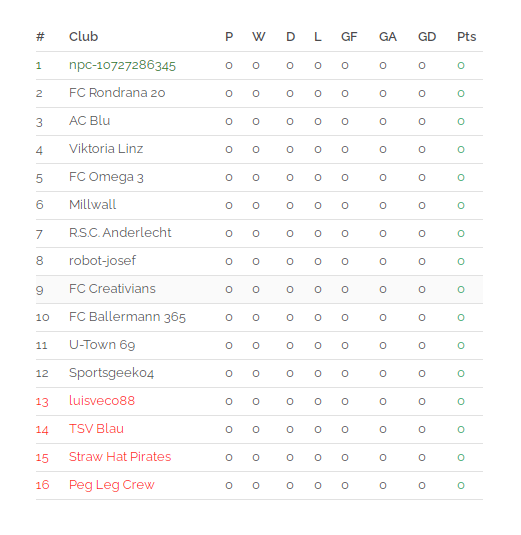 Great excitement erupted when I topped the league Table in one of the groups in league 2 during the Rabona Season 6. The excitement was based on the fact that I won the league and was qualified to play in the higher league.
The above screenshot shows the clean League Table at the start of the season few days ago. After playing 27 games in the 7th season, I don't want to believe I still managed the team FC Creativians.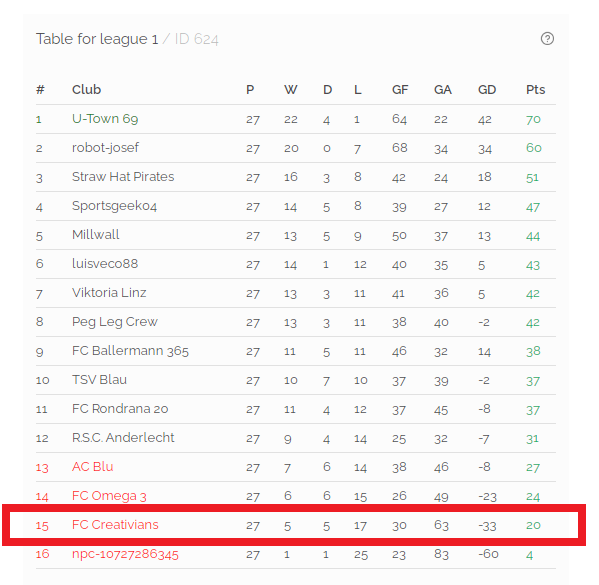 Take a look at my ranking so far in the league. Already in a sure spot for relegation back to league 2. Even if I would win the remaining three matches, there is no miracle to take my team off the red-lettered section at the bottom of the Table.
Indeed, it is one thing to succeed and another to sustain the success. My success in having a taste of the higher and tougher league was just short-lived probably because my team wasn't just ready for the 7th adventure.
Financially, the team was doing well not because it won matches, but because I had built infrastructure over the last 6 seasons of managing the team. I had sunk in millions of RBN tokens to expand my stadium facility to increase my revenue to the sustainable we are.
One more thing...
It's time to build the capacities of the players and get them set for winning the next season. The experience in league 1 was awesome but full of lessons.
In summary, sports team management has never been short of fun with Rabona. The feeling gets more interesting when we are aware that we'll soon start trading RBN in the open market.
Rabona is a massive multiplayer online soccer management game. Decide how to build and develop your team, take on the role of the head coach of your team, and manage the financials of your club. Lead your club to the top of the league and become the champion!
Please to use my referral link - https://rabona.io?ref=uyobong to register for the next season so you can earn 25,000 RBN tokens.