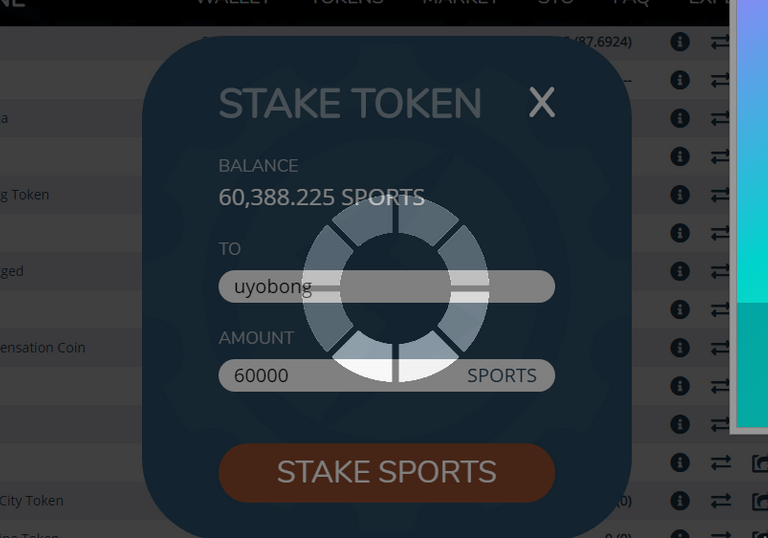 One who stakes tokens on the steem blockchain is one who believes in the future of the blockchain. Staking of Steem or steem tokens is a display of faith that the value of the tokens so staked would be meaningful in the future.
Staking of tokens is an investment spirit that helps the blockchain to be sustained. Imagine that there were no investors who purchased and staked tokens, then content creators would have no way to draw their value.
Of all the Steem-engine tribes I'm involved, I've seen the #sportstalksocial community as one with a big prospect especially with the number of people who love sports and the power of sports to unite nations.
I staked 60,000SPORTS tokens few hours ago and this places my total stake at 1.16 Million SPORTS. Im am heading towards the 2 million SPORTS stake mark by the end of January 2020.
I had onece said few days ago that I see a time that SPORTS tokens would cost $0.1, however, some people said that's quite too much that even $0.01 would be great for a token like SPORTS.
I call on investors to buy SPORTS now as soon, the token may get costler than we thought. Already, Steem blockchain is regaining momentum and we see the prices bouncing back.
I'm still resolute to prepare for the onboarding of Nigerian Professional Football League teams to Steem and #sportstalksocial. I need more SPORTS POWER to enable me give them a warm welcome votes.
---
Please consider following @uyobong.sports to be able to see our upcoming giveaways.