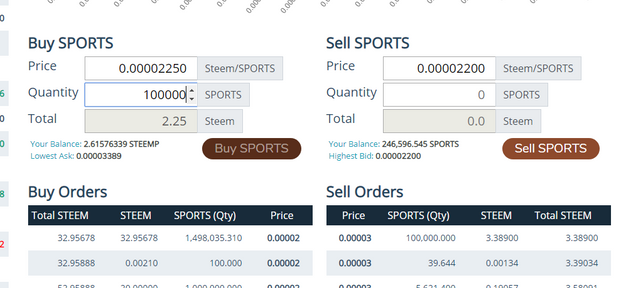 I just placed an order for 100k SPORTS on Steem-engine and I hope the purchase gets through. We know how slippery crpto investments are and somehow it brings either a positive or negative jerk. In all, it's all risk and we keep doing it in as much as we are okay with it and we bare the full consequences of our business decisions.
I really miss the days when 1 SPORTS was worth 0.0003 steem, a price that stood for long. Today, 1 SPORTS is worth just about 0.000022 steem and that's way too dip. However, I still see it as an opportunity to gather more of the tokens ahead of the time when we will see SPORTS back at 0.0003 steem or higher. That would mean over 1000% ROI. I wish those days come sooner.
SPORTS is meant to power a much sought after content- sports which is appreciated all over the world. We are hopeful that Corona Virus subsides in few wees and people would have come to the reality of the secured investments in the cryptocurrency world.
One of the post- COVID experience will be an appreciation in crypto adoption and the early adopters would smile the more.
This post is not an investment advice, just a track of my investment in my choice token and blockchain.
Have a great day ahead!