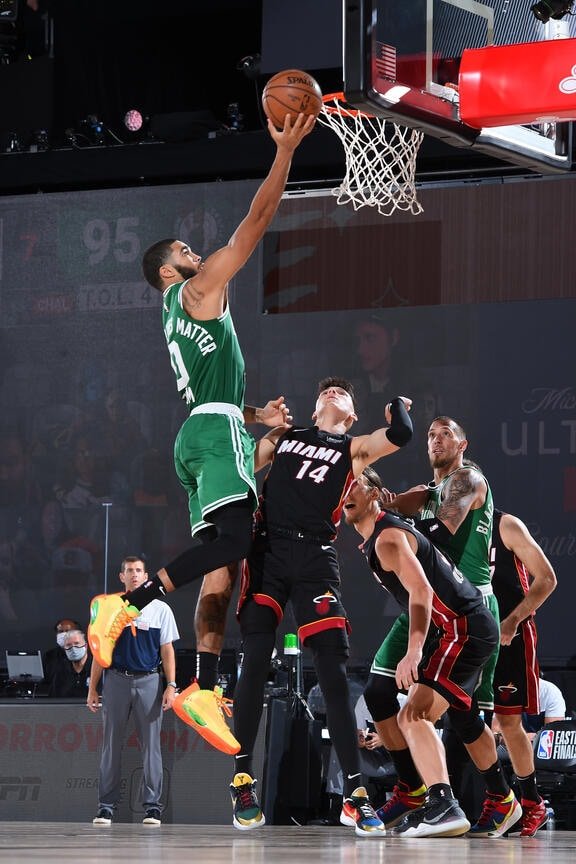 Source
The Boston Celtics have finally pulled one game back from the Miami Heat in the Eastern Conference Finals. After 2 bad losses for the Celtics which saw them lose closely in the first game, and blow a lead in the second game, had 1 good news entering the game yesterday. Gordon Hayward returns from injury after sustaining an ankle injury in Game 1 against the Philadelphia 76ers in the first round of the playoffs.
Even though his stat line was not that great, his presence was felt in Game 3, adding versatility, playoffs experience, and more options for Brad Stevens. Hayward finished with 6 points, 5 rebounds, 4 assists, 3 steals, and 1 block. An all around performance for someone who was sidelined for a long time.
For me it was great to see Hayward back again after a long time. He was unlucky with injuries, and I enjoyed watching him play back when he was in Utah, he was so good. Hopefully he can get that game back and help the Celtics in their quest for the Championship.
Boston started the game positively and raced to a 31-22 lead at the end of the first quarter, with Jayson Tatum hitting a 3 to finish the first quarter.
At the start of the second quarter, the well oiled machine Miami Heat started to come alive and mounted a comeback. Rookie Tyler Herro scored 16 points in the second quarter alone to pull the Heat back within the distance. The Heat were able to cut down the lead to 4, 49-45 with 4 minutes left in the second quarter. Boston replied immediately with a furious run to end the first half with a 13 point lead 63-50.
At the restart of the game in the second half, both teams defended well and went back and forth. Boston were able to maintain their lead. Leading as much as 18 points at one point. From the looks of it the Celtics were able to do some adjustments positively. They had 44 points in the paint, and 20 assists as of the third quarter, highlighting their ball movement and agressiveness to attack the rim. They also held Jimmy Butler and Goran Dragic to only 13 points combined with 5 minutes to go in the 3rd quarter. Credits to Boston for turning it around. The 3rd quarter ended 89-74 with Boston having a 15 point lead.
The Celtics then started the fourth quarter brightly again, with 7 minutes remaining in the fourth quarter they were up by 20 at 100-80. I was calling it already 2-1 now at that point. I was so wrong with that call! The Heat then mounted a furious comeback led by a barrage of 3 pointers from Duncan Robinson scoring 10 points in the Fourth Quarter. The Heat were able to cut down the lead to 5 points with less than a minute remaining. I can't quite believe it, the Heat have comeback from the dead and could even win it.
Fortunately the Celtics were able to escape with the win after clutch free throws from Marcus Smart. The game ended with a score of 117-106. Game 4 will be played tomorrow September 22, 2020.
Stats Section
CELTICS
Jayson Tatum - 23 points, 13 rebounds, 6 assists
Jaylen Brown - 22 points, 5 rebounds, 5 assists, 3 steals
Kemba Walker - 18 points, 6 rebounds, 2 assists
Marcus Smart - 17 points, 4 rebounds, 4 assists
Gordon Hayward - 6 points, 5 rebounds, 4 assists, 3 steals, and 1 block
HEAT
Bam Adebayo - 27 points, 16 rebounds, 3 steals, 2 blocks
Tyler Herro - 22 points, 4 rebounds, 4 assists
Jimmy Butler - 17 points, 8 rebounds, 2 blocks
Duncan Robinson - 13 points, 2 assists
Goran Dragic - 11 points, 5 assists
Final Thoughts and Predictions
We were wrong in predicting the Heat to win game 3, credits to the Celtics. Our X-Factor still stands as Bam Adebayo, he is a monster with these stat lines on both ends of the floor 27 points, 16 rebounds, 3 steals, 2 blocks. The Celtics still have no answer for him. The Celtics weren't able to stop Adebayo but was successful in limiting Goran Dragic this game, putting Marcus Smart on him was a great adjustment by Brad Stevens.
There are a lot of things to factor to predict Game 4. First the Celtics inability to close out the Heat, as Brad Stevens you have got to be disappointed on the final minutes of the 4th quarter. The Celtics weren't finishing the job, and nearly gifted the Heat another comeback. If they have won Game 3 with a big margin, most of the momentum would have gone there way, Miami was able to scare them with that furious comeback.
Second is the return of Gordon Hayward, I didn't expect him to return in Game 3, this does change the series outlook a lot. As he shakes off his rustiness, I think he will be able to produce solid numbers for the Celtics. His return will surely reduce some pressure around his teammates given his experience and playstyle.
With this I will be predicting a Celtics victory for Game 4 to tie the series at 2 a piece. Yes it was an ugly win, but a win is still a win.
Game 4 will be awesome, can't wait to watch!
How about you who do you think will win Game 4? Let's discuss in the comment section below.