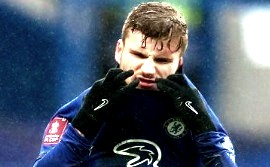 Timo Werner is yet to score for Chelsea despite being awarded a penalty. The manager, Frank Lampard, gave sympathy.
Timo Werner appeared in full when Chelsea faced Luton Town in the fourth round of the FA Cup on Sunday (24/1). The Blues won 3-1 with all of their goals scored by striker Tammy Abraham.
Timo Werner doesn't look too bad. The German was able to provide the assist for Tammy Abraham's first goal.
The 24-year-old player also has a golden opportunity in the 86th minute. He got a penalty after being fouled by Clark.
Timo Werner fired a powerful shot, but Luton Town keeper Simon Sluga read the direction and he brushed it off brilliantly. Werner failed to score, looking very frustrated.
No doubt, the German player has gone 11 matches without a goal in the Premier League. Werner definitely needs a shot of confidence.
Chelsea manager Frank Lampard has sympathy for Timo Werner. For him, Werner was just out of luck.
"Werner missed a penalty, that's all. I've also experienced something similar and know very well," explained Lampard as quoted by the BBC.
Overall, Werner played well. His movement helps the team, he continued.
Frank Lampard insists that he will continue to be patient waiting for more goals to come from the feet of Timo Werner. Lampard also said that his Chelsea team-mates also helped Werner a lot in scoring goals.
"It's my job and my teammates to help him. Hopefully the time will come soon, see him score another goal, "concluded Lampard.
Timo Werner has scored just nine goals in 27 appearances for Chelsea in all competitions so far.