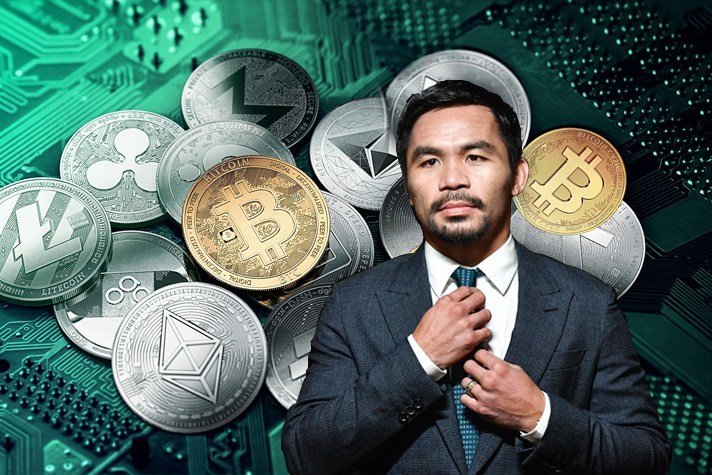 Image from La Guía del varon
It was to be expected, if crypto currencies are everywhere, why would the world of sport be any different? Indeed, last year the phillippinne boxer Manny "Pacman" Pacquiao announced to the world the launch of his own crypto currency called "Pac" which is included in Global Crypto Offering Exchange (GCOX) in Singapore, where you can exchange them for Bitcoins and other tokens or buy the currency backed by the great Asian fighter.
Pac is based on the fame and glory of the boxer, basically if you want to acquire original material of the great Pacman first buy his crypto, you register in GCOX (company associated with the project), buy some PAC, enter the website where Manny sells his items and that's it, wait at home for those peanut gloves, the trick I use when I beat De La Hoya or the mouth guard he uses in training (with his DNA).
Just imagine the possible profits of Pacquiao and his partners if they force their fans to pay for the tickets or the Pay Per View of their next fight in their cryptomoney, then it is understood that this business could be the beginning of the future of digital currencies in the world of sports. Can you imagine Jordan in the nineties with a crypt called "Air" forcing his fans to buy the shoes that bear his name, because something like that is what they are trying to do with the Filipino.
According to the promoters Pac is just the tip of the iceberg, what they intend is to make this crypto a kind of token or celebrity token, in which sports stars contribute their fame to attract fans. Apparently, they want this to be a way to bring mortals closer to their admired heroes, a strategy that I believe will not take long for other athletes and people in show business to join them in this "cryptocrossing".
Seeing the situation, surely sports teams or clubs will also join similar initiatives, more so at this time when the economy is immersed in a hard crash as a result of the Covid-19 pandemic, especially those sports institutions immersed in cash flow difficulties (F.C. Barcelona case) or small teams with complicated access to large loans to stay afloat. Manny Pacquiao opened the Pandora's box of crypto-money, now we will see what the scope of this initiative will be.
Carlos D. Pérez Guerrero / @waraira777