10 Best Strikers in Premier League History Revealed
Who are the best Premier League strikers of all time? Since the restructure of the English Football League and the introduction of the Premier League in 1992, we've seen goal-poaching, remarkably technical, and ferociously powerful strikers.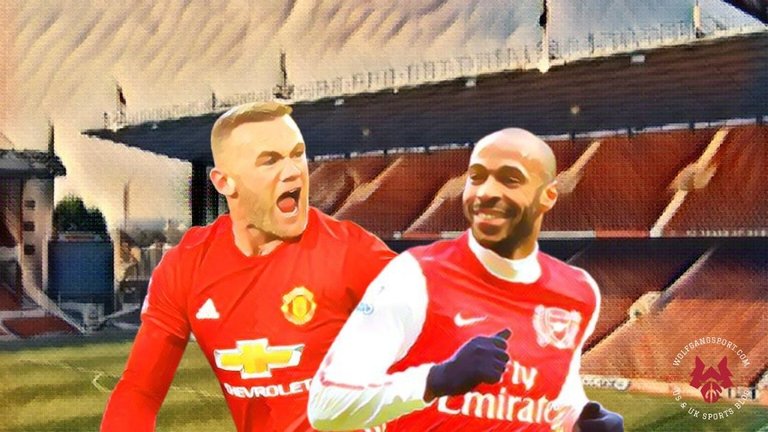 Harry Kane will make the list one day but for now, we're looking at the best strikers in Premier League history that have retired. Let's take a look at the top 10.

10. Andy Cole
Andy Cole is one of the best Premier League strikers of all time, scoring 187 goals in 414 appearances thanks to his quick feet and elite technique. Cole possessed great pace, could finish and had great movement off the ball.
Arriving from Newcastle in 1995 as a 24-year old star already, Cole won an impressive five Premier League titles, the Champions League, and was part of the 1999 Treble winning side during his six years at Manchester United.
Although an erratic finisher at times, was a prolific Premier League striker who featured for the England national team as well as Arsenal, Bristol City, Blackburn Rovers, Fulham, Manchester City and Portsmouth.
https://twitter.com/GingerPirlo_/status/1625935504175779840?s=20
9. Luis Suarez
Luis Suarez is one of the
most hated Premier League of all time
due to his poor sportsmanship. He was known to be a regular diver and was also found guilty of racially abusing Patrice Evra. He also had a horrible biting habit, found guilty for three major biting incidents during his career.
Enough about the bad. Suarez won the Golden Boot award in 2013/14 and scored 69 goals from an impressive 110 games. He was a complete striker, versatile with his booth feet, his head and from set pieces.
Despite his bad habits, Suarez was passionate, tenacious, and had a sheer determination off the ball that allowed him to create something out of nothing. He also had the technical skill, pace and clinical finishing that caused nightmares for defenders.
https://twitter.com/diegohead_/status/1624827698878062594?s=20
8. Ruud van Nistelrooy
Dutchman Ruud van Nistelrooy scored an incredible 95 Premier League goals in 150 games in a five-season stretch with Manchester United. Arriving from PSV Eindhoven in 2001, he exploded onto the scene with a mix of powerful and precision shooting.
Van Nistelrooy had a habit of being in the right place at the right time, utilising great spatial and positional awareness as well as his great physicality to create space for himself. He also had a mental toughness and great worth ethic that served as inspiration to his teammates.
One of the best strikers in Premier League history, van Nistelrooy won three Premier League titles, an FA Cup and a League Cup during his time at Old Trafford.
https://twitter.com/MundialMag/status/1373931835294687233?s=20
7. Eric Cantona
One of the most shocking
Premier League transfer news
of all time, Eric Cantona shocked Manchester United fans when he made a £1.2 million move from fierce rivals Leeds United seemingly out of nowhere.
Although fans were initially reluctant it worked out great as Cantona went on to become one of the most iconic and influential players in league history, helping United to win four Premier League titles and two FA Cups as club captain.
Cantona was charismatic and played with a confidence that uplifted the rest of his teammates. In 156 games, he managed to score 70 goals and 56 assists all thanks to an amazing skill set of great vision, technique, ball control, and an ability to score goals from anywhere.
https://twitter.com/90sfootball/status/1439635397479387136?s=20
6. Dennis Bergkamp
Dennis Bergkamp is one of the best Arsenal players of all time and one of the greatest strikers in Premier League history. Bergkamp scored 87 Premier League goals from 315 appearances.
After arriving from Inter Milan in 1995, he won three Premier League titles and four FA Cups in 11 seasons at Arsenal. He was a part of Arsenal's "Invincibles" team of 2003/04 making 16 appearances in the league.
Bergkamp's technical ability was generational, as was his combination of vision, touch and passing ability. He had a remarkable level of intelligence and could read the game exceptionally well, which was pivotal to Arsenal's success in the late 90s and early 2000s.
https://www.footballblogfc.com/best-arsenal-players-of-all-time/
https://twitter.com/Arsenal/status/1160074045477384194?s=20
5. Didier Drogba
Didier Drogba one of the greatest African players of all time as well as one of the best strikers in Premier League history. He made a powerful impact for Chelsea with his immense physical strength and technical ability.
Following a £24 million transfer from Marseille in 2004, Chelsea went on to win their first league title in 50 years with Drogba up front. He would go on towin four Premier League titles and a Champions League with the club.
Drogba's power and accuracy led to 104 goals in 254 appearances. He was so effective up front as a single striker, he's credited with Premier League teams shifting from 4-4-2 formations to 4-3-2-1 setups.
https://twitter.com/cfc_era/status/1444728583008788482?s=20
4. Wayne Rooney
Wayne Rooney scored an incredible 208 Premier League goals from 419 appearances. He combined strong technical and physical abilities with an astonishing work-rate and was a superstar while at Manchester United.
Rooney was versatile and could play as a striker, winger or attacking midfielder. In addition to being able to finish clinically from both inside and outside the box, Rooney also provided 103 assists.
He won five Premier League titles, an FA Cup,He won five Premier League titles, an FA Cup, three League Cups, a Champions League and Europa League title.
https://twitter.com/sportbible/status/1573283337581563907?s=20
3. Sergio Aguero
Sergio Aguero was absolutely special. Who can ever forget AGUEROOOOO! And I'm not kidding, that's the official way to spell it. His injury time winner clinched the 2011/12 Premier League title, Manchester City's first championship in 44-years.
It was the most important goal of the 184 he scored in the Premier League from 275 appearances. He had such an exceptional goal-to-game ratio thanks to his clinical finishing, technical skills, his speed and agility.
Aguero was a master at creating space for himself and he evidently scored goals at the most crucial times. He finished his career with four Premier League titles, an FA Cup and five League Cups.
https://metro.co.uk/2014/12/09/the-is-now-an-official-way-to-spell-martin-tylers-agueroooo-4980159/
https://twitter.com/sportbible/status/1573282388028841986?s=20
2. Alan Shearer
Alan Shearer is the all-time Premier League's greatest goalscorer with 260 goals from 441 games. He had the classical striker's prototypical build, an excellent finisher with a physical and aggressive style of play.
Shearer was renowned for his strength and powerful shot. He was extremely clinical in front of goal from both inside and outside the box and he won the Premier League Golden Boot three times.
Regarded as the best Newcastle player of all-time, he scored 148 goals from 303 appearances for the club. Prior to joining Newcastle he scored an incredible 34 goals and 15 assists in Blackburn Rovers' title winning 1994/95 campaign.
https://twitter.com/90sPlayers/status/1627722902580695041?s=20
1. Thierry Henry
Thierry Henry is the greatest Premier League striker of all time. He scored an efficient 175 goals from 258 appearances and won four Premier League Golden Boot awards. The complete player, his creativity and unselfishness also led to 74 career Premier League assists.
Henry had amazing composure in front of goal and his dribbling ability was world class. He possessed exceptional pace, was a constant threat and he could score goals from anywhere on the pitch.
Arsenal won two Premier League titles with Henry playing upfront, including the 2003/04 "Invincibles" run. Not only is Henry the best Premier League striker in history, many will argue he's the greatest ever player in Premier League history.
https://twitter.com/allstarsignings/status/1427530275660181546?s=20
---
THANK YOU FOR YOUR SUPPORT!
Wolfgang Sport started in 2017 as a way to connect my passion for American and British sports. Today it's evolved into a blockchain sports blog pushing the boundaries into the crypto world and embracing Web3 technologies.
---
---