Best Young NBA Players to Watch in 2022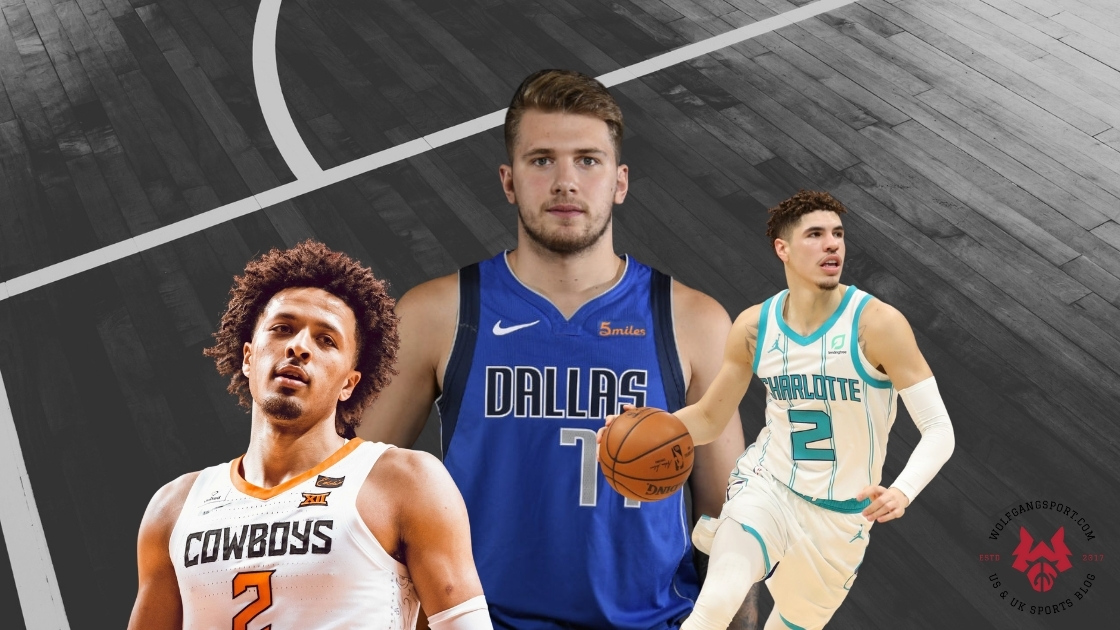 #1. Luka Doncic
Luka Doncic is so good he single handedly led international minnows Slovenia to the semi-finals at the Tokyo 2020 Olympics. Doncic is already an NBA superstar and already throws down triple-doubles on the regular – the only NBA player in history with 20 triple-doubles by the age of 21.
Doncic barely has a flaw and a five-year $207m extension – the biggest ever given to a 22-year old – locks down Doncic as the future of the Dallas Mavericks.
He moves with such ease and smoothness and it's scary to think that Doncic's fitness, strength, shot selection and defense will only get better.
His third season saw him finish with career high field goal and three-point percentages and his fourth could lead to him being crowned best player in the NBA.
#2. Trae Young
After leading the Atlanta Hawks to the Eastern Conference Finals, Trae Young has transformed from star to superstar. He's rapidly matured into a genuine franchise cornerstone and remains one of the most exciting and best young players to watch in the NBA.
Trae Young is often compared to Stephen Curry with his lightning quick athleticism and deadly shot from anywhere within half-court, off the catch or dribble. When you look at Curry and Trae's stats, Trae Young is a better player than Stephen Curry at the same stages of their career.
Young's defensive liabilities have always been known but he made strides and stepped up defensively during the Hawks 2020-21 run to the Conference Finals. He continues to grow in confidence and is every chance to lead the Hawks to their second NBA Championship.
#3. Ja Morant
Ja Morant isn't a superstar yet but he's got the potential to be. Morant's lightning speed and silky passing helped guide the Memphis Grizzlies to lead the league in fastbreak points in 2020-21. The 2020 Rookie of the Year threw up similar stat lines compared to his sophomore year but inconstancy put a halt to any claims of superstardom.
He'll get there. With another shifty crossover, Morant avoided the dreaded sophomore slump. He remains hyper-athletic, fearless and excelled as a leader. Ja Morant is one of the best young NBA players to watch in 2022.
#4. Cade Cunningham
Cade Cunningham is the most complete first overall pick since Lebron James in 2003. He can do it all – shoot, pass, rebound, defend and most importantly, score.
There's barely a flaw in Cunningham's game and he's worthy of all the hype he's getting. He's a game changer and is sort of like Ben Simmons with a jump shot or a Luka Doncic lite.
Cunningham will be one of the most closely watched rookies in years, using his size to create separation, his killer pass, and how he seemingly does it all in second gear with a methodical approach.
#5. Collin Sexton
Collin Sexton is proving to be one of the only things going right for the Cleveland Cavaliers. A career high 42-points against the Brooklyn Nets won him national praise. Sexton remains the Cavaliers biggest offensive weapon, shooting three-pointers consistently at 38.5%.
Bizarrely he only has a career average of 4 three-point attempts per game despite being a better shooter than Morant and Trae Young. Sexton needs to improve on a disappointing average that's below 4 assists per game.
#6. Jonathan Isaac
Jonathan Isaac has had a horror injury run but he remains one of the best young NBA players with his combination of size and athleticism. He's had a horror injury run which included sitting out the entire 2020-21 season but if he can remain healthy, Isaac has the potential to be a franchise player.
Year-on-year Jonathan Isaac keeps getting better and his stats keep trending upwards. He was having a breakout season in 2020 before injury, averaging 11.9 points per game, 6.8 rebounds per game and shooting a 51.8% effective field goal percentage. More impressively, Isaac set himself up as one of the best defensive players in the league averaging 2.3 blocks and 1.6 steals per game.
Is 2022 the year we see one of the best young NBA players turn into Kevin Durant lite?
#7. Michael Porter Jr.
The hype for Michael Porter Jr. was real. Considered one of the best of his draft class, the 14th pick of the 2018 draft slipped due to his injury history. Michael Porter Jr. was a revelation in 2020-21 averaging 19 points with a true shooting of 66%. He improved defensively earning himself third place in Most Improved Player award voting.
He's already a good enough player to be considered a star, the third for the Denver Nuggets alongside Nikola Jokic and Jamal Murray. Porter's accurate quick release sharpshooting and his progression on both sides of the ball has all the hallmarks of a superstar in the making.
#8. Jalen Green
Jalen Green is a first pick worthy talent of almost any recent draft class, Cade Cunningham the only reason he wasn't the first overall pick in the 2021 NBA Draft. Built like a Ray Allen-Zach LaVine prototype, Jalen Green finished a strong G League season with 17.9pts, 4.1rbs and 2.8asts.
He did so efficiently shooting field goals at 46% and 36.5% from three-point range. Green needs to improve on his size and on the defensive end but his freak athletic ability, explosiveness and his competitiveness makes him a potential superstar and one of the best young NBA players to watch in 2022.
#9. Anthony Edwards
The first pick of the 2020 NBA Draft, Anthony Edwards is a rare combination of size and explosiveness. He had a strong rookie season leading all rookies in scoring. Finishing with an average of 19.3 points, 4.7 rebounds and 2.9 assists, Edwards found consistency after a poor start to to season, shooting 41.7% from the field and 32.9% from deep.
Anthony Edwards has the charisma and athleticism of a potential superstar as and is a franchise piece the Minnesota Timberwolves can build around.
#10. LaMelo Ball
In a 16-minute NBA debut, LaMelo Ball failed to score a point. The rest of his rookie season earned him Rookie of the Year honours despite playing only 51 games. The third pick of the 2020 draft, Ball led all rookies in assists and steals, and ranked second in points and rebounds with an average of 15.7 points, 6.1 assists, 5.9 rebounds and 1.59 steals.
LaMelo Ball is already a star for the Charlotte Hornets and has turned them into a real Eastern Conference contender. He can do it all, impacting the game like no other in his draft class.
---
---