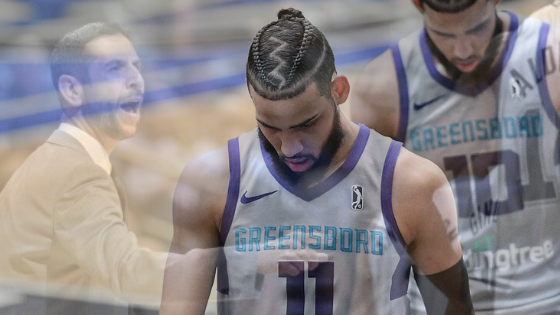 Just last month Caleb Martin became the first undrafted player to start for the Hornets since Treveon Graham back in the 2016-17 season.
Not even a month later, Martin tallied a career-high 23 points in an overtime loss to Atlanta.
"It's their job to put pressure on me to keep them here"
In an O/T loss to the Hawks, Martin shot 8-of-10 from the field, including 5-of-6 from beyond the arc, four assists, two blocked shots and three steals for good measure.
Following Caleb Martin and fellow rookie Jalen McDaniel's debut starts last month, head coach James Borrego made it known the ball was in their court. "It's their job to put pressure on me to keep them here,".
Borrego continued, "They understand that. For them to stay in our program right now, there is a level of accountability, there is a level of professionalism they need to carry themselves with."
There's also another Caleb not to get confused with, his twin brother Coby, who also plays for the Hornets.
Drafted 36th overall in the 2019 NBA Draft, the brothers became the first twins in NBA history to appear in the same game as teammates during their rookie seasons.
The twins have both split their time between the Hornets and G-League affiliate the Greensboro Swarm.
Related: Robert Covington: The Best Undrafted Player In the NBA
The Hornet's are in a rebuilding strategy, developing young players and utilizing their affiliate G-League franchise effectively.
Devonte Graham and Dwayne Bacon also spent time with the Swarm, Graham now the starting point guard and averaging 35+ minutes a game.
Bacon has been splitting his time with the Hornets whilst starring for the Swarm, averaging 31.8 points, 8.4 rebounds and 3.3 assists. He even dropped 51 points against the Fort Wayne Mad Ants last month.
Caleb's brother Cody sits second on the depth chart at small forward but twin brother Caleb is closing in especially after his 23-point performance.
Last November Cody was the first rookie this season to record at least five points, rebounds, assists and at least three steals – scoring seven points, six rebounds, five assists and three steals in 26-minutes in a win over the Detroit Pistons last month.
"This is about building the right habits for the big picture"
Following the departure of Kemba Walker to Boston, the Hornets rebuild is starting to take shape. The emergence of the Martin twins, Graham and Bacon shows the organisation is successfully pivoting toward the younger players and prioritize their development.
Part of the strategy is for young players to form good habits while playing plenty of minutes, something made clear by GM Mitch Kupchak before the start of the season.
"If there is a master plan, it is to transition from a team built around a superstar to a team built around our young players and a style of play," Kupchak said per Rick Bonnell of the Charlotte Observer.
The Hornets are only 3 games in front of last placed Cavaliers in the Eastern Conference and it seems the Hornets will use every opportunity to develop and evaluate their young talent, a group which includes the twin brothers.
Although the Hornets see it as a 'transition', it's hard to ignore the rebuild taking place. It serves as a great opportunity for the young Hornets to build a core for the future, where undrafted talents such as Caleb Martin have the opportunity to prove themselves.
► Check out the original post at Wolfgang Sports
► If you liked it that much, become a sponsor and you can even dominate with your own headlines
► Join our newsletter, completely free, and be the first to discover new content
►About Me
I'm just a 30-something year old who loves sports, but I ain't flexin'. I'm a completely amateur sports writer 'journalist' inspired by US and UK sports covering basketball, soccer, American football and more. I'm not a pretender, it's a hobby and if I sound like I'm half street half corporate talk that's my holistic approach. Peace bro.