Racism in Football Part 5: German Football
}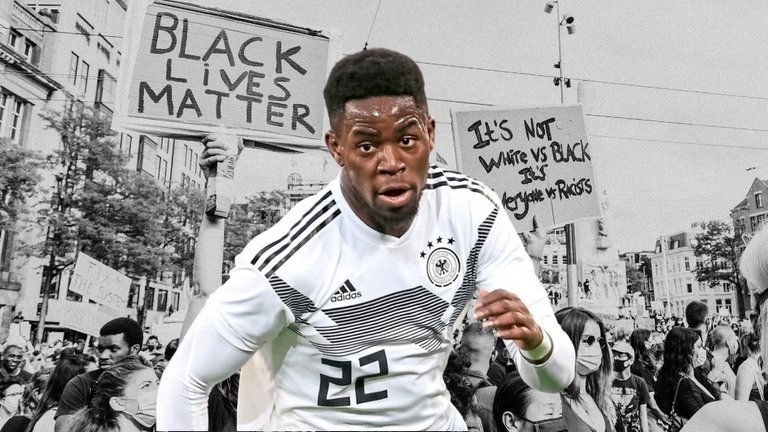 Racism in football is a serious issue which continues to undermine the world game. When writing this it was alarming just how easy it was to find examples of racism in football. It's an issue not just within professional football but one that begins at a grassroots levels. Sadly it's an issue that's deeply embedded in leagues across the world and it all begins with from social attitudes.
Football tends to mirror general society. The world has seen an increase in xenophobia and a rise in white supremacy which football is not immune to. Its a precarious situation which is reflected in racism in football across the globe. Let's take a look at racism in football across five of the biggest leagues in Europe; Serie A, English Premier League, Ligue 1, La Liga and the Bundesliga. Below is part five, the last in my five part series and will be focusing on Germany.
Football Racism in Germany
German football has come a long way since Erwin Kostedde – a half African-American, half German – became the first black player to represent the German national football team. He'd be the target of racial slurs throughout his entire playing career. 
Gerald Asamoah became the first African-born player to represent Germany in 2001 after turning down efforts to represent his ancestral homeland of Ghana. Asamoah persevered his way to 43 caps and 6 goals for the national team, determined to break the jinx of a white German dominated national team.
Unfortunately racism in German football showed it's head during a German Cup match in 2006. Schalke were winning 9-1 against third division side Hansa Rostock when, disgruntled Hansa fans began racist chanting aimed at Asamoah. 
In 2013 Asamoah was shocked to learn that Ingolstadt's Danny Da Costa had been racially abused by a small group of 1860 Munich fans in 2013.  
Again to Asamoah's dismay, Schalke chairman Clemens Tonnies said at a public event in 2019: "Instead of increasing taxes, we should rather finance 20 power plants in Africa every year. Then Africans would stop cutting down trees and producing children when it's dark".  
In 2020 Hertha Berlin's Jordan Torunarigha was the target of vile racism with monkey chants directed his way in a DFB Pokal game at Schalke. Just two weeks after the incident and during a third division German league match between Würzburger Kickers and Preußen Munster, a lone fan was identified making monkey chants toward Würzburger player Leroy Kwadwo who is of Ghanaian-German origin.
Fans identified the lone fan to security and collectively chanted "Nazis out". All the while, opposing players showed solidarity with Kwadwo by embracing him as the scenes unfolded. 
The way in which players and fans reacted following the racism against Kwadwo shows the level of sensitivity achieved in Germany from it's dark past. It also shows one of the best ways to deal with racism in football – that people power can combat football racism in Germany and racism in football. Fans united to challenge racism collectively and demonstrated an openness for inclusiveness.
---
---