Ten Highest Paid NBA Coaches in 2023 (Part 2)
G'dday tribe! Yesterday I posted the first part which you can check out here. We started with Tyronn Lue of the Clippers, Rick Carlisle of the Pacers and Jason Kidd who's at Dallas. Who've you got at 7-4?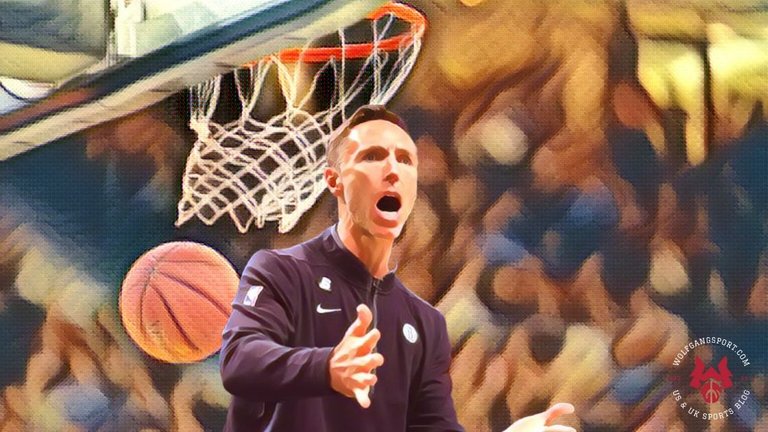 7. Steve Nash - Brooklyn Nets ($8 million)
Steve Nash played 18 seasons in the NBA, where he was a two-time MVP, an eight-time All-Star, and a seven-time All-NBA selection. He's one of the
best players never to win an NBA championship
.
His playing experience and legacy was enough to earn himself the head coach role at the Brooklyn Nets in 2020. Unfortunately for Nash it was a disappointing stint considering the level of talent at his disposal.
Nash was let go following a poor start to the 2022-23 season but despite being let go he signed a four year, $8 million per year deal back in 2020.
The Brooklyn Nets replaced Steve Nash with Jacque Vaughn and brought Kyrie back and they've been unstoppable ever since. pic.twitter.com/8Q5tI6sKRr

— Colb (@___Colb___) December 17, 2022
6. Nick Nurse - Toronto Raptors ($8 million)
Nick Nurse doesn't have the pro player experience like some of the other highest paid NBA coaches, but he's still built himself into one of the best defensive schemers in the league. He became an assistant coach at Northern Iowa as soon as he finished his college playing career in 1989.
Nurse then coached for 11 seasons in Europe mostly in England, after becoming the youngest college basketball head coach at only 23 years of age for Grand View University.
After coaching multiple teams in the D-League, Nurse joined the Raptors as an assistant coach in 2013, becoming head coach in 2019 and winning an NBA championship in his first season in charge.
BREAKING: The Raptors have signed Nick Nurse to a contract extension. pic.twitter.com/p2QS65ARfJ

— TSN (@TSN_Sports) September 15, 2020
5. Mike Budenholzer - Milwaukee Bucks ($8 million)
From 1996 "Coach Bud" was Gregg Popovich's assistant coach at the San Antonio Spurs for 17 years, and was a part of four championship winning seasons during the
Tim Duncan era
. Budenholzer scored his first coaching job as coach of the Atlanta Hawks from 2013 to 2018.
Budenholzer then joined the Milwaukee Bucks in 2018, helping to change the teams culture and leading the franchise to their second ever championship in 2021.
He's been named NBA Coach of the Year in 2015 and 2019. Budenholzer is one of the highest paid NBA coaches, although some view him as an underachiever in the playoffs and not being able to make the right adjustments during postseason play.
Mike Budenholzer has agreed to a three-year contract extension with the Milwaukee Bucks, per @wojespn pic.twitter.com/zWQ2xuY07p

— NBA on TNT (@NBAonTNT) August 25, 2021
4. Erik Spoelstra - Miami Heat ($8.5 million)
Erik Spoelstra started boxing shoes at a Nike warehouse before spending a few seasons in Germany's second division as a player-assistant coach at TuS Herten in 1993.
He started coaching the club's local youth team before accepting a role as video coordinator with the Miami Heat in 1995. Two years later he would serve as an assistant coach with the Heat until being named head coach in 2008.
Spoelstra became the first Asian-American head coach in major sports history. Following the addition of LeBron James and Chris Bosh in 2010, he led the Heat to four consecutive NBA Finals appearances between 2011 and 2014, going on to win two of those.
He came close again in 2020, his fifth NBA Finals appearance, but was defeated by LeBron's Lakers. Spoelstra is one of the best defensive coaches in the league, which is why he's one of the highest paid NBA coaches. It seems he's worth it too, with NBA GMs voting him as the league's best coach for two years running.
Story filed: Miami Heat coach Erik Spoelstra has agreed to a long-term contract extension, league sources tell ESPN. Spoelstra, who had one year left on deal, quietly negotiated extension that's been finalized on the eve of his 12th season as head coach.

— Adrian Wojnarowski (@wojespn) September 28, 2019
I'll be back tomorrow with the final part!
THANK YOU FOR YOUR SUPPORT!
Wolfgang Sport started in 2017 as a way to connect my passion for American and British sports. Today it's evolved into a blockchain sports blog pushing the boundaries into the crypto world and embracing Web3 technologies.
---
---