Western Sydney Wanderers - Sports Talk Social TWC
I love a contest, and that's what this post is all about .. my submission in the Sports Talk Social community "What is your favorite football Club?" contest. Well I am sure you can tell from the title that my favourite team is the Western Sydney Wanderers. That may surprise some but let me know you why.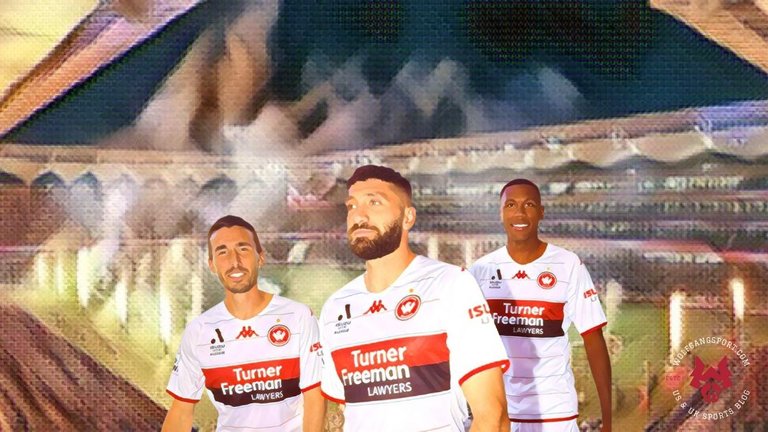 Ok so I'm a Chelsea supporter. I'm also a Bayern Munich supporter. But Western Sydney Wanderers is my favourite team. It's one thing to be a fan, a supporter, but this team is my identity. Let me get the formalities out first:
Who Are the Wanderers?
The Western Sydney Wanderers are based in Western Sydney, Australia. I've grown up here all my life and its my identity. The club was established in 2012 and has quickly established itself as one of the most popular and successful football clubs in Australia.
Our average crowds are around the 15,000 mark. Let me tell you, that is a phenomenal number considering how hard it is for football (most of the country still calls it soccer) to compete against other sports. There are major competitions for professional rugby league, rugby union, Australian Rules football and basketball all competing for fans.
Now, prior to the formation of the Wanderers, Western Sydney was the only region of all Australia's major cities without a professional football team. Interestingly, like a decent portion of Wanderer's fans, I followed Sydney FC which is based in the eastern/southern suburbs of Sydney but at the time represented all of Sydney.
Well, Sydney FC are our sworn enemies and we now compete in the Sydney Derby. It's so intense that the game has spilled over into incidents of violence and hooliganism in the past. The rivalry is fierce mostly because of socio-economical divides. Sydney FC's catchment area encompasses many upper-middle class suburbs. Western Sydney has many "working class" suburbs and we're "battlers" if you want to call it that.
Remember I said that the Western Sydney Wanderers is my identity?
https://twitter.com/austadiums/status/1188397738376998913?s=20
What Have We Achieved?
The Wanderers have arguably the largest and most passionate fan base in the A League which is known as the "Red and Black Bloc". We're renowned for our enthusiastic (and sometimes rowdy) support of the team. Did you expect any less from the "working class"?
https://twitter.com/HooligansTV_eu/status/833268235063721984?s=20
In our relatively short history we've done amazing. In our first season in 2012-13 we won the Premiers' Plate which is awarded to the team that finishes on top of the A-League ladder at the end of the regular season. We then went on to win the A-League Grand Final to back it up.
Our biggest success was winning the 2014 Asian Champions League against all the odds. We became the first Australian team to win it after beating Saudi Arabian team Al-Hilal 1-0 in the final. In 2016 we made the final again but lost to South Korean team Jeonbuk Hyundai Motors.
https://twitter.com/FrontPgFootball/status/1587349124046675968?s=20
Our Most Famous Players
OK, I'll admit you're not going to get blown off your seat with the players in our league. It's challenging for A-League teams to attract marquee players, especially when compared to other more established football leagues around the world.
Another challenge is that many top-level players may be hesitant to move to Australia due to the distance from their home countries and the relative isolation from other top-level football competitions.
Back in the leagues heyday we attracted star players like Alessandro Del Piero, Dwight Yorke and Robbie Fowler to the league but we can't attract anybody with that sort of pulling power nowadays. Some of our most famous players that have played for the Wanderers that you may know:
Shinji Ono: The Japanese midfielder was our first marquee player and became an instant fan favourite. He played a key role in the club's success, scoring several important goals. Initially I was very frustrated when he didn't join, as the other name we were looking at was signing Michael Ballack who is my all time favourite player.
Alexander Baumjohann: A German attacking midfielder who currently plays for the Wanderers. Baumjohann is a skilled player with excellent ball control and has been a key player for the club since joining in 2019. Was capped a few times for Germany U-21 and also played in the Bundesliga for clubs like Schalke 04, Borussia Mönchengladbach, Hertha Berlin and Bayern Munich.
Jack Rodwell: The former Everton, Man City, Sunderland defensive midfielder Jack Rodwell joined the Wanderers as a marquee signing, with the hope that his experience playing in the English Premier League would help the team. He was a big flop with injuries and fitness issues throughout his time at the club and only made a handful of appearances.
https://twitter.com/Fans_Forum/status/253061547386081280?s=20
Conclusion
I grew up always barracking for Chelsea or Bayern Munich but as I grew older, I realised that supporting a local team holds a special place in my heart. Yes, the glitz and glamour of the Premier League is amazing, and I unashamedly watch more EPL than A League. The quality of football is chalk and cheese, and the A League is almost like slow motion.
But as a fan, I feel a sense of pride and belonging towards my community, and supporting a local team amplifies that feeling even more. Cheering for a team that represents your region creates a bond that goes beyond just the love of the sport and is also part of your own identity.
To sum it all up, supporting a local team like the Western Sydney Wanderers over a glamorous team like Chelsea is not just about the sport, it's about embracing your community and being a part of something bigger. It creates a deeper connection to your roots and instills a sense of pride in your local region.
The Western Sydney Wanderers are my favourite team. You know how the old saying goes, home is where the heart is.
---
THANK YOU FOR YOUR SUPPORT!
Wolfgang Sport started in 2017 as a way to connect my passion for American and British sports. Today it's evolved into a blockchain sports blog pushing the boundaries into the crypto world and embracing Web3 technologies.
---
---