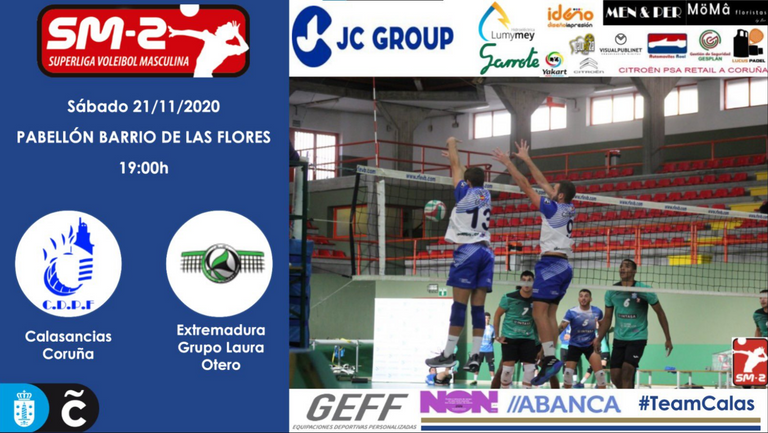 21 de Noviembre 2.020 a las 19:00 h - Pabellón Municipal Barrio de las Flores

Calasancias Coruña disputará su quinta jornada de la Superliga 2 Masculina de voleibol en el Barrio de las Flores el próximo sábado dia 21 a las 19.00 h ante el equipo de Miajadas Extremadura Grupo Laura Otero. A priori se presenta un partido difícil para los locales, ya que los extremeños acaban de colocarse como líderes de la competición, tras su victoria la jornada pasada ante el Voleibol Dumbría en Miajadas, hasta entonces líder de la competición.
El equipo visitante se ha reforzado notablemente esta temporada con vistas a intentar el ascenso de categoría. Calasancias Coruña espera seguir consolidando su mejora en el juego, después de lo ofrecido en el último partido disputado, con l esperanza de volver a convertir el Pabellón de Barrio de las Flores en una plaza difícil para cualquier visitante.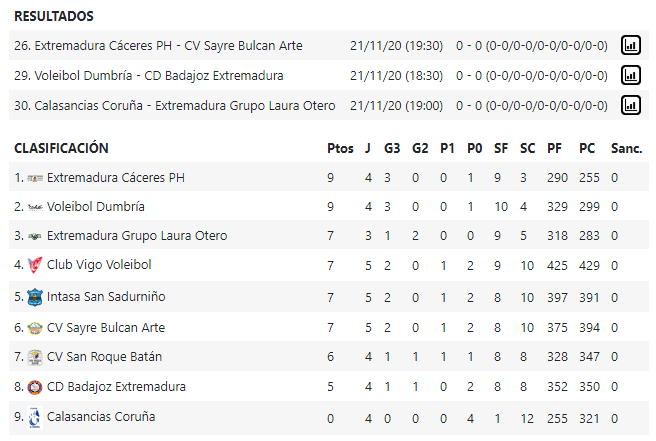 Calasancias Coruña will play its fifth day of the Superliga 2 Men's Volleyball in the Barrio de las Flores next Saturday 21st at 19.00 h against the team of Miajadas Extremadura Group Laura Otero. A priori it is a difficult match for the locals, as the Extremadura have just placed themselves as leaders of the competition, after their victory last day against Volleyball Dumbría in Miajadas, until then leader of the competition.
The visiting team has reinforced itself notably this season with a view to trying to move up a category. Calasancias Coruña hopes to continue consolidating its improvement in the game, after what was offered in the last match played, with the hope of turning the Barrio de las Flores Pavilion into a difficult place for any visitor again.