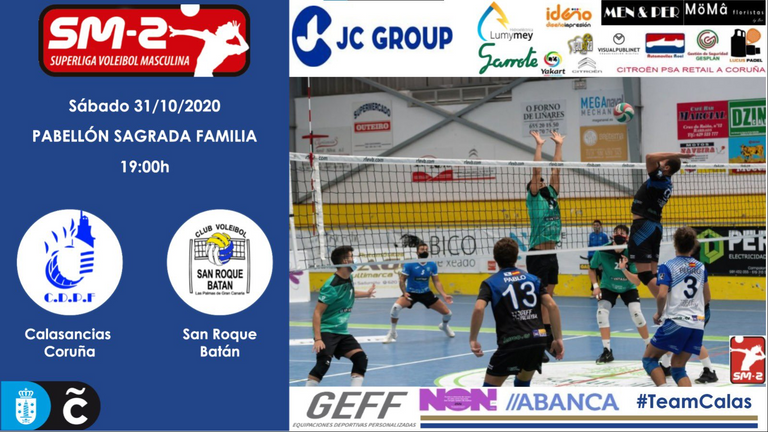 CALASANCIAS CORUÑA – C.V. SAN ROQUE BATÁN
31 de Octubre 2.020 a las 19:00 h - Pabellón Municipal Sagrada Familia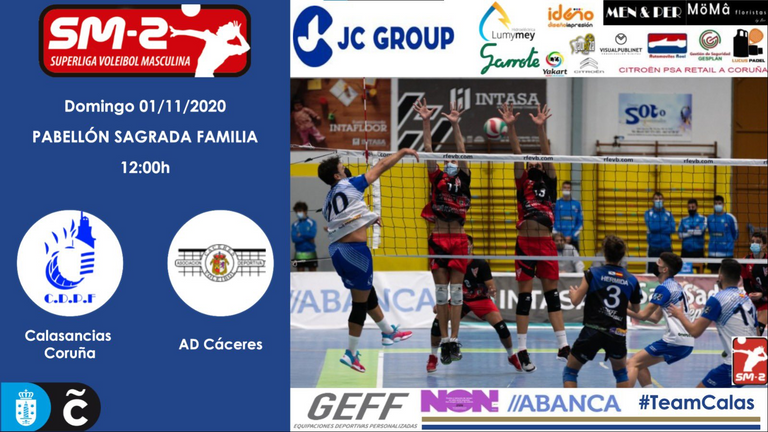 CALASANCIAS CORUÑA – EXTREMADURA CÁCERES PH
1 de Noviembre 2.020 a las 12:00 h – Pabellón Municipal Sagrada Familia

Después del descanso de la semana pasada, Calasancias Coruña disputará este fin de semana una jornada doble en el Pabellón Municipal de Sagrada Familia, empezando el sábado a las 19.00 h frente al equipo canario de CV San Roque Batán y finalizando el domingo a las 12:00 h frente a Extremadura Cáceres PH.
CV San Roque Batán es un equipo recién ascendido a esta competición, sin experiencia en la Superliga 2, pero que se ha reforzado para afrontar este año con un bloque muy competitivo. El equipo canario viene de perder la semana pasada en Las Palmas frente a Voleibol Dumbría, por lo que tanto Calasancias Coruña como los visitantes lucharán por anotarse la primera victoria de la temporada. El equipo coruñés se presenta muy mentalizado para este partido, conscientes de que es uno de sus rivales directos, después de una semana con muchos problemas para poder entrenar por las restricciones horarias. Si bien el pabellón de Sagrada Familia no es su cancha habitual de juego, los coruñeses tienen que aprovechar su condición de locales para plantar cara a los canarios e intentar anotarse los primeros puntos.
El domingo día 1 Calasancias Coruña volverá al pabellón de Sagrada Familia para enfrentarse al equipo de Extremadura Cáceres PH. Los extremeños son un difícil rival para los coruñeses, ya que se trata de un equipo experto y muy competitivo, pero sin duda el recuerdo de la gran victoria contra todo pronóstico de los coruñeses en el partido de la temporada pasada en el Barrio de las Flores todavía permanece en la cabeza de los locales, lo que les dará confianza para intentar de nuevo la victoria.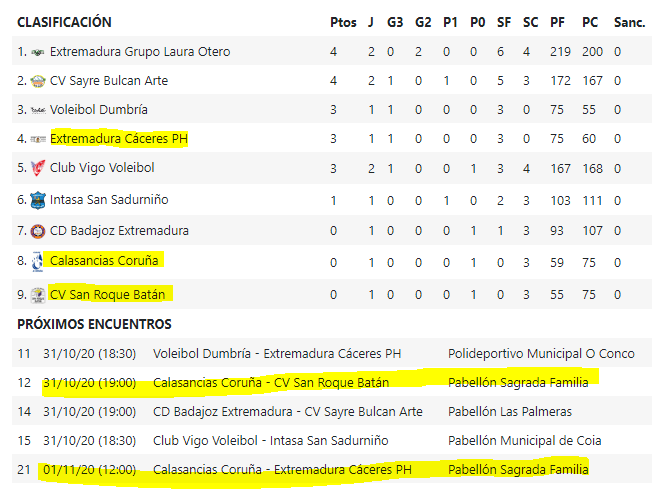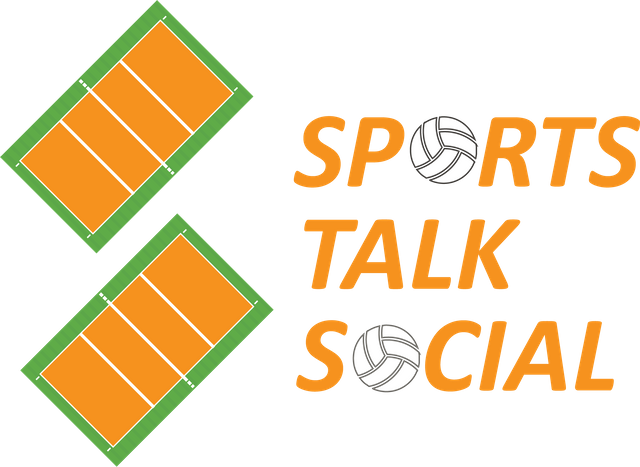 After last week's rest, Calasancias Coruña will play this weekend a double day at the Sagrada Familia Municipal Pavilion, starting on Saturday at 7pm against CV San Roque Batán and ending on Sunday at 12pm against Extremadura Cáceres PH.
CV San Roque Batán is a team recently promoted to this competition, without experience in Superliga 2, but has been strengthened to face this year with a very competitive block. The Canarian team has just lost last week in Las Palmas against Volleyball Dumbría, so both Calasancias Coruña and the visitors will fight for their first victory of the season. The team from A Coruña is very much looking forward to this match, aware that they are one of their direct rivals, after a week with many problems to train due to time restrictions. Even though the Sagrada Familia stadium is not their usual playing field, the team from A Coruña has to take advantage of their local condition to face the Canaries and try to score the first points.
On Sunday 1st Calasancias Coruña will return to the Sagrada Familia stadium to play against the Extremadura team Cáceres PH. The team from Extremadura is a difficult rival for the locals, as they are an expert and very competitive team, but without a doubt the memory of the great victory against all odds of the locals in last season's match in the Barrio de las Flores still remains in the head of the locals, which will give them confidence to try and win again.