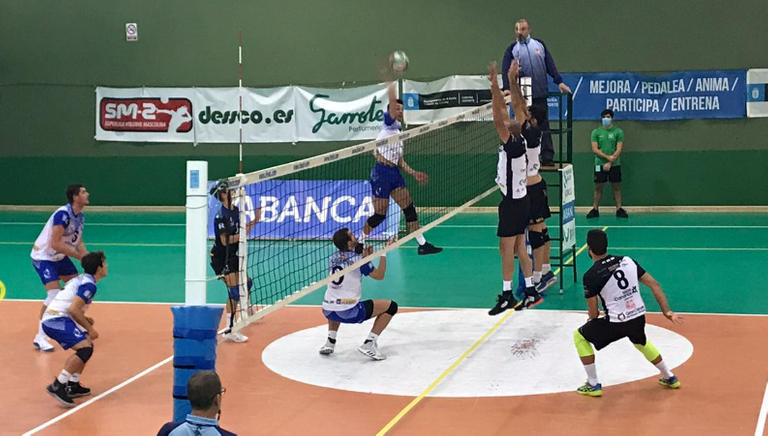 VOLLEYBALL MATCH SM2 C.V.CALASANCIAS vs C.V.CACERES
Domingo 1 de Noviembre. Pabellón Municipal Sagrada Familia. 12:00h
CALASANCIAS CORUÑA: Isma, Queiro, Conor, Edgard, Jaime, Guille y Hermida (equipo inicial), Deus, Hinojosa, Ioritz, Besteiro, Brais, Losada y Allegue
EXTREMADURA CACERES PH: Domine, Rodriguez, De Sousa, Amorin, Garcia Moreno, Brillo y Bueno (equipo inicial) González, Espejo, Parente y Rebollo
ÁRBITROS: Barrallo y Suárez de Tena
RESULTADO. 0 - 3(18-25, 16-25 y 20-25)

Derrota del equipo coruñés en su partido matinal del domingo frente a Extremadura Cáceres PH, en un partido marcado por los continuos errores en ataque de Calasancias Coruña.
En la memoria de ambos equipos estaba fresco el recuerdo del partido disputado en A Coruña la temporada pasada, donde Calasancias Coruña, desarrollando un gran juego, se hizo con una brillante victoria. Pero este domingo no se pudo repetir la historia, y los visitantes se llevaron una clara victoria.
El primer set fue igualado en su primera mitad, con alternativas por parte de ambos equipos. Sin embargo el poderoso bloqueo visitante, en el que destacaban los brasileños Amorín y De Sousa obligaron a los locales a forzar mucho en su ataque, cometiendo numerosos errores que distanciaron en el marcador al equipo cacereño, que tranquilamente pudieron controlar el set.
En el segundo set Calasancias Coruña comenzó cometiendo numerosos errores en recepción y ataque, que fueron aprovechados por los visitantes para marcar distancias en el marcador gracias a los efectivos ataques de su jugador opuesto Amorín. A pesar del mal comienzo de set, los coruñeses tuvieron algunos momentos de buen juego, con ataques potentes de Queiro y Guille por las alas, lo que hacía mantener las ilusiones de la remontada, pero la experiencia y control del juego del equipo visitante hicieron imposible la remontada.
En el tercer set el equipo coruñés comenzó mostrando su mejor juego. Queiro y Guille continuaron mostrando la eficacia en ataque del set anterior, y Edgard y Besteiro conseguían parar el ataque cacereño, pero no fueron capaces de mantener el nivel de juego más allá de la mitad del set. Comenzaron a producirse errores en la recepción local, que forzaban un ataque con dificultades de lo que se aprovechó el equipo visitante, que con su gran experiencia recuperaron su control en el ataque, haciéndose cómodamente con el set y el partido.
Después de este partido Calasancias Coruña debe trabajar para su próxima visita a Dumbría el próximo sábado 7. Será un partido complicado, ya que el equipo local es uno de los claros aspirantes al ascenso de categoría.


Defeat of the team from A Coruña in their Sunday morning match against Extremadura Cáceres PH, in a match marked by the continuous attacking errors of Calasancias Coruña.
In the memory of both teams it was fresh the memory of the match played in A Coruña last season, where Calasancias Coruña, developing a great game, got a brilliant victory. But this Sunday history could not be repeated, and the visitors took a clear victory.
The first set was equalised in its first half, with alternatives from both teams. However, the powerful visitor blockade, in which the Brazilians Amorin and De Sousa stood out, forced the locals to force a lot in their attack, committing numerous errors that distanced the Caceres team in the score, who could calmly control the set.
In the second set Calasancias Coruña started committing numerous errors in reception and attack, which were taken advantage of by the visitors to mark distances on the scoreboard thanks to the effective attacks of their opposite player Amorín. Despite the bad start of the set, the Coruña players had some moments of good game, with powerful attacks from Queiro and Guille on the wings, which made them keep their hopes of a comeback, but the experience and control of the game of the visiting team made the comeback impossible.
In the third set the team from A Coruña started showing their best game. Queiro and Guille continued to show the efficiency of the previous set, and Edgard and Besteiro managed to stop the Caceres attack, but were unable to maintain the level of play beyond the middle of the set. Errors began to occur in the local reception, forcing a difficult attack which the visiting team took advantage of. With their great experience, they regained control in the attack, comfortably taking over the set and the match.
After this match Calasancias Coruña must work for their next visit to Dumbría next Saturday 7th. It will be a complicated match, as the local team is one of the clear candidates for the promotion.