First Leg European League Semifinal, Manchester United Slaughter As Roma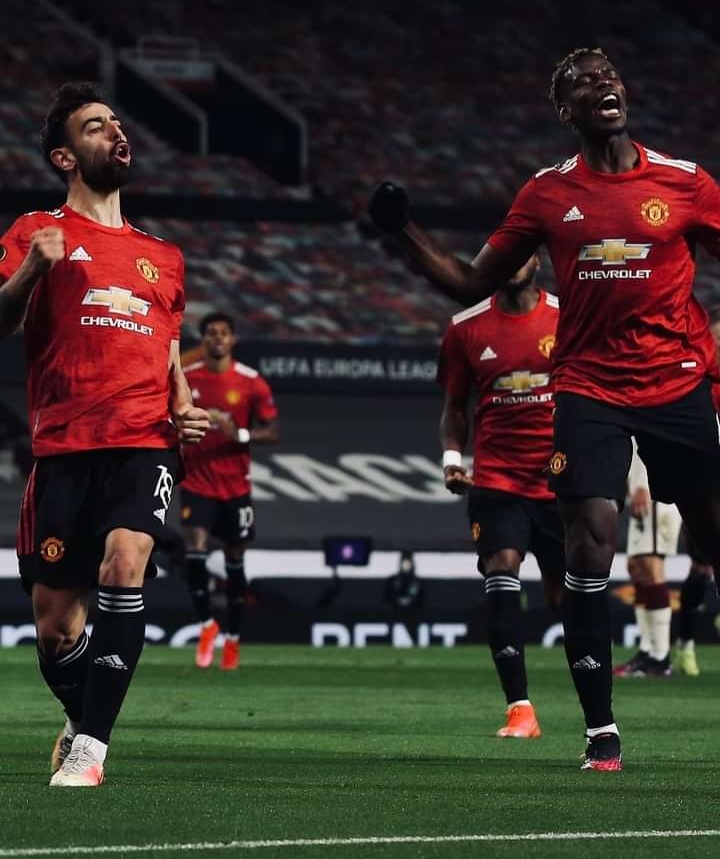 Playing at home, Manchester United won over As Roma in the first leg of the European League semi-final at the Old Trafford stadium, Friday (29/4/2021).
Having led 2-1 in the first half thanks to goals from Pellegrini and Edin Dzeko, the Italian representative was slaughtered 6-2 after in the second half the hosts got up with five goals back.
Manchester United's six winning goals were scored by Bruno Fernandes (9 and 71-penalties), Edinson Cavani (48 and 64), Paul Pogba (75) and Mason Greenwood (86). Meanwhile, As Roma's two goals were born through Lorenzo Pellegrini's penalty in the 15th minute and Edin Dzeko in the 34th minute.
The defeat was allegedly due to the substitution of players by As Roma coach, Paulo Fonseca. Fonseca was forced to make three substitutions when the game had only been running for 37 minutes.
The first player to be substituted was Jordan Veretout who was withdrawn due to a muscle injury. The midfielder's exit left the Roma midfield confused due to the absence of a game timer.
In the 28th minute when the score is still 1-1, Roma goalkeeper Pau Lopez has to be pulled off due to an injury after falling in an imperfect state while saving the ball against Paul Pogba's effort.
The last player to be substituted was Leonardo Spinazzola who had to be withdrawn due to an injury. At that time As Roma was leading 2-1 after Edin Dzeko scored.
The crushing victory put Manchester United in the advantage of looking to the second leg which will be held at the Stadio Olimpico, May 6, 2021
Leg Pertama Semifinal Liga Eropa, Manchester United Membantai As Roma
Bermain di kandang sendiri, Manchester United berhasil meraih kemenangan atas As Roma dalam laga leg pertama semifinal Liga Eropa di stadion Old Trafford, Jum'at (29/4/2021).
Sempat memimpin 2-1 di babak pertama berkat gol Pellegrini dan Edin Dzeko, wakil Italia itu dibantai dengan skor telak 6-2 setelah di babak kedua tuan rumah bangkit dengan membalas lima gol.
Enam gol kemenangan Manchester United dicetak oleh Bruno Fernandes (9 dan 71-penalti), Edinson Cavani (48 dan 64), Paul Pogba (75) dan Mason Greenwood (86). Sementara dua gol As Roma lahir lewat penalti Lorenzo Pellegrini di menit ke-15 dan Edin Dzeko pada menit ke-34.
Kekalahan telak itu disinyalir karena pergantian pemain yang dilakukan pelatih As Roma, Paulo Fonseca. Fonseca terpaksa harus melakukan tiga pergantian pemain disaat laga baru berjalan 37 menit.
Pemain pertama yang diganti adalah Jordan Veretout yang ditarik keluar karena mengalami cedera otot. Keluarnya sang gelandang menyebabkan lini tengah Roma kebingungan karena tidak adanya pengatur tempo permainan.
Pada menit ke-28 ketika skor masih 1-1, kiper Roma Pau Lopez harus ditarik keluar karena juga mengalami cedera usai jatuh dalam keadaan tidak sempurna kala melakukan penyelamatan bola terhadap upaya Paul Pogba.
Pemain terakhir yang diganti adalah Leonardo Spinazzola yang harus ditarik keluar karena mengalami cedera. Saat itu As Roma sedang memimpin 2-1 usai Edin Dzeko mencetak gol.
Kemenangan telak itu menempatkan Manchester United dalam keuntungan untuk menatap leg kedua yang akan dihelat di Stadion Olimpico, 6 Mei 2021.
---
---