Japan and South Korea were eliminated and Croatia and Brazil advance at the World Cup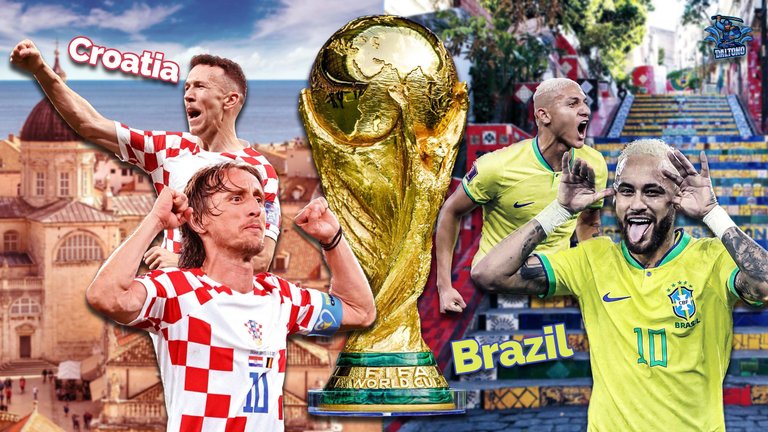 One step closer 🌟⚽️🏟️🏆
The knockout stage continues with two more matches between teams that are sure to provide tough competition for their opponents. Japan surprised everyone and won their group over Spain and Germany. Croatia would be a tough team to go against in the first round considering they made it to the World Cup finals in 2018. Brazil got Neymar back from his ankle injury but lost Gabriel Jesus to a knee injury. Could they continue winning as the #1 ranked team and take out a determined South Korean team? Find out later in this post.
Hopefully, you didn't miss my World Cup article from yesterday where I talked about these matches...
France🇫🇷 vs Poland🇵🇱
England🏴󠁧󠁢󠁥󠁮󠁧󠁿 vs Senegal🇸🇳
If you did, I'll make it easy for you to go back and see that one. Just click here.
More on the two more recent matches. I really wanted Japan to continue winning, but my gut told me that Croatia would come out on top. I was pretty confident that Brazil would easily take care of South Korea.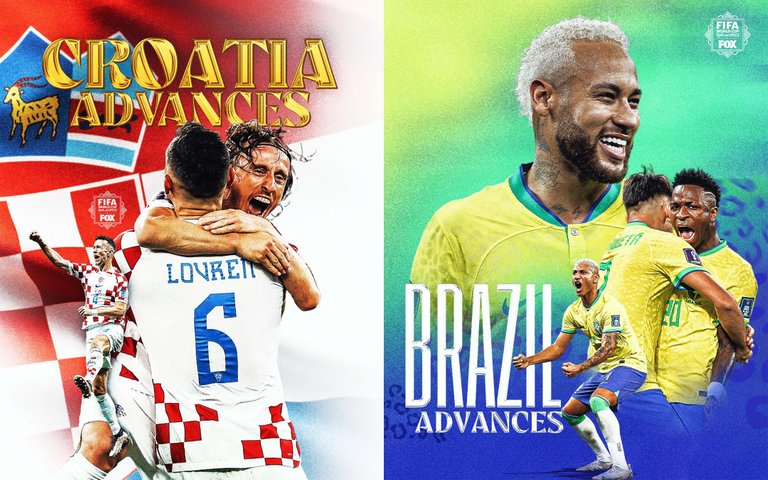 Let's recap two more games from the knockout stage of the 2022 World Cup in Qatar...
---
---
Japan🇯🇵 vs Croatia🇭🇷
Both teams looked dangerous during multiple possessions in the first half. Japan's crosses pretty much all landed right where they needed to be, but most ended in missed opportunities. Japan did finally score when they took a short corner and worked the ball inside of the box for a great goal by Maeda in the 43rd minute.
https://twitter.com/foxsoccer/status/1599792143861780481?s=46&t=teJfLXIjHroEQThrbsv3cA
Japan has been more of a second-half team so far in this tournament. Taking the lead before halftime was huge for them and would make it very difficult (but not impossible) for Croatia to come back. Croatia responded early in the second half with an equalizer by Ivan Perišić in the 55th minute. Look at the power on this header.
https://twitter.com/FOXSoccer/status/1599799567104499712?s=20&t=euiBU2aJbOPVGyFI9QcwQA
After 90 minutes of play, the score was still tied. Since a draw is no longer a possible outcome in the knockout stage, this meant 30 minutes of extra time would be played. Even though more time, no goals were scored on either side, it was on to penalties to figure out a winner.
Here are the results of the penalty shootout:
🇯🇵 ❌ 1️⃣ 🇭🇷 ✅
🇯🇵 ❌ 2️⃣ 🇭🇷 ✅
🇯🇵 ✅ 3️⃣ 🇭🇷 ❌
🇯🇵 ❌ 4️⃣ 🇭🇷 ✅
https://twitter.com/FOXSoccer/status/1599820917651144706?s=20&t=OKQUejh66Sj8v5KQO29E9w
https://twitter.com/FOXSoccer/status/1599821434263683076?s=20&t=OKQUejh66Sj8v5KQO29E9w
https://twitter.com/FOXSoccer/status/1599822359413903360?s=20&t=TbF1x5nuZBucsQWTH45tDQ
Croatia's goalkeeper managed to save 3 shots and that was enough to propel them to victory where they will face Brazil in the next round. Japan has been eliminated.
Result: 1-1 in favor of Croatia after penalties
---
Brazil🇧🇷 vs South Korea🇰🇷
Brazil's speed is something that South Korea should fear going into this match. Brazil is also well-rested and has a deep roster. Plus, Brazil is my favorite team. Let's just say I was confident that Brazil would win this match. The Brazilian squad showed me something in the 7th minute when Vinícius Júnior had way too much time and easily made the first goal of the match.
https://twitter.com/FOXSoccer/status/1599843416367632408?s=20&t=zQcjJ0KfUNpd6b6d-KBW_w
Shortly after the first goal, Richarlison was fouled hard inside of the box. The result was very obviously a penalty. Neymar was the man chosen to take the shot. This was his first game back after hurting his ankle in their first match of the World Cup. Neymar seemed fine to me as he patiently place the pk out of reach for the Korean goalkeeper for a second early Brazilian goal, this one coming in the 13th minute.

https://twitter.com/FOXSoccer/status/1599844170629320705?s=20&t=1O2BiRlgbeNYYP-zS0Oyfw

https://twitter.com/FOXSoccer/status/1599844724721975296?s=20&t=L-Zj4xt9yvIKfL9BaQ6FOg

Brazil continued to fly and South Korea crashed even harder. Richarlison made such a lovely play in the 29th minute. He now has two of the best goals through this World Cup so far. Just look how he juggles the ball in the air for a bit and then dumps it off and goes on a sly run inside of the box. What a finish!

https://twitter.com/FOXSoccer/status/1599848901909090316?s=20&t=6AFUrCz3BxFz99GESTlGDg

Brazil is such a fun team, it's no wonder they became my favorite team pre-2000s when I was a youngster. Their passion for winning shows when they do their choreographed dances together to celebrate goals. Even their head coach gets in on the dancing.

https://twitter.com/FOXSoccer/status/1599849034574925825?s=20&t=6AFUrCz3BxFz99GESTlGDg

Brazil continued to put on the World Cup show of a lifetime. It was Lucas Paquetá who was next up for Brazil to score. They were picking South Korea apart, I almost felt sorry for them.

https://twitter.com/FOXSoccer/status/1599850691668869120?s=20&t=Gq9YBa-MWYkmKTqnw3V84Q

https://twitter.com/FOXSoccer/status/1599850984192282641?s=20&t=Gq9YBa-MWYkmKTqnw3V84Q

The second half was pretty quiet, although Brazil wasn't necessarily holding back and focusing on defending. Both sides missed a few opportunities. That was until South Korea finally scored their first goal in the 76th minute. Paik Seung-ho sent this one through the defense into the back of the net with emphatic force.

https://twitter.com/FOXSoccer/status/1599865875095592961?s=20&t=79un5dGcDd0atMfvEeO_Hw

Brazil didn't even have to score a goal in the second half and still won this match decisively. South Korea has been eliminated. Brazil faces Croatia in the next round of the knockout stage.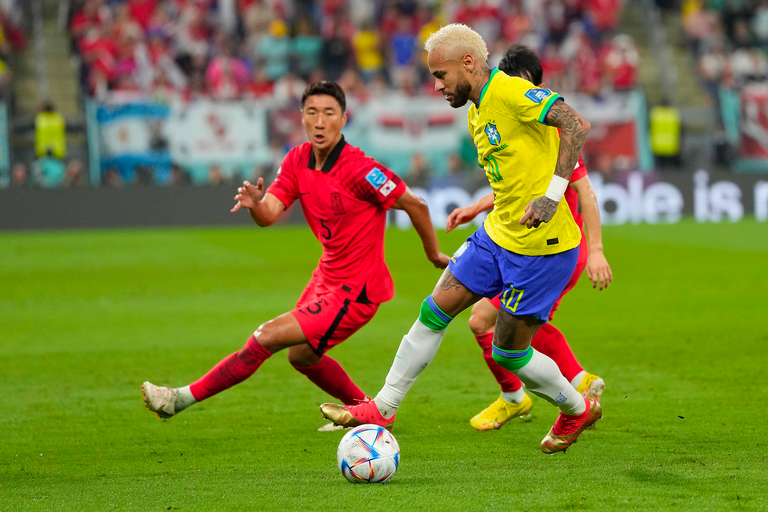 Result: 4-1 in favor of Brazil
---
Brazil charges forward
It made me so happy to witness Brazil dominate on all fronts. Their play looked so good that now I am even more confident that they can advance all the way to the championship match. I think this may be the year that Neymar joins the ranks of Pelé and Ronaldo as the top Brazilian goal scorers who also have won a World Cup.

Don't forget about the @hivebuzz World Cup contest https://peakd.com/hive-102201/@hivebuzz/wc2022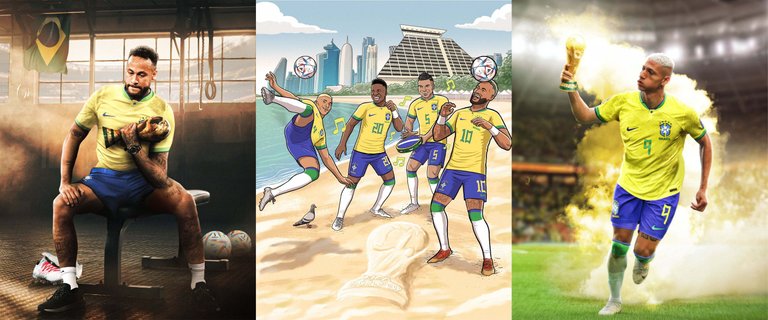 Does Croatia stand a chance against Brazil in their next match?

Comment below if you were also impressed by Brazil's latest outing.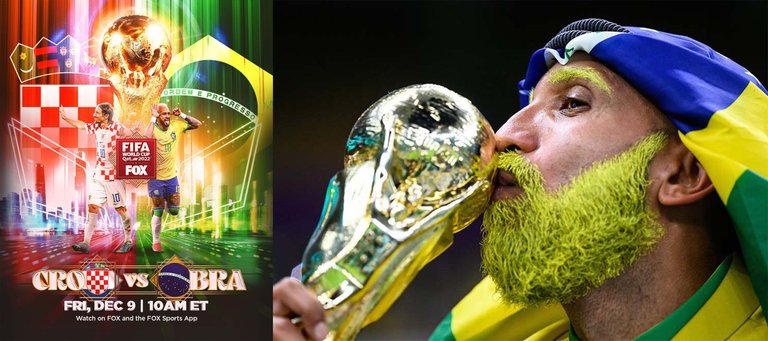 ---
You can see all of my World Cup posts by following
---
---
---

My NFTs: https://inji.com/@daltono/nfts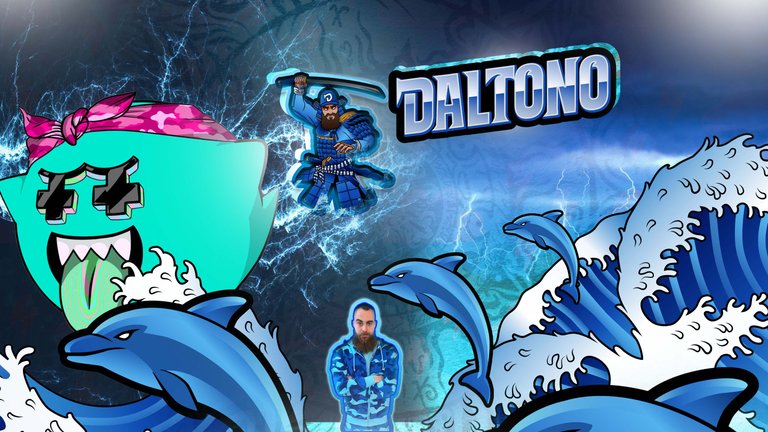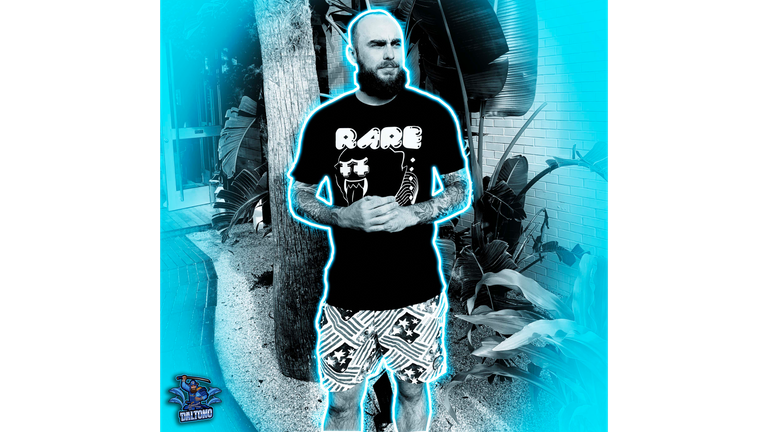 ---
---