If you follow UFC at all you probably already know that there is a feud going on between Jon Jones and Dana White. There were times that it appeared as though White was going to tell Jones to get lost because Jones kept taking the "fight" to Twitter and Instagram doing what I call "his dirty laundry in public."
This isn't a great way to get on the good side of Dana White who understandably probably has one of the biggest egos in the world. I believe it is rightfully so as well. He took an organization that was on the brink of bankruptcy and turned it into one of the most valuable sports in the world. So if we were to ask the question of "who needs who more? " The answer would be that Jon Jones needs Dana White a LOT more than the other way around.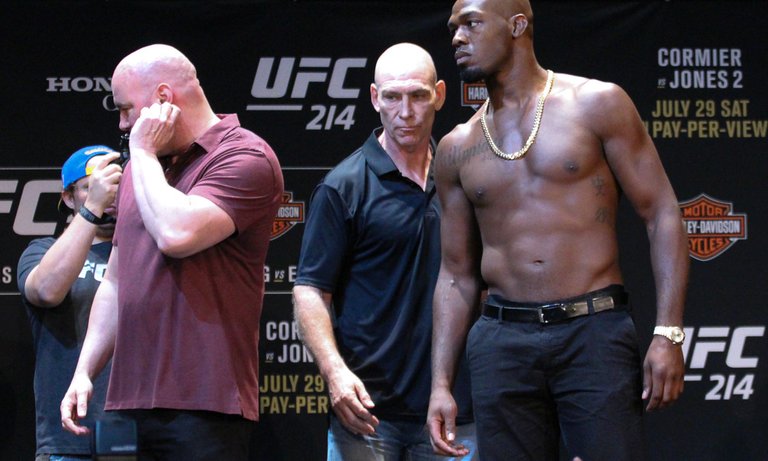 src
As I have mentioned before, there is a massive pay disparity between the high-level guys and the run-of-the-mill UFC (or other MMA promotions) salaries. This would be true in other sports as well but when you get out of the top-10 the salaries after you deduct all the living costs, taxes, and other expenses, there is a good chance that if you are a working stiff in America you probably make more money than the guys you see on TV in the octagon.
Jon Jones is without question one of the greatest of all time and the UFC acknowledges this with their "pound for pound" rankings.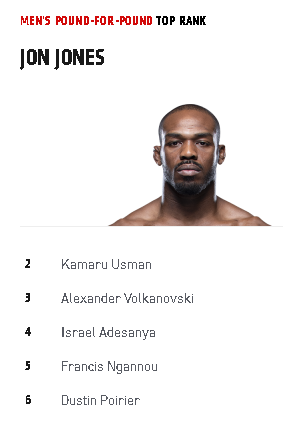 src
I stopped the image at number 5 for a reason and that is because Poirier is ranked number 5 but you know whose name is completely missing from the top 15? Conor McGregor.
Jones is number one despite the fact that he has only 3 fights in the past 2.5 years and all of those were decision victories. The last time he finished an opponent was all the way back in 2018 when he KO'd Alexander Gustafsson back in 2018.
I have nothing against Jones and just like any other MMA fan I very much look forward to any appearance he makes in the octagon. I also have a very big problem with the sense of entitlement that he displays on a regular basis. Yes, he's a GOAT, yes he has an impressive record, yes he is dominant for the most part and there are very few instances where it looked even remotely like someone might get the upper hand on him. However, he has never fought at heavyweight and for him to pressure the organization for a title shot right out of the gate is ridiculous and unfair to the guys that scrapped their way from the bottom.
Not only does Jones want an immediate chance at the strap instead of having a fight with someone like, say Volkov or Blaydes, he also expects to be paid unprecedented money to even show up. His last demand, where negotiations fell apart he was asking for $30 million guaranteed, win or lose.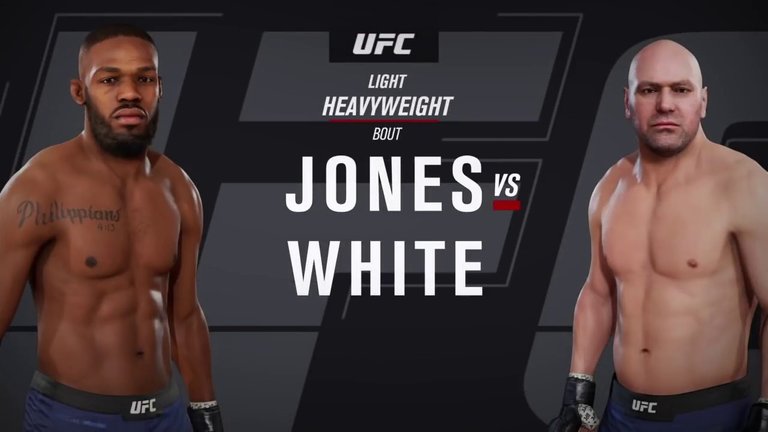 src
Apparently, this is an option in a UFC video game
Jones' arrogance is deserved but I am reminded about a quote from The Dark Knight when Joker says "This is what happens when an unstoppable force meets an immovable object" and the ego battle between Jones and White probably could have been sorted out if Jones had just kept it private... but he didn't. He took his disagreements with Dana White to Twitter and Instagram and well, regardless of your level of talent, this is the wrong way to approach Dana White.
While a "superfight" with Jones in it would certainly be a windfall of earnings for UFC, they don't actually need Jones in order to make this money. They will sell out arenas and sell tons of pay-per-views with their current roster anyway. Jones on the other hand needs the UFC in order to get a big payout. The other promotions don't even come close as far as purses are concerned. If UFC decides to give Jones the cold shoulder, Bellator and Pride definitely aren't going to offer $30 million because they probably don't even take in that much on even their biggest pay per views.
At the moment Jones has hired an advisor to continue the negotiations on his behalf and although this advisor (who is named Richard Schaefer and is a big deal in the fight-promotion industry) has not specifically said to the public that he has ordered Jones to STFU on social media, I think that doing so would benefit him greatly.
I would love to see Jones fight again, but the man needs to calm the hell down if this is going to happen. Let's hope that Schaefer can reel him in a bit, or I predict we are not going to see Jones fighting again any time soon.