oii gente!!! como vcs estão??/Hi guys!!! how are you??
aqui vou mostrar quais os ganhos da minha primeira Recompensa de Temporada pelo game Splinterlands
here I will show you the gains of my first Season Reward for the game Splinterlands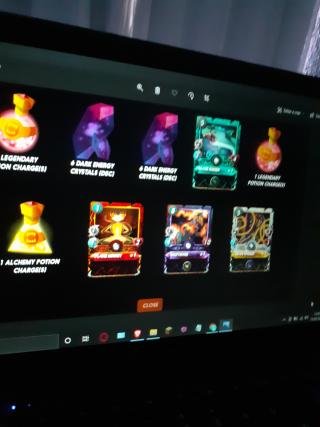 bom quem diria que em umas das primeiras recompensas de temporada que não fossem tão ruim quanto imaginei nas recompensas dos baús a cada dia e nessa forma vamos caminhando até a liga champion!!!
well who would say that in one of the first rewards of the season that were not as bad as I imagined in the rewards of chests each day and in that way we will walk to the champion league !!!

Bom como podem ver na foto acima dessa citação,acabei tirando 3 cartas nesta recompensa de Temporada,agr nesta exata postagem irei dizer com a minha sincera opinião,sobre o que eu acho sobre as cartas,que ganhei nos baús,exceto a carta wave runner que vamos descartar-la por ja ter sido itadano post passado.
Well as you can see in the photo above this quote, I ended up taking 3 cards in this Season reward, thank you in this exact post I will say with my sincere opinion, about what I think about the cards, that I won in the chests, except the wave runner card that we are going to discard it because it was already in the past post.

primeiramente iniciare-mos com a carta Nightmare,por ser uma carta bem limitada pra decks de morte tendo sua habilidade única chamada blast,eu amo cartas com essa habilidade,constantemente pego batalhas com cartas desta excessiva habilidade a carta pesadelo n foi diferente,o único mal dela em si é dela ter pouco ataque meele ou seja usaria ela apenas pra suporte ou em alguma situação em que não disponibilizar nenhum tank pra ser usado em decks de morte.
initially we will start with the Nightmare card, as it is a very limited card for death decks having its ability called single explosion, I love cards with this ability, constantly getting adapted with cards of this excessive ability the nightmare card was different, the only one her evil in itself is that she has little meele attack, in other words, she would use it only for support or in some situation in which no tank is available to be used in death decks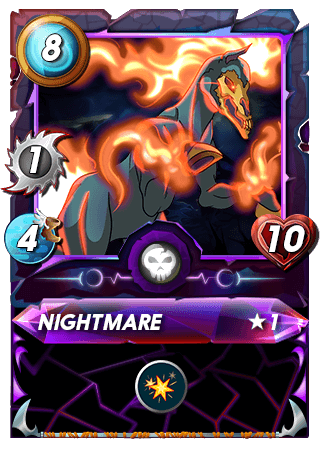 Bom ja na Segunda Carta ganha nas Recompensas de Temporada seria a Chain Spinner,a questão dessa carta ser boa ou mediana ao msm tempo seria na parte de sua vida e escudo serem os msm,mas o mal dela seria que em qualquer deck de vida focada em dano mágico ou regras na qual o escudo seria totalmente anulado pela partida,mas n deixa de ser uma carta mediana,msm tirando ao fato de sua habilidade ser otima.
Well already in the Second Card won in the Season Rewards would be the Chain Spinner, the question of this card being good or average at the same time would be in the part of your life and shield being the msm, but the harm of it would be that in any focused life deck in magic damage or rules in which the shield would be totally annulled by the match, but it is still an average card, except for the fact that your ability is optimal.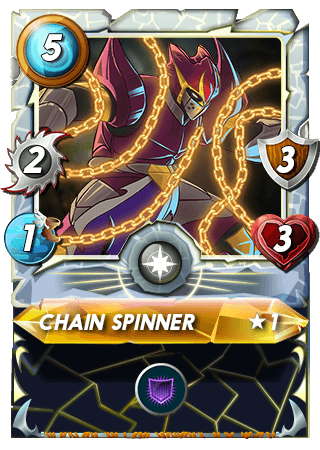 Agora sobre as recompensas básicas como as poções junto das DEC(Dark Energy Crystal) ao todo foram 3 poções:2 Poções Alquêmicas,1 Poção Lendária,contando com as DEC foram 12 DEC,sobre tds as recompensas,como ainda é meu inicio da jornada para Champion eu gostei um tanto das Reompensas,pois precisamos pensar grande quando a questão é evolução,se você pensar que nunca vai evoluir no Splinterlands ou n própia vida,retire esse pensamento de sua mente,vc so consegue algo se fizer por algo e se esforçar pelo aquilo que deseja conquista,conselho de amigo,busque lute,batalhe Rumo a Champion!!!
Now on the basic rewards like the potions next to DEC (Dark Energy Crystal) in total were3 potions: 2 Alchemic Potions, 1 Legendary Potion, with DEC were 12 DEC, about all rewards, as it is still my beginning of the journey for Champion mind, you only get something if you do for something and strive for what you want to achieve, friend advice, seek to fight, battle Towards Champion !!!

ENFIM É ISSO GUYS ATÉ A PRÓXIMA E UM BOM JOGO!!!/THAT'S EVERYONE GUYS UNTIL THE NEXT AND A GOOD GAME !!!
Redes Sociais:
Twitter:
Facebook:https://www.facebook.com/permalink.php?story_fbid=2889368504713964&id=100009225294757
Spellbock:https://splinterlands.com?ref=al4n