oii gente!!! como vcs estão?/Hi guys!!! how are you??
aqui vou mostrar quais os ganhos da semana passada pelo game Splinterlands
here I will show you the gains from last week for the game Splinterlands
                        (NA PROX SEMANA MAIS RESULTADOS)/(NEXT WEEK MORE RESULTS)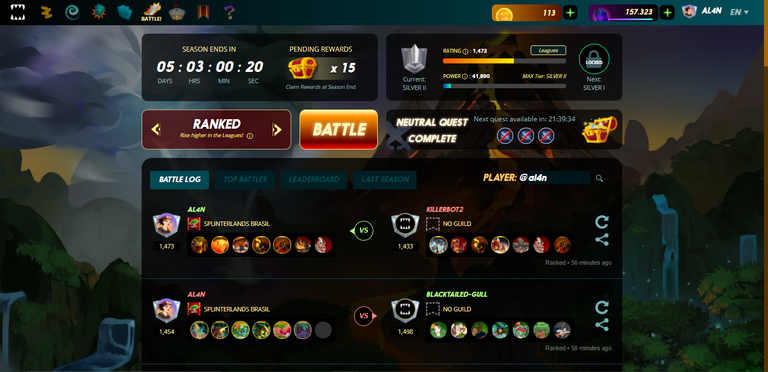 Então acho que essa Foi uma das Melhores Semanas que ja Tive jogando Splinterlands,pra eu ser bem Compreensivo na minha Fala,acabei tirando uma das boas ou até ótimas cartas pra ser usadas em certas regras,mas pra haver um belo Comentário lhes apresento Fineas Rage!!!
So I think this was one of the best weeks I've ever played Splinterlands, for me to be very Comprehensive in my Speech, I ended up taking one of the good or even great cards to be used in certain rules, but to have a nice Comment I present to you Fineas Rage !!!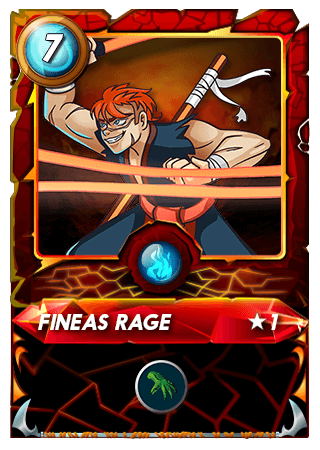 Embora o fato de ser outra carta Reward,podendo ser retirada nos Loot Chests,n deixa de ser uma carta ótima pra segunda ou terceira posição,podendo ter chances de Esquiva de Ataques do Tipo Melee,eu apenas uso ele ou em Regras Especificas ou quando se tem um Tank junto dele,também é uma ótima Estratégia,Eu Curto Usar Cartas de Fogo,Já Essa não Seria Suficiente,usaria concerteza na maioria das partidas msm tendo 7 de mana.
Although the fact that it is another Reward card, which can be withdrawn in Loot Chests, it is still an excellent card for second or third position, and may have chances of Dodging Melee Attacks, I only use it or in Specific Rules or when if you have a Tank next to it, it's also a great strategy, I like using fire cards, this wouldn't be enough, I would certainly use most msm games with 7 mana.

Enfim,alguns dias dps acabei recebendo Minhas DEC(Dark Energy Crystal),Não Sei ao Certo de Quantas Foram ao todo mas foram muitas ao todo de quase 1000 DECS,mas lógico que tive que alugar algumas cartinhas pra conseguir esse Valor,que não é fácil Meus Queridos,é muita luta,muita garra.
Anyway, a few days dps I ended up receiving My DEC (Dark Energy Crystal), I don't know for sure how many were in all but there were a lot of almost 1000 DECS, but of course I had to rent some cards to get this value, which is not easy My Dears, it's a lot of struggle, a lot of claw.

Bom,sobre as poções tambem fiquei contente com os resultados,por ter 5x Poções de Cada na qual nos da uma bela eficiência de Tirar Alguma carta de Folhagem Dourada ou até Lendária,mas td se concertiza com a sorte,msm as poções Melhorando a sua devida Sorte,ainda sim não seria apenas delas que nos depende-ssem para a criação de novas cartas!!
Well, about the potions I was also happy with the results, for having 5x Potions of Each in which it gives us a beautiful efficiency to Draw Some card of Golden Foliage or even Legendary, but it all works with luck, even the potions Improving yours due Luck, it still wouldn't be just them that depended on us to create new cards!!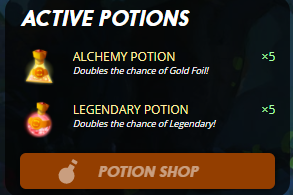 As Considerações Finais para a Carta Demented Shark que por sinal é péssima msm recuperando 1 de Shield a cada rodada,n vale tanto a pena pra uma Carta de 6 de Mana,pois existem Várias Cartas com Esse Valor de Mana que valem mais pena do que essa carta.
The Final Considerations for the Demented Shark Card, which by the way is bad, recovering 1 Shield each round, n is so worth it for a 6 Mana Card, because there are several cards with that Mana Value that are worth more than this letter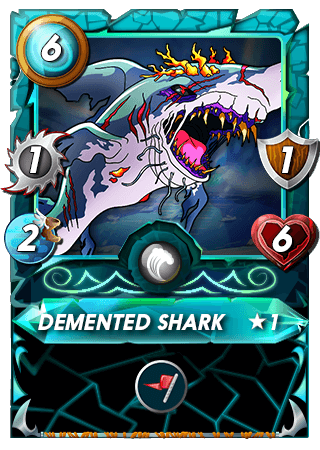 ENFIM É ISSO GUYS ATÉ A PRÓXIMA E UM BOM JOGO!!!/THAT'S EVERYONE GUYS UNTIL THE NEXT AND A GOOD GAME !!!
Redes Sociais:
Twitter:
Facebook:https://www.facebook.com/permalink.php?story_fbid=2896250267359121&id=100009225294757
Spellbock:https://splinterlands.com?ref=al4n