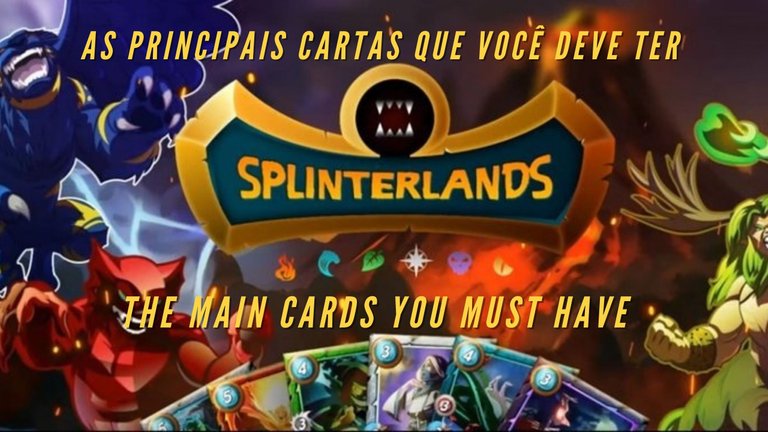 [English] ---|--- [Português]
Hello everyone, everything good?
In this post I will show you the main cards that you must have to go up in the league and stay at least in the GOLD league.
Remember that this is not an indication of investment, just my opinion on. And it will also depend on the strategy of each one.
Olá pessoal tudo bem?
Vou mostrar nesse post as principais cartas que você deve ter para subir de liga e ficar pelo menos na liga OURO.
Lembre-se que isso não é uma indicação de investimento, apenas minha opinião sobre. E dependerá também da estratégia de cada um.

When you buy Spellbook --

-- you unlock some features like Play-to-Earn in the game, daily missions, season rewards, participate in tournaments, be able to join guilds, and enable the market to trade by buying / selling cards.
In addition to gaining a HIVE account that will be used to login to all HIVE blockchain sites. Your username in the game will be your wallet address.
After the purchase some cards are available for you to play, but these cards are not YOUR NFTs, but from the game.
They are basic and level 1 cards, you will hardly be successful with just these cards.
In view of this, I come here to inform you of cards that will help in the progress of the leagues' climb, because it is extremely important to climb, due to the fact that: WIN more Chests in daily missions, WIN more Chests in the Season reward, WIN more DECs for victories.
Find out more about the winnings in the detailed Splinterlands game >>HERE<<
Quando você compra o Spellbook ---

---- você desbloqueia algumas funcionalidades como o Play-to-Earn no jogo, missões diarias, recompensas de temporada, participar de Torneios, Poder ingressar em Guilds, e habilita o mercado para comercializar comprando/vendendo cartas.
Alem de ganhar uma conta HIVE que vai ser usada para logar em todos os sites da blockchain HIVE. Seu nome de usuario no jogo vai ser seu endereço da wallet.
Após a compra é disponibilizado algumas cartas para você jogar, mas essas cartas não são NFTs SEUS, mas sim do jogo.
São cartas basicas e level 1, dificilmente vai ter sucesso ficando só com essas cartas.
Visto isso, venho aqui informá-los cartas que ajudarão no progresso de subida de Ligas, porque é de extrema importancia subirem, pelo fato de: GANHAR mais Baús nas missões diárias, GANHAR mais Baús na recompensa de Temporada, GANHAR mais DECs por vitórias.
Saiba mais sobre os ganhos no jogo Splinterlands detalhado >>AQUI<<

So, knowing that you need better cards in addition to those provided by the Spellbook, here are some cards that may be perfect for you to climb and stay in LIGA OURO.
IMPORTANT TO FOLLOW THE LEVEL DESCRIBED (EQUAL OR SUPERIOR) MENTIONED
Dividing by elements we have:
Então, sabendo que precisa de melhores cartas alem das disponibilizadas pelo Spellbook veja a seguir algumas cartas que podem ser perfeitas para você escalar e se manter na LIGA OURO.
IMPORTANTE SEGUIR O LEVEL DESCRITOS (IGUAL OU SUPERIOR) MENCIONADOS
Dividindo por elementos temos:

FIRE ( )
SUMMONERS (
)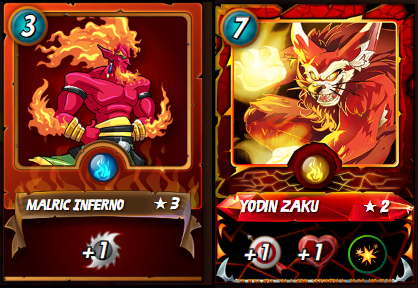 MONSTERS (
)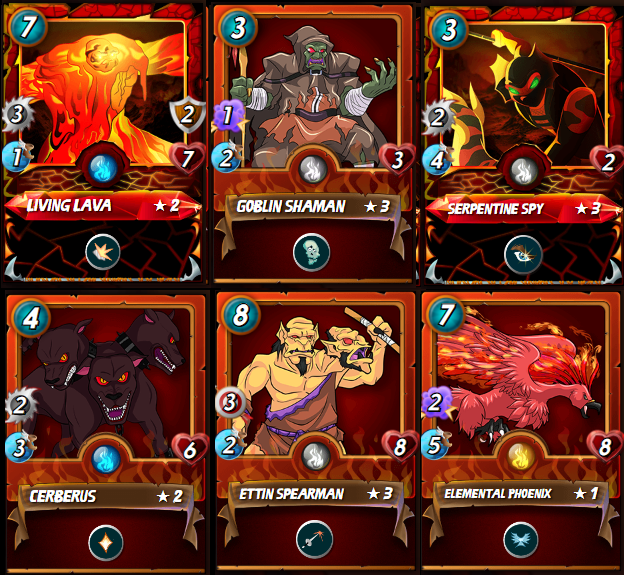 WATER ( )
SUMMONERS (
)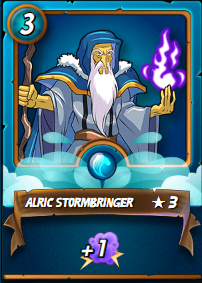 MONSTERS (
)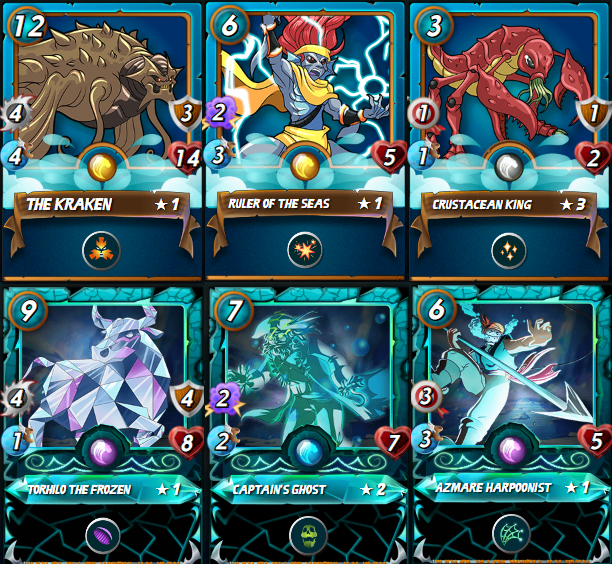 EARTH ( )
SUMMONERS (
)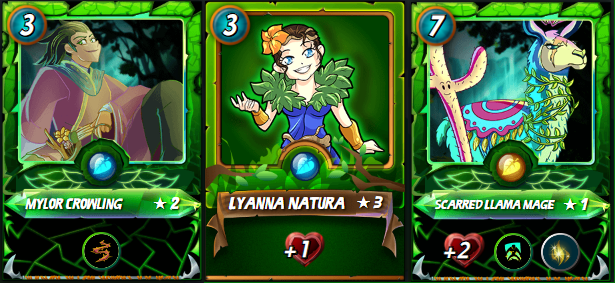 MONSTERS (
)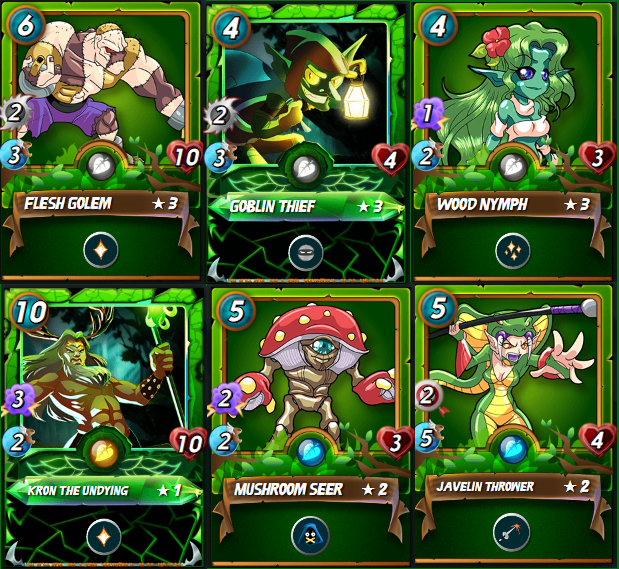 LIFE ( )
SUMMONER (
)
Anyone level 3+ | Qualquer um level 3+
MONSTERS (
)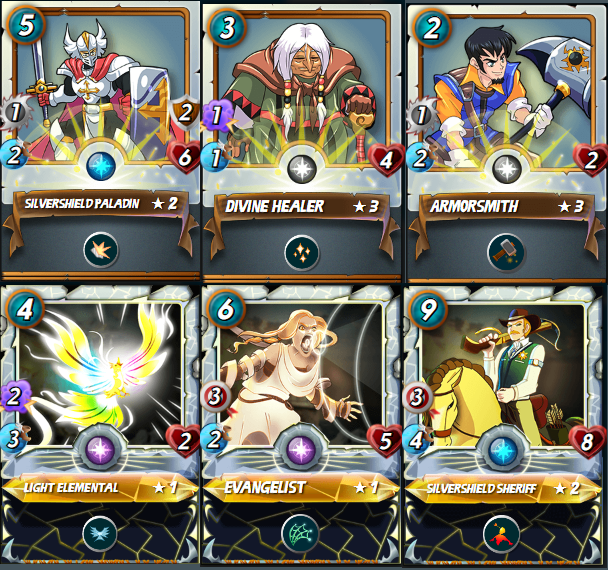 DEATH ( )
SUMMONER (
)
Anyone level 3+ | Qualquer um level 3+
MONSTERS (
)
Very complex element and I do not indicate initially invest in it, only when you have the other elements complete or adapt with the cards provided by the Game
Elemento bem complexo e não indico inicialmente investir nele, só quando estiver com os outros elementos completo ou adaptar com as cartas disponibilizadas pelo Jogo
DRAGON ( )
SUMMONER (
)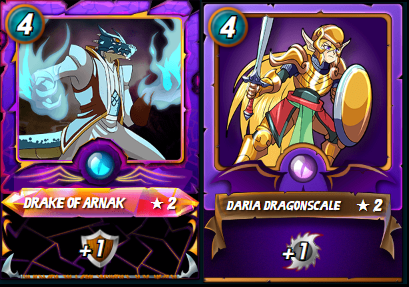 MONSTERS (
)
Element that can use monsters from any of the other elements, so I only mention 1 Dragon monster that is important to have initially.
Elemento que pode usar monstros de qualquer um dos outros elementos, então só menciono 1 monstro Dragão importante de se ter inicialmente.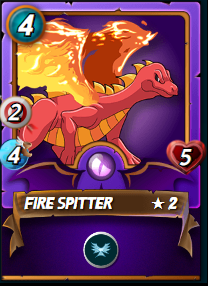 NEUTRAL ( )
MONSTERS (
)
The most important element, as it is used in all compositions.
O elemento mais importante, pois é usado em todas as composições.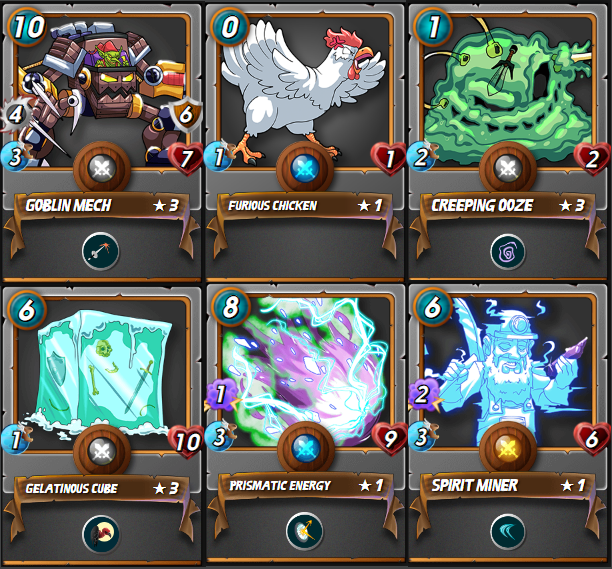 These are, in my opinion, the cards you should have available
You can Buy or Rent them
For details on where to buy cards with the best cost-benefit access:
How to buy cards and win CASHBACK
Now the best cost benefit initially will be to rent, to find out more Access:
How to rent Splinterlands game cards?
I hope I helped with these initial options.
I'll be back soon, to share my experiences and more tips. Until later!
Estas são na minha opinião, as cartas que você deve ter disponíveis
Você pode Compra-las ou Aluga-las
Para saber detalhes onde Comprar cartas com melhor custo-beneficio Acesse:
Como comprar cartas e ganhar CASHBACK
Agora o melhor custo beneficio inicialmente será alugar, para saber mais Acesse:
Como alugar cartas do jogo Splinterlands?
Espero ter ajudado com essas opções iniciais.
Estarei de volta logo, para compartilhar minhas experiencias e mais dicas. Até mais!


Vamos nessa aventura juntos?
Ganhe uma carta aleatória ao comprar seu Spellbook no link abaixo
Acesse Aqui: >>>Splinterlands<<<
Twiter
Instagram
Facebook