The countdown to HiveFest⁸ is two weeks away - Join us and get your exclusive badge!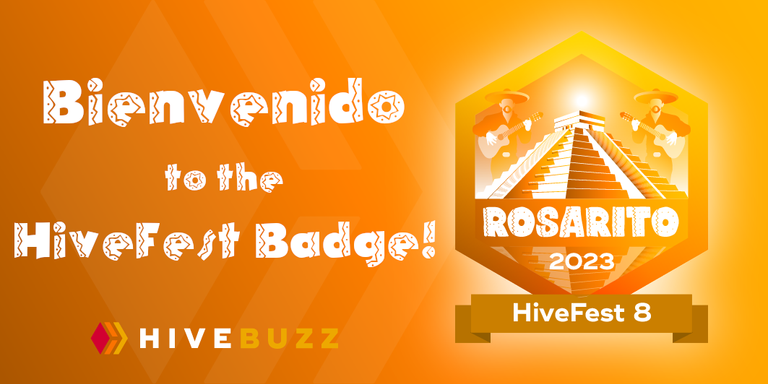 2 weeks left before HiveFest⁸ in Rosarito
HiveFest... The buzz is spreading, and excitement is building for the upcoming event.
As you're likely aware, HiveFest⁸ is set for September 22 to 26. In case you missed @roelandp's announcement, you can read it here.
Since the announcement, numerous posts about the event have flooded in, and the anticipation is rising as high as the temperatures in Rosarito. We're hopeful that you'll be joining us at the event and getting the chance to meet these enthusiastic authors in person as well as many major players in our community.
Are you ready for HiveFest⁸
As usual, the @hivebuzz team is diligently gearing up for this major event. We're delighted to announce that the specially crafted commemorative badge is now ready to make its appearance on your HiveBuzz profile board.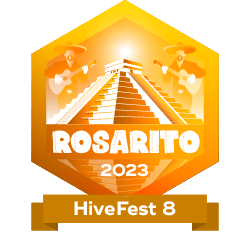 We hope it will serve as a cherished token of your participation in HiveFest⁸ for years to come.
How to get it?
It's as simple as 1-2-3! First, secure your flight, book a cozy room, and snag your ticket for HiveFest⁸ in Rosarito (find more details on the official HiveFest website).
PS: Act swiftly! Time is running out, and starting from Thursday, September 14, the pre-sale will conclude, leading to a last minute ticket price will be higher!
With these three magic steps, you're set to register at HiveFest in Rosarito. Et voilà... You will automatically receive your badge a few minutes later.
The badge will be displayed in your personal tab on your board.
Are you a HiveFest regular?
Have you ventured to one of the past gatherings in Amsterdam (2016), Lisboa, Krakòw, Bangkok, or Amsterdam (2022)? Fantastic! Your second adventure awaits at HiveFest in Rosarito, and for that, you will earn a special badge:
Your HiveFest badge will proudly display 2 stars, letting your friends know that you're no longer a HiveFest newbie.
Are you a HiveFest lover?
Have you already had the opportunity to embark on the journey and participate in two of our previous editions? If so, your remarkable enthusiasm has not gone unnoticed.
You will be awarded a 3 stars badge, a symbol of your commitment to HiveFest.

Are you addicted to HiveFest?
We've noticed your uncontainable enthusiasm for HiveFest. Do not worry, you're not alone, and rest assured, your secret's safe with us. When you return from your adventures in Rosarito, proudly showing off your shiny 4 stars badge, your mom will be beaming with pride.

Are you a HiveFest Veteran?
You've been to almost every HiveFest, but bad luck, you missed one along the way. No matter, it won't happen again and you will be present in Rosarito.
Great, you'll get your HiveFest⁸ badge with 5 stars and most likely something else...

Are you a HiveFest Die Hard?
Impressive! You've made them all, from Amsterdam (2016) to Lisboa, Krakòw, Bangkok, and back to Amsterdam (2022). There's no force on Earth that could keep you from this, and now you're back in Rosarito. The event holds no more mysteries for you!

Your commitment and experience have truly set you apart. With this track record, your HiveFest⁸ badge will shine brightly with 1 diamond and a star!
---
Do not forget the Travel Reimbursement Fund
The Travel Reimbursement Fund (@t-r-f) remains accessible for contributions! This fund is dedicated to assisting fellow Hive users in their journey to HiveFest in Rosarito while alleviating their travel costs.

@hivebuzz endorses this initiative and has introduced a brand-new badge to honor those who generously contribute to the Travel Reimbursement Fund.
The @t-r-f already collected 238 HIVE and 604 HBD thanks to the generous contributors.
Thank you to @amigoponc, @arcange, @bechibenner, @benbow2017, @bhattg, @blicklicht, @borsengelaber, @brianoflondon, @crrdlx, @dawnoner, @deanliu, @djbagman, @edgerik, @elevator09, @eliezerfloyd, @ericvancewalton, @eturnerx, @hivebuzz, @hivetrending, @intishar, @janetedita, @jaster, @littlebee4, @loonatic, @mamaemigrante, @mstamatov, @myjob, @ph1102, @phoenixwren and @rmach.
You truly deserve your Travel Fund Donator badge!
---
See you soontm in Rosarito
Useful links:
HiveFest⁸ - announcement
HiveFest community on Hive
HiveFest⁸ - t-r-f announcement
---
---