You may well have read about the latest sensations in the #running world which are the latest shoes from Nike that promise measurable improvements in times, several percent in some cases. They have already been used to break the marathon records. These shoes combine new types of foam with carbon fibre spring plates to recover more energy from each pace in some radical looking shoes. Technology has long played a part in making people run faster, but when one manufacturer gives such a large advantage it can reduce the important human aspect of the sport. World Athletics has set some new rules on the thickness of soles and limited them to a single spring plate. Shoes used in competition must be available for all to buy. Rival companies will try to come up with their own versions, but Nike has, of course, patented various aspects already.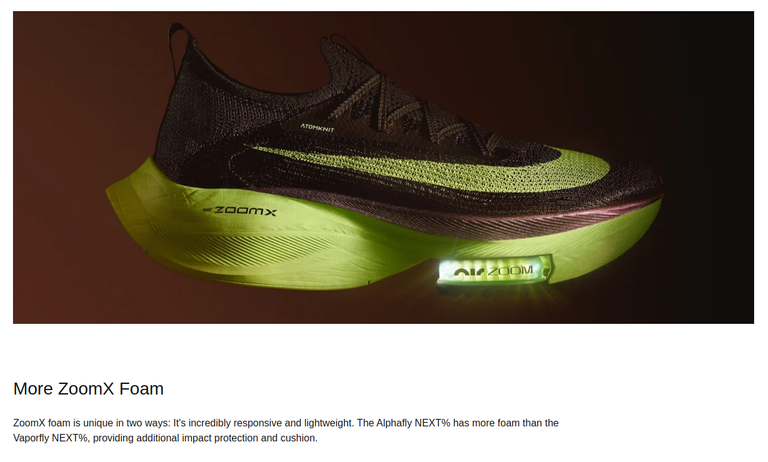 Screenshot of the Nike site. No rights claimed on it. That is a crazy looking shoe.
Runner's World has done a run-down on the Vaporfly shoes. The Nike shoes are lighter than others in the test whilst returning significantly more energy. A friend who runs a lot has concerns that there could be chance of injury for athletes who may lack the strength and control to adapt to this sort of performance.
A Guardian writer tried the Vaporfly on a parkrun and knocked almost a minute off her personal best. It is going to be very tempting for amateurs to try to do the same, but it has a cost with the shoes costing considerably more than others (around $250 for some types) whilst wearing out in less time. Even at that price it may seem a bargain compared with what people spend on racing bikes. With my own running I am just trying to improve on what I have done before. Mind you, my latest shoes (On Cloudflow) were a lot lighter than those I used before and may have helped me go quicker, but I still want to improve and will not rely on finding better shoes for each further gain. I believe I can gain more than the few percent any shoes may promise through better training.
Alternatives for the Nikes are already appearing with new Brooks shoes having some similar technology in the same price bracket and are also not very durable. The design looks more conventional than the Nike.
Having running shoes that wear out after less than 200 miles has a significant environmental impact. I think most amateur runners should expect to get several times that. Some manufacturers are catering for those who want to reduce waste by using recycled materials and plant-based soles. I will look into those when I am next buying.
The sports shoe industry is massive. I was looking at the Runner's World new releases and there are dozens of new models. There are lots of different types of shoe for road running, trails, track or just casual wear, but even so each manufacturer can have a vast range on offer. There were some I had not heard of that are silly prices, but I think they are more about fashion than practicality. It looks like Nike have hundreds of different shoes (90 just for running). I know there is a whole culture of collectors that they are happy to feed. I am less worried about fashion. I have taken to using old running shoes for casual wear.
Is anyone planning to get some of these Nike shoes? Do you feel you need them to be competitive? There could be a bit of an 'arms race' in shoe technology, but there have to be limits on how much improvement anyone can get just from their shoes. It could get like Formula 1 where some rules are designed to slow the cars down and make the racing more competitive.
Run free!