Guided these kids in doing a quick reaction drill where they had to turn quickly and motion the Fore-hand then the back-hand.
Enjoy the video
---
---
It was an imaginery tennis reaction. What do I mean by that? The player imagined himself going for that ball in the real tennis match situation. They quickly had to turn, go for the Fore-hand and the back-hand immediately.
Quick reaction in tennis is a very vital thing. There is no time to waste. The ball can never wait for the player. Its rather, the tennis player to wait for the ball.
It was quite a tough drill which also helps a player to boost up his level of aggression. I also participated in this drill as I kept on coaching the little ones.
I had to motivate them to keep going inorder to get rid of any laziness and to make their bodies tougher and stronger. Come on!! "no pain no gain!!". They had to keep going with the drill.
The foot work was also worked on in this drill. As the player turned to play either the Fore-hand or the back-hand, he had to apply the right footwork as he/she was going for that shot.
Here is some good news for this tennis project, I have been given land by the chairman to construct a tennis court.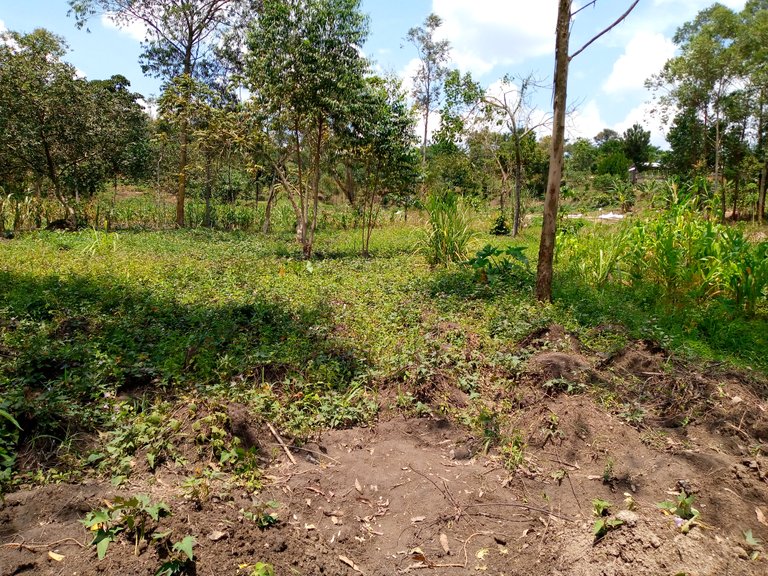 The land to be used for the construction of our tennis court.
---
Come Saturday, this week, we will be having a meeting to see the way forward as we plan on construction the first ever public tennis court in "Mukono" a local district in Uganda. It's time to take tennis to another level.
Will provide you with more updates on this tennis court construction project that is yet to commence.
About Mukono tennis Academy
This is a charitable tennis organization focused on helping young people in learning the tennis sport as a way of improving and transforming their state of lives.