Hello everybody, How are you?
Today I come to spread my happiness to everyone.
Still I didn't complete 1 month playing Splinterlands, still learning ineach battle. Losing a lot, as usual, but no less happy. Evolving every day.
Today I had have the opportunity to try to move up the League, because I won some cards delegated by the Tournament created by monstergames, and another delegated cards from friends. Thus increasing my POWER.
Many advise not to move up the league, before having a set of cards of a competitive level, but on second thought it would be rewarding, due to the fact that we get more chests in the daily rewards, and I went to try my luck.
I cannot lie, I have lost many. It is desperate, but I knew why I was losing (weak cards), I was warned beforehand. But I continued with that goal.
With a lot of struggle I finally managed to conquer the daily mission, and the reward arrived. It seems little but, 1 more chest is a lot for those in the lower leagues.
So, ready to open my 3 Chests, I hope and think positively that something very good would come on that tiring day. Behold, I open the chests and come as rewards.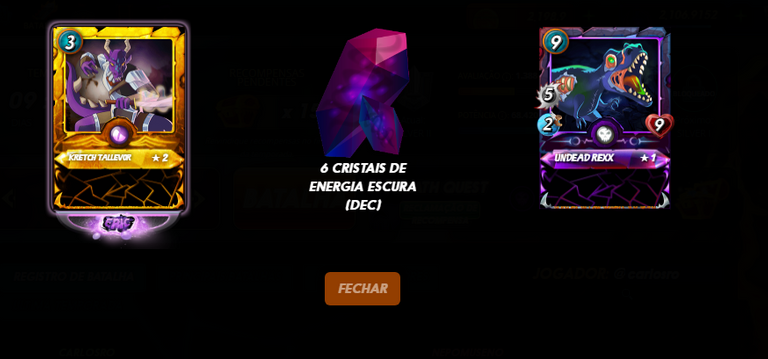 That's right!
Gold Foil Summoner.
It is very gratifying to be rewarded for something valuable after so much struggle.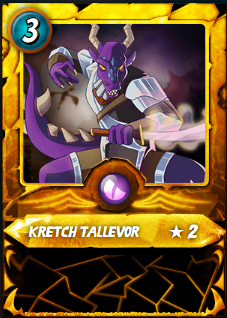 KRETCH TALLEVOR
EPIC Dragon Summoner level 2
It is a very good summoner. It may not seem (because it has no benefits), but it is very important to have it in the set of options.
This summoner, besides being of Gold Foil; has low mana 3; is at level 2; and can be used in those battles that inactivate buffs/debuffs from all summoners. Being very useful.
Perfect! Little by little my set of cards becomes stronger.
I will continue to fight in the Silver League, earning more rewards from daily missions, and participating in all low cost Tournaments.
Maybe in the next few days I can come back here to say that I won more Gold Foil. Hope so! HAHAHAHAH
Thanks to everyone who read and I ask you to vote to help me.
Let's go on this adventure together.
Enter the Game Here: >>>Splinterlands<<<
Twiter
Instagram
Facebook
Comunity Splinterland Brasil