Hello Friends,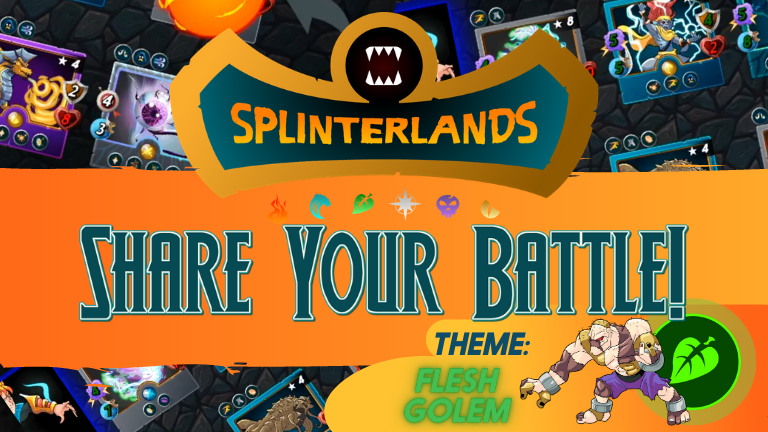 https://peakd.com/splinterlands/@splinterlands/share-your-battle-weekly-challenge-flesh-golem
Good day to all Splinterlands players and I am sure most of us if not all will love the new changes with regards to Collection points and level based rewards as per the changes soon after the last season ended.
Well, I would say the changes are good for all of us with every level player having a chance to earn the booster packs and have a chance to increase their collection points in the end.
Coming back to this week's challenge, we have a monster I almost use in every battle when I battle with Green Splinter i.e. Earth Splinter.
Flesh Golem is the monster I am sure many will use as their front monster even after the introduction of Nectar Queen.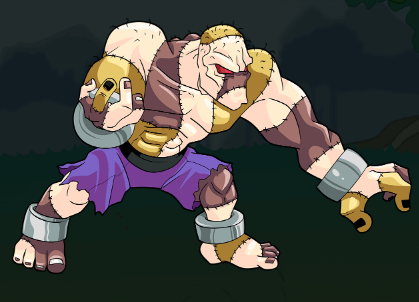 Being there in the game from the days of Alpha cards introduction, I naturally love this card and it's the first one I get into my mind when I go battle with Earth Splinter.
Flesh Golem is the Common Alpha and Beta version Earth Splinter melee monster with one of the highest percentage for the card with most used status.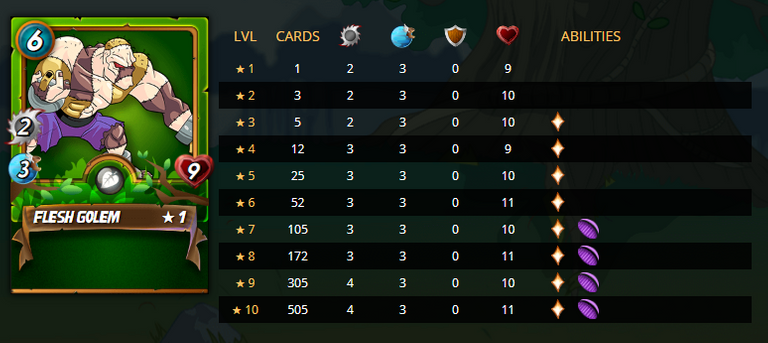 What are the stats for this popular monster? we have the details in above screenshot :)
Melee Attack starts at 2 but grows up to 4 as the monster is leveled up.
Speed is constant throughout the 10 levels and it's 3 speed.
Health is one of the best as it starts with 9!!! and goes on up to 11.
This monster got couple of abilities in Heal and Void.
Heal as we all know, heals this monster at each round of the battle to restore some health.
Void ability makes it receiving lesser attack from magic monsters.

Lineup: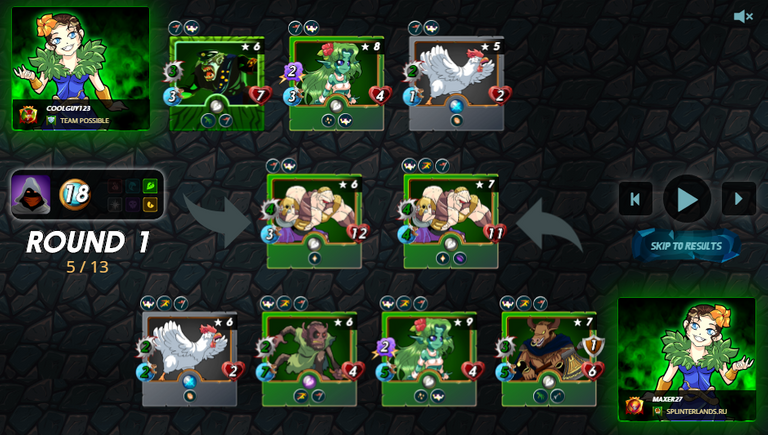 https://splinterlands.com/?p=battle&id=428d86ba87ae4e6c0fd49e7901a6d3223d414b7c
Well, as you can see above, I had a battle against another Earth Splinter lineup with MANA cap of 18 and Silenced Summoners ruleset.
I just used the lineup as below with that 18 MANA cap.
1. Flesh Golem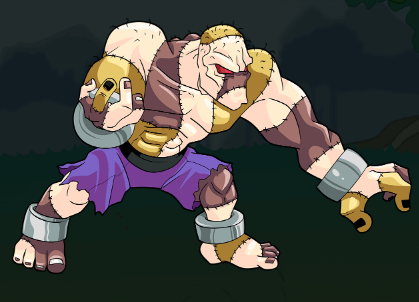 Another low MANA battle for me for the Weekly Challenge and not just this time, whenever there is lower MANA cap, I use either Earth or Death splinters for simple reason being that, both have 2 huge monsters in Flesh Golem and Lord of Darkness respectively and both are capable of winning the battles on their own.
This being Earth Splinter battle, I used this monster to give that solid monster with good health and self healing ability and good enough attack for the monster level I have.
---
2. Orc Sergeant: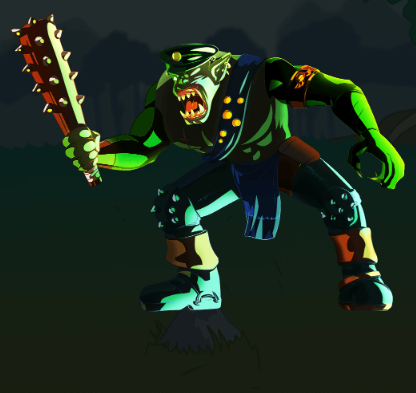 I thought of using Screeching Vulture, but then thought I need to give a companion to Flesh Golem which can also inspire my melee monsters to concentrate on the front monster from opponent side and used this.
---
3. Wood Nymph: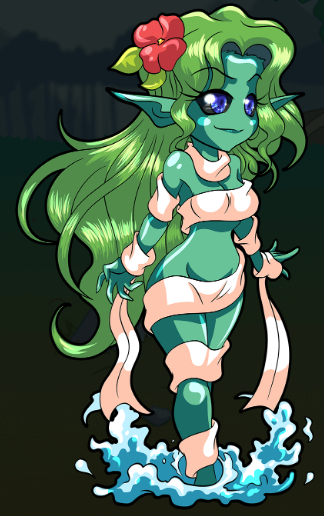 Healer to just keep the front monster alive and also utilize it's useful 2 magic attack.
---
4. Furious Chicken: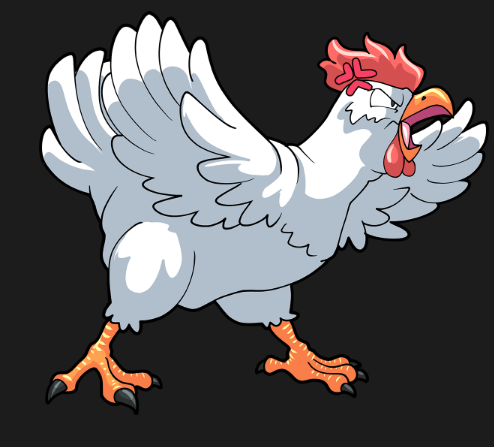 Last on the lineup, this zero cost monster is a savior many a times by protecting the back line monsters from the early exposure to attack.
---
I always mention what my opponent's lineup was and here too I would like to give those details:
Opponent used Flesh Golem, Minotaur Warrior, Wood Nymph, Brownie and Furious Chicken.

Battle:
I once again reiterate that, low MANA battles are more unpredictable, the lineup of monsters had almost same attack level although opponent had slightly better stats in terms of speed of monster because of the usage of Brownie.
Here are the round by round battle details:
Round 1:
The battle was like neck in neck with both sides having 9 consolidated attack in each round, but having the lesser level monsters what I had, helped me to win the battle!!! Yes, that was true, check the details: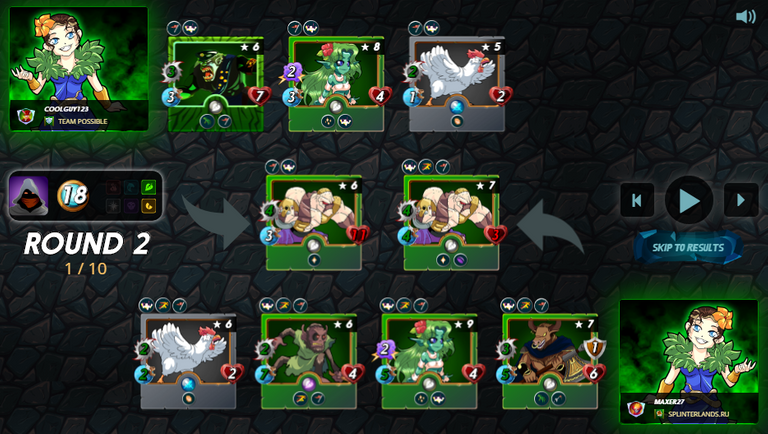 The reason why opponent kept losing health of his Flesh Golem was, it being a higher leveled one with Void ability, but has 1 less health compared to what I have!!!
---
Round 2:
Battle continued and Flesh Golem from opponent's side also lost 1 more health as compared to previous round.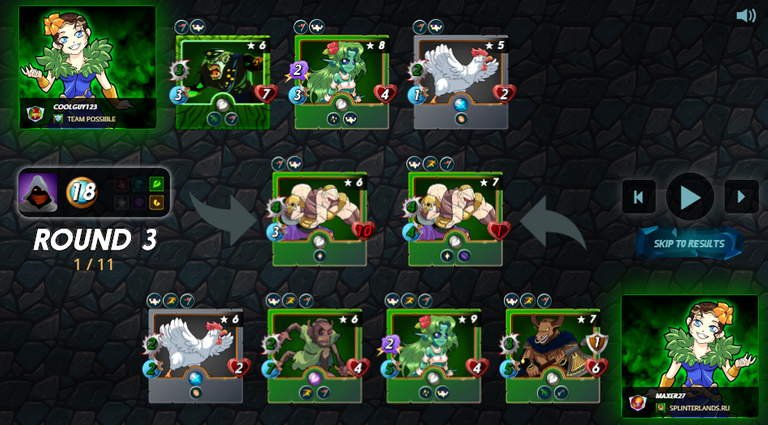 ---
Round 3:
That moment of joy came to me with opponent losing his Flesh Golem in this round and with that, the battle almost got over!!!!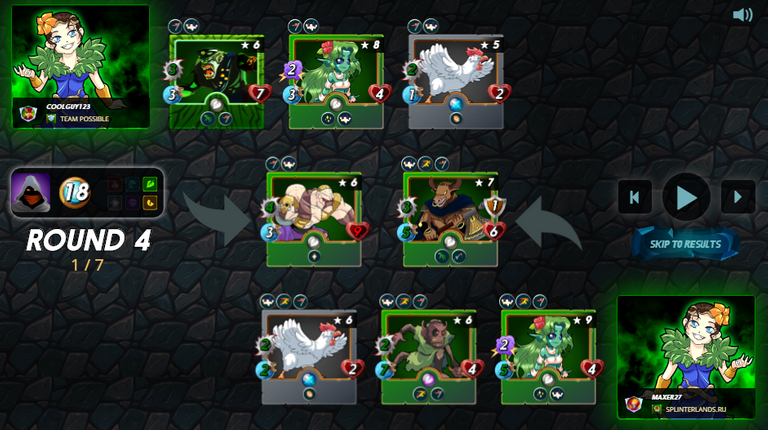 ---
Round 4:
No monster got removed in this round, but, it was on downwards for opponent with the removal of Flesh Golem. Minotaur Warrior just held up with 1 health by the end of this round.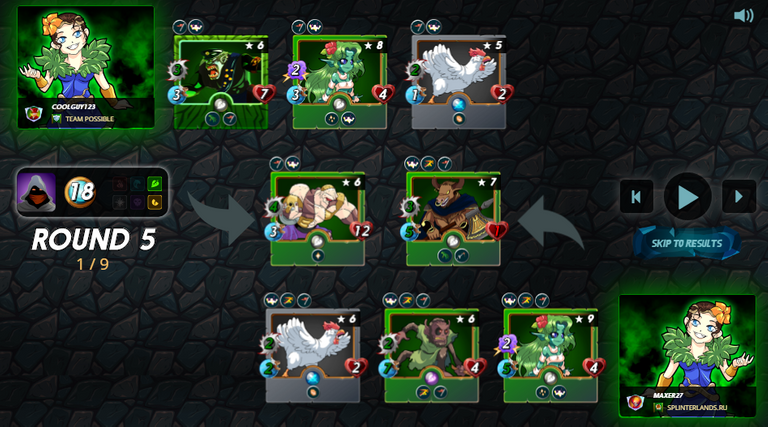 ---
Round 5:
Minotaur Warrior got removed and opponent just left with 2 attack from healer Wood Nymph and it just started to getting faster and faster.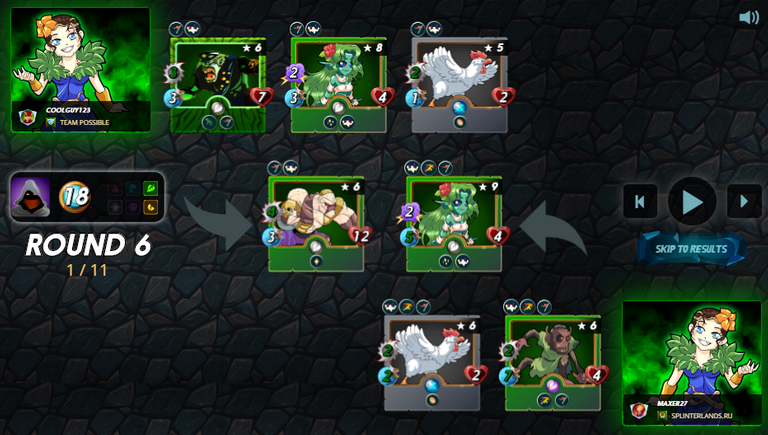 ---
Round 6 and 7:
It was a double blow in sixth round with opponent losing Wood Nymph and Brownie and the next round, the Furious Chicken got removed for a win what I thought may not be possible!!!!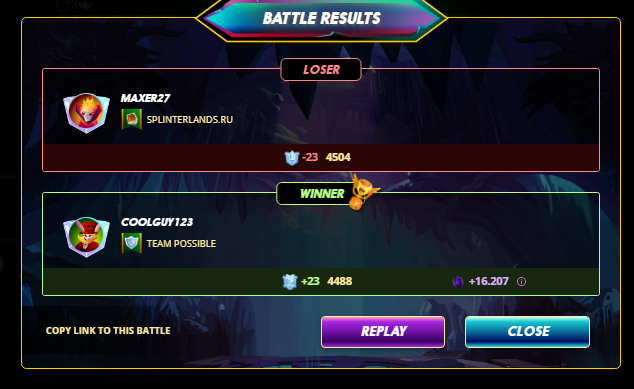 ---
With all due respect to my opponent who is a better battler than me, a lesson learnt there that, the higher level cards not always gets you a win when pitted against same cards with lesser level ones.

Question Answer time!!!!
Did my strategy work? What will I try differently next time?
Frankly speaking, I just lined up my usual monsters for the MANA cap I got, but, as I said, having lower level cards was beneficial for me with that 1 extra health for Flesh Golem getting a win for me.
So, I am happy that the lineup I used was good enough to beat the better cards and yes, the strategy worked for me.
What I could have tried differently is, use the Brownie instead of Orc Sergeant to have better speed and make it even more interesting battle!!!
---
Do I use the FLESH GOLEM often? Why or why not?
I use it in almost all the battles since it gives the solid defence at the front, but there were cases when I lost because of Flesh Golem because of it's lower speed, but that's how it goes.

That is all I could write about Flesh Golem, it's stats, a battle using it and the other details and I hope you read it somewhere that, this is one of my favorite monsters :)
I hope you enjoyed reading this.
Wishing you all Happy Weekend :)

Join the new Official Telegram for Splinterlands via link given below to participate in contests and have fun.
---
Not yet signed up for Splinterlands?
You can join using my referral link: splinterlands.io and get some monsters from me :)
Also, try monstermarket.io if you haven't already for your steemmonsters cards and packs purchase and get instant cashback with every card purchase.

Thanks for the votes, comments and resteems.
I am a proud member and supporter of below communities: