This is a solid pick to add to the mix on the team's offensive line!
The Titans have got a fair amount of talent on the offensive line. But you really can't have enough quality offensive lineman. It's huge to have depth there. The Titans have always prioritized having a good and deep offensive line, especially since GM Jon Robinson has been in Tennessee. I will NEVER object when it comes to adding big, athletic bodies at the line of scrimmage. SO valuable.
Also, the offensive line isn't perfect of course so adding Mr. Radunz is definitely helpful. When you combine that with the fact that the Titans have dealt with some injuries on the offensive line in recent years, drafting a talented offensive lineman pretty early in the draft is just great.
---
Dillon Radunz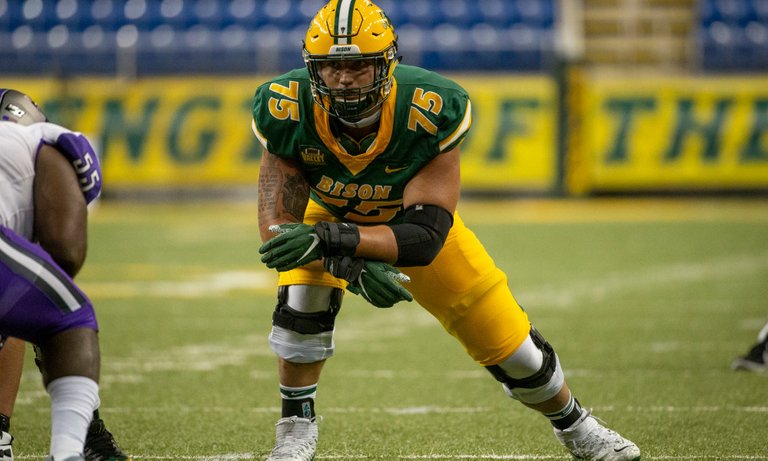 Src
I don't find any major weaknesses in Dillon Radunz's game. The Titans don't always try to play 4-D chess like a lot of other franchises. Dillon Radunz is tough, strong and athletic, he's smart.
Dillon Radunz clearly enjoys being physical. He's fully aware of how big he is, he will bully defensive lineman. The dude is big and plays big and has the skills to run up field and throw blocks.
Dillon Radunz played at North Dakota State and blocked for first round draft choice QB Trey Lance. It's always a tremendous compliment to an offensive lineman when you can help your starting quarterback reach stardom. The quarterback needs good o-lineman!
---
Titans GM Jon Robinson is a former offensive lineman himself, and he's proven to have a knack for drafting quality pro offensive lineman. I've got a feeling that Radunz will be another skillful o-lineman for the Titans.
With good coaching that the Titans have, I believe Radunz will help make the Titans a better team!
---
Welcome to the squad Mr. Radunz! Titanup!!