I don't blog for hot takes, especially in the off-season. The off-season is about re-building, it's about hope and positivity! I'm a fan!
That being said I once again really love this draft selection by the Titans!
I think in my heart my favorite positions on the football field will always be the running back and the linebacker. All types of linebackers and all types of backs. Monty Rice looks like an awesome player!
Watching Monty's tape is absolutely fun! This guy is fast and explosive. He is productive. His energy is just that of a pure linebacker, a pure football player. I think that's another reason I love linebackers and running backs. I feel like other than lineman they are OG pure football positions. Playing linebacker and running back in my experience was always the most fun!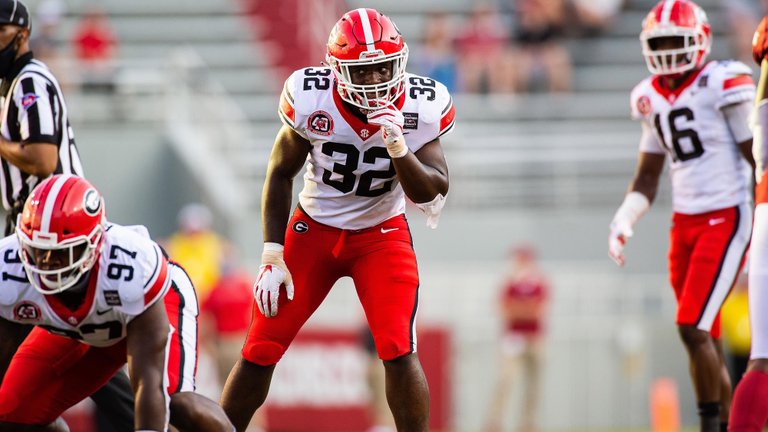 Src
Watching Monty play he seems like he loves being aggressive, fast, and violent. There is no fear in Monty, man.
Monty is 'technically' undersized slightly and so I'm assuming that is a reason why he was a third rounder versus a first or second. But honestly, I believe he has really awesome size! I have a hunch the Titans feel the same way since they had success with a bit of an undersized ILB in Jayon Brown.
Monty is roughly six feet and one half inch tall, and about two-hundred thirty-five pounds. That's not exactly small, and his play style makes him a scary defender.
I mean, sheesh, when you watch his tape he really doesn't appear too small to me. The dude is thicccc. His mild shortness I believe will help him slip past blockers and tackle the faster, quicker running backs and mobile QB's.
Along with his aggression and tough play-style, I believe his great speed will help allow him to cover running backs and tight ends and run down QB's like I mentioned already. He can probably cover a lot of receivers.
Not only is this guy a tackling machine but I think his natural speed will help the secondary as well. The dude can act like an extra safety quite frankly.
I love watching Monty Rice play on tape man! I am hopeful he can help improve the team and be as good as he is on his college tape!
Also, with some linebackers possibly leaving in free-agency, I think that drafting Monty Rice, it helps the team have a security blanket going into the next off-season.
Like I keep saying too, the Titans defense was quite bad last year, a young fresh hungry defensive player is a huge blessing for the team.
Also, Monty Rice just kind of sounds like the name of a legend LOL.
Welcome to Nashville Monty and #Titanup!!!