It's been a very busy July for me. I don't remember a summer being this busy for me in awhile. I find that funny since this is supposed to be a lockdown summer.
I've been going to a flea market two days a week and it's been both a lot of fun and pretty educational. I honestly haven't really sold anything before as crazy as that sounds.
I often look for things at the flea market I can try to re-sell at either the market or even eBay (as soon as I officially get started there).
I also find things I want to keep! Flea markets are awesome to find gems in the rough. Beauty and value are in the eye of the beholder (I hope that makes sense LOL)!
This past week I've found some solid Titans loot! I am a simple man, ya know? Get me something Titans and I am a very happy man.
As a child I became a Titans fan based on their beautiful logo and colors, so I think anything Titans looks nice and is fashionable kinda. Of course I find the game of football and the organization amazing as well, don't get me wrong!!!!
Here is some of the cool stuff I found: A sharp looking Titans pennant, two Titans license plates, eight new Titans cards (seven out of eight I didn't own previously!!!) and an awesome Eddie George throwback figure/toy that comes with a card inside!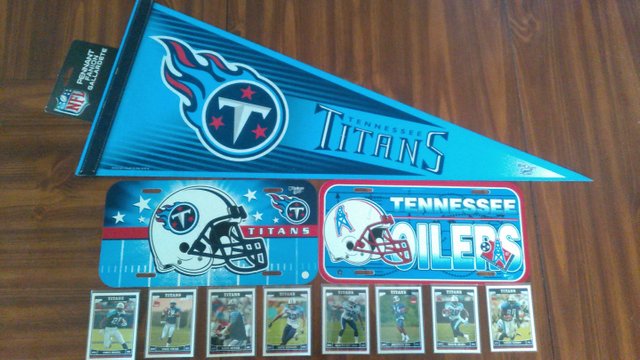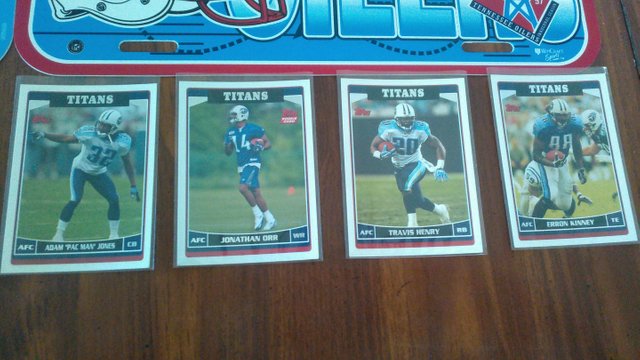 I love these cards! Chris Brown was a solid back after the Eddie George Era. I already own that Vince Young card but I always got love for Vince and don't mind getting a second. I don't own this particular Steve McNair card and I am so happy to own another unique version of Steve. Drew Bennett is a sraight up very underrated Titans legend!! Adam 'Pac Man' Jones is another solid Titans legend himself! He had a lot of good seasons in his early career in Tennessee, I bet not many people realize he was a Titan at all. He was actually drafted by the Titans in 2005. Travis Henry was another personal favorite Titans running back of mine too, he was a tough dude man. Erron Kinney was another solid tight end for the Titans I enjoyed watching. I remember using him in Madden video games a lot!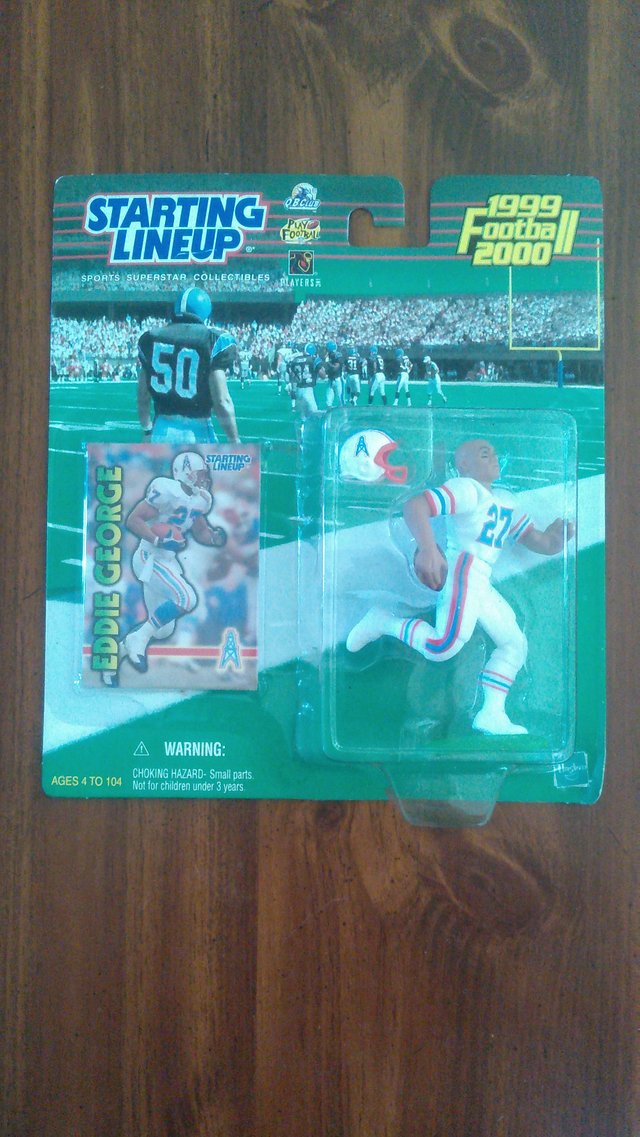 I am absolutely thrilled it feels like Christmas came early. As an adult I don't have as much time or money to always by cool Titans stuff, so getting all of this really cheap is amazing.
When I bought the license plates I also purchased like 8 or so more plates of different teams to try and re-sell some way or another. The plates are mostly throwbacks too and I find that really cool!
I always love the Tennessee Oilers stuff too because that exact team name 'Tennsessee Oilers' only existed for two seasons, so that memorabilia is cool and rare.
What do you guys think of my recent pickups?
Feel free to share your favorite cards and memorabilia too! Hive on!