Several Titans are up for possible entry into the Pro Football Hall of Fame. The two I want to see in Canton the most are Steve McNair and Eddie George. Of course I want all nominated Titans to get in, but I definitely have a special place in my heart for these two legends.
QB Steve McNair and RB Eddie George are one of the greatest, most memorable QB-RB duos in the history of the NFL. They are Titans legends. Steve's No. 9 and Eddie's No. 27 are both retired numbers for the franchise.
The impact these men left in the NFL will never be forgotten. They were truly gritty and unafraid in every game they played. They were winners, and nearly champions. For a few years they were the main reasons the Titans were dominant. I can't think of a RB-QB duo that had such a unique skill-set. Basically, imagine if Cam Newton and Derrick Henry were in their prime together on the same team. That's the closest comparison I can imagine. Eddie AND Steve could run right through you, and often did. Of course Steve was a very good passer as well.
Their stats speak for themselves. But besides their great stats, they also were extremely fun to watch on the field. It was seriously art on the field when they were in their prime.
I remember vividly pretending to be both Steve and Eddie while playing backyard football with the neighborhood kids. Those are memories I will always cherish and remember fondly.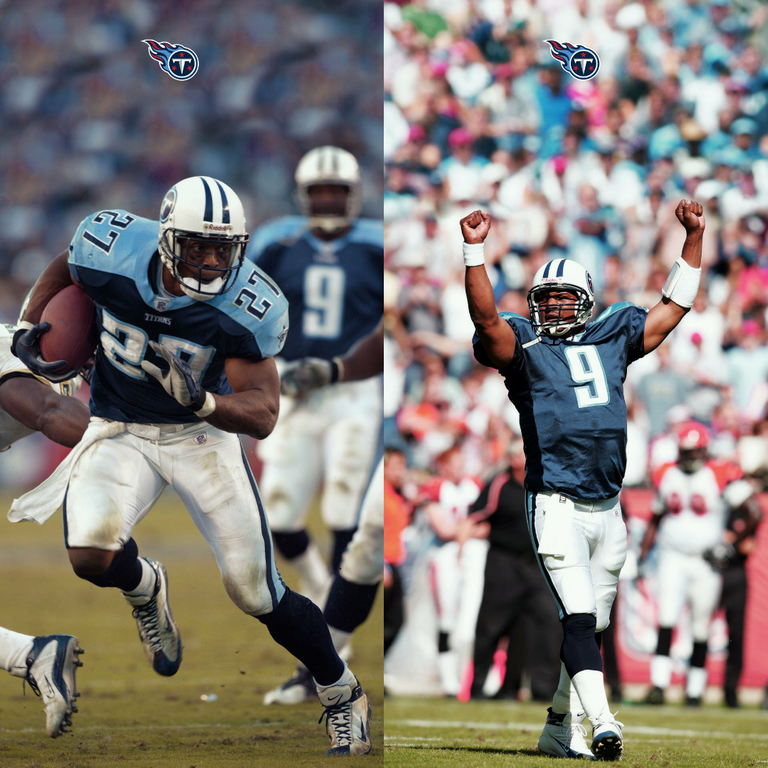 So what stats and accolades do I speak of exactly?
31,304 Passing Yards
3,590 Rushing Yards
211 Total Touchdowns (174 Passing, 37 Rushing)
NFL MVP in 2003
1x AFC Champion
3x Pro Bowler
1x Second-Team All-Pro
91-62 Record as a starting quarterback
Played in a memorable Super Bowl in 2000
NFL Passer Rating Leader in 2003
Tennessee Titans Legend
10,441 Rushing Yards (28th All-Time in NFL History)
2,227 Receiving Yards
12,668 Yards From Scrimmage
268 Receptions
78 Total Touchdowns (68 Rushing, 10 Receiving)
4x Pro Bowler
2x All-Pro (1x First Team, 1x Second Team)
NFL Offensive Rookie of the Year
1x AFC Champion
Played in a memorable Super Bowl in 2000
Tennessee Titans Legend
These guys both had amazing careers and had exciting, memorable styles of play!! These guys are no-brainer Hall of Famers in my book! Voters should easily put them into Canton!!
R.I.P. Steve McNair.