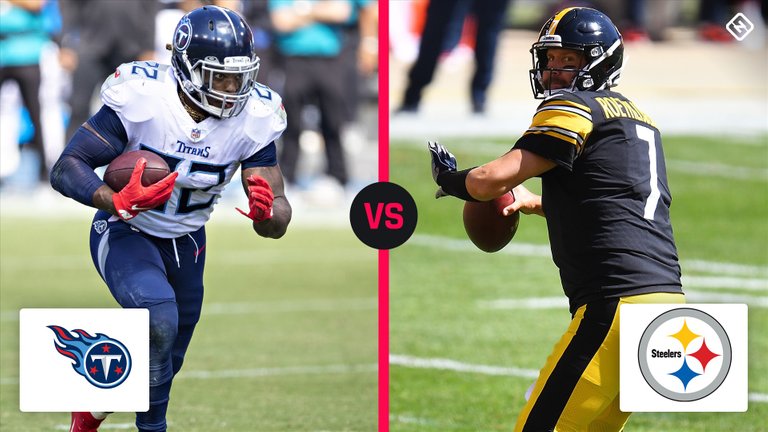 Src
There are three undefeated teams left in the National Football league. The Tennessee Titans and Pittsburgh Steelers make up 66.6666667 percent of those teams, and they're set to play each other this afternoon in an EPIC match-up of 5-0 teams. This a massive and rare game we are about to watch! It's just the sixth time in modern NFL history that two undefeated teams have met this late in the season with at least five wins a piece. This game has huge playoff seeding implications as well.
Both teams seem tremendously evenly matched. The Titans are getting healthier slowly though which is a good thing after the COVID outbreak. The Titans offense may be playing a bit better that Pittsburgh's. The Steelers defense seems like it has the better defense between the two squads.
I expect this game to be really good. I have become really confident in the Titans lately. They seem prepared for any challenge lately. The Steelers obviously look pretty good, but despite the fact that Big Ben has been a Steeler forever, their success is recent when it comes to IMMEDIATE team success. The Steelers missed Big Ben with injury all last year and when he did play a full season before they just missed the playoffs with a decent winning record, but they were not exactly super dominant. The Titans have been playing well since Week 7 last year and haven't seemed to really slow down. They are motivated and hungry by the lack of attention and doubters. Both teams are really good and motivated.
Of course I favor my Titans and I want to support my team. Perhaps I'm a little biased but I tried to stay as accurate and as reasonable as possible.
I've met several Steelers fans at work who have noticed me wearing my Titans hat. My dad was a Steelers fan and my sister is as well. I have respect for the franchise. If the Titans lost their undefeated record I suppose I'd rather it be against the Steelers. Even so, I want the Titans to DOMINATE and SMASH the Steelers. Certain media members and Steelers players have been talking a bit dismissive of the Titans. Man, this would be a huge statement victory for the Titans.
I'm so nervous but excited to watch my team play!
Let's go Titans, and #Titanup baby!!!