Hello Cricket Lovers,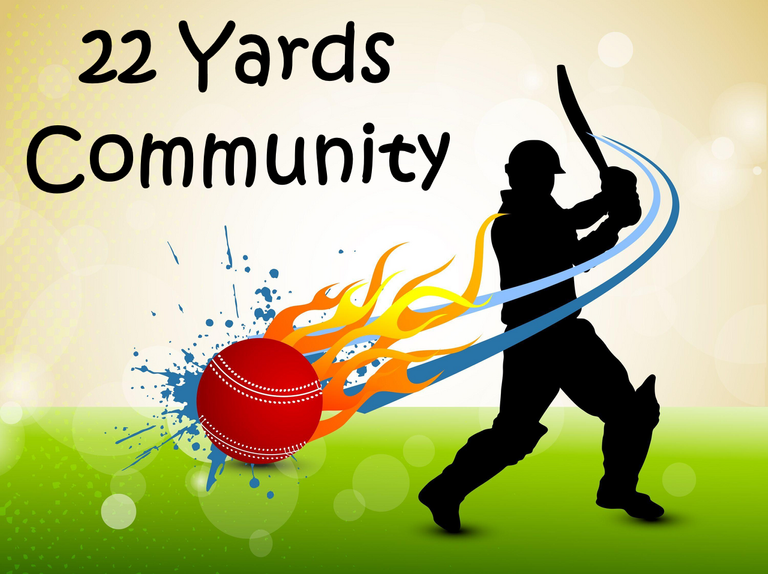 Original
image
modified for displaying community name.
Welcome to the weekly update of 22 Yards Community statistics.
With Olympics taking the center stage and also, there were less Cricket series with only countable matches happened in the last one week.
Let's see what Cricket matches happened in this one week time.
India having won the ODI series, failed to win the T20 series due to many players have to sit out due to Corona isolation and India fields a depleted side and couldn't win the Second and Third T20's losing the series 1-2 to Sri Lanka.
India's main team being in England for more than a month now, will be playing in the First test from tomorrow against hosts England and it should be a keenly contested series.
India is known as slow starters, but having adjusted to the English conditions, they are expected to play better than their previous visits to England.
Pakistan won the Second T20 against West Indies after the First match was washed out due to rain and Third T20 match will be played today.
Bangladesh is hosting Australia in T20 series with First match going on today.
---
The highlight this week will be India's tour to England with visitors having not won a series in England since 2007, will be trying to change the trend as Kohli's men are in good form since their last tour to Australia although lost the one off World Test final to New Zealand, but, having been in England since a month, they will have better assessment of English conditions and should be a good contest between these 2 teams.
---
OK, let's see the community stats for the last week.
Community Statistics:

We had a new member joining the community in this week and frankly speaking, Olympics seems to have attracted all our Cricket lovers as there were not many blogs got published this week.
We hope the India - England series will get us few more blogs in the coming weeks.
IPL is also a month away and the Cricket series are expected to be more and more as the Olympics gets over in a week's time.
---
Hive Power and Sports Tokens:
Although, we aren't getting many blogs to curate on this community, we have been busy curating the other Sports related blogs on Sports Talk Social and we would love to curate the blogs on this community whenever we have.
The Hive Power and Sports Power keeps growing with our curation is on and we will always power up to grow this account in terms of Hive Power and Sports Power.
---
Curation Trail:
We have set up an Hive.auto curation trail and request you to follow this trail and provide whatever percentage of vote you wan t to cast when this curation trail votes on the blogs published by our bloggers including you, so that, it will be beneficial to all.
---
Content:
As mentioned, there weren't many blogs published this week but, we expect it to go up as we move on with series between India and England and other series.
---
Contests:
The Second contest just got over, with 2 blogs published as part of this contest and we would be happy to announce the winners in this blog.
We had blogs from @cryptogeek2020 and @pankajkabdwal with their Best IPL XI and here are the details:
Cryptogeek2020 had a great team to select as he included some of the greatest T20 players of all time and that is a great team with the likes of Gayle, Rohit Sharma, Virat Kohli, Dhoni, KL Rahul and couple of all-rounders with some best T20 bowlers to complete that XI.
It's a good combination and a balanced side.
---
Pankaj had another good team to add to his previous XI to select the Best Test playing XI.
He has some explosive players like David Warner and Mike Hussey, the 2 Aussie giants as openers followed by Suresh Raina, the mini dynamite and young Surya Kumar Yadav in the middle order with Dhoni as his Wicket Keeper.
His bowling is great one too with Rabada, Amit Mishra, Trent Boult and Bumrah as main bowlers with Bhuvneswar Kumar and Pollard as allrounders.
Great team by Pankaj.
---
Winners of Contest 2:
Frankly speaking, there were just 2 entries and selecting them for First and Second Prize is the only task here.
We wanted to have an independent judge and had talks as well, but the lack of many entries have discouraged us to drop that decision.
So, considering the team selection, way of writing and also the following of rules, we have selected the winners as below:
First Prize - 5000 Sports tokens and 5 Hive goes to @cryptogeek2020.
Second Prize - 3000 Sports tokens and 3 Hive goes to @pankajkabdwal.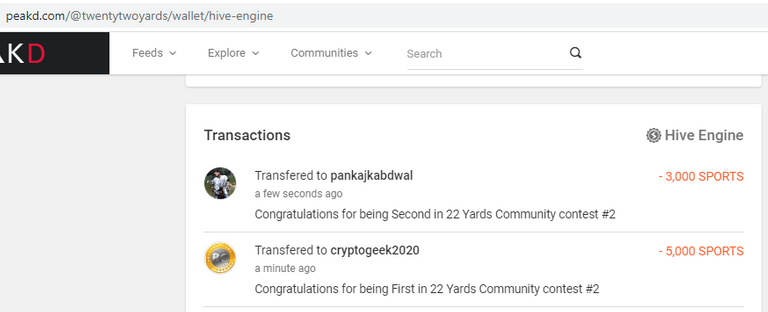 ---
Congratulations guys, we are happy that you guys turned up and selected great teams as part of this contest.
---
We will never hesitate to bring out more contests in the future but the lack of entries makes us a worried bit.
We would like to urge that, you, as a member of this community, is request t spread the news about this community and bring more people.
Note:
22 Yards(https://peakd.com/c/hive-138302/trending) is a new community created for all Cricket Sports lovers to publish the content, interact with others and also to curate the Cricket related blogs from this dedicated account and the trail it will have.
So, we seek your support in making this community filled with more fun and request you to share the news about this community with your sports lover friends especially Cricket lovers to contribute and support the growth of this community.
---
Wishing you all great week ahead and happy blogging :)