A little instruction
I was at the range giving some instruction to a student today; That's a job I take very seriously because what they learn in the first few lessons tends to stick with them. I always make sure safety is what they learn first. Of course, it's a little social at the same time and most Saturday mornings I can be found out there shooting myself, (not shooting myself per se), or training others to shoot better.
My days of aimlessly shooting rounds down range ended many years ago; It's a new-shooter thing generally and to be honest I think I only did it once myself, maybe twice over twenty five years ago.
Sure, I shoot fast, but it's not done aimlessly and for the sheer noise of it. For some unknown reason, people think it's legit to shoot as quickly as possible without aiming simply to hear noise and feel like one is shooting! I sort of get it because shooting is fun, although it's certainly not what I promote when I'm on the range with a new shooter...There's fundamentals to teach first, and so there I was today doing just that.
To be fair the person has shot once before but never had any instruction, which is a little frightening to be honest, and so I treated him like a brand new shooter; He didn't mind as he has visions of progressing and building skills rather than blasting 200 rounds down range once and calling himself an operator. He wants to get good.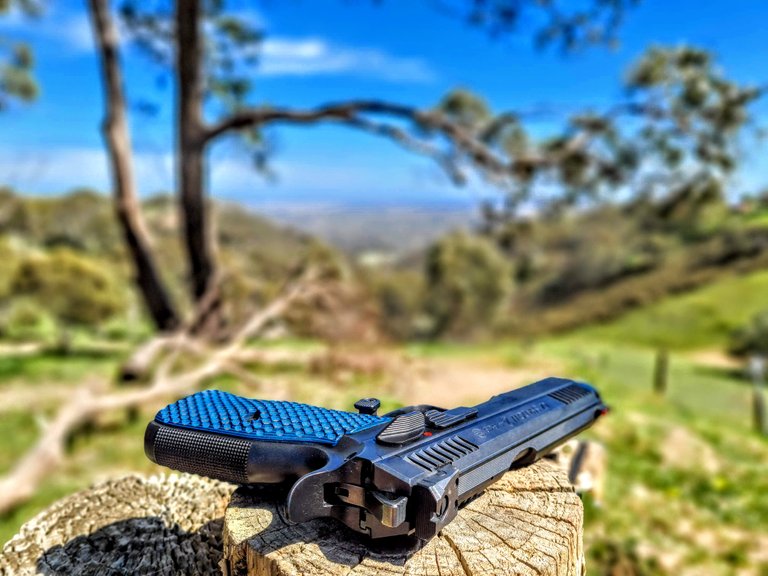 After going through the range rules and safety requirements we got onto the gun and did the same thing: Safety instruction. I also made sure the guy understood the concept of what happens when the trigger is pulled, how the bullet ends up downrange and what forces are in play. From there we started shooting.
I loaded a round in the magazine, a single round, and let him shoot it to get a feel for the dynamics of the gun; Then two, then three and so on. At this stage I wasn't too worried about him hitting targets, but before long we progressed; I don't like bullets hitting the mound as it seems wasteful so I set up some steel targets and got him onto them so I could teach him about sighting. It gives him an aim-point and I can adjust him from there.
He started off on the bigger plates and as he got better the smaller. All I had him doing was shooting at one spot with the goal being to get his grouping size down. You can see the plates arrayed down below. You'll also note the timer obscuring the shooter. That came into play later.
Eventually, about 150 rounds or so later, he started feeling more comfortable so I began to let him shoot, transition, shoot, transition and so on between the targets. Left to right, right to left and then jumbled. He was going pretty well - Not fast, but safe.
At that stage I put the timer on him.
The shot timer records the sound of each shot marking the time of each shot which registers on the screen which is connected by bluetooth. You can see the time of 6.18 registering, that's his first three shots with the last at 6.18 seconds. Unfortunately they were all at one target, the small diamond-shaped one, as he kept missing. It's all good though, he's learning...Don't judge.
Towards the end of the session I let him shoot the full sequence: Small left to large right to large left to small right to the diamond plate to stop the clock. He did it, with a few back up's due to misses, in 12.86 seconds. It was smooth, his cadence between shots was even, his grip and stance was solid and I was happy.
I then had a go and did it in 3.74 seconds...But that's because I shoot all the time; Someone later did it in 2.16 seconds, an IPSC State Shooting Team member. But the speed for my new guy wasn't a factor...I just wanted to see him transition the gun between targets safely, acquire the target and sight-picture, squeeze off the round and get hits. He did that. Job done.
I've got a few more sessions with this guy and will put him through his paces before we do the holster accreditation course; Once complete he'll be able to draw and shoot from a holstered position, walk around with the gun safe and holstered and generally be ready to shoot a few club matches. that's a month or so away though, maybe more. After a few more months, if proficient, he will get a sign-off which he can take to the police firearms branch to obtain his H-class (handgun) license. At that stage he'll be able to buy a single handgun.
I really enjoy teaching people to shoot; I represent the sport of shooting well I think, am a good ambassador for firearms, being safe and responsible and I promote the sport as enjoyable, rewarding and safe. When I consider some I've seen, at other ranges, I certainly know I'd want me teaching me, not some of the other jokers.
My club and range is a military run affair and no ass-fuckery is tolerated; It's strict, safety-focused and skills-based...Sure, we have loads of fun, but it's done safely.
I had a great time today, and whilst the only rounds I fired were the five I shot to demonstrate the run to my student, I found it rewarding. Of course, it helps to have a few mates around, some good-natured picking on each other, and a commonality of interests. It's social and serious at the same time.
---
Design and create your ideal life, don't live it by default - Tomorrow isn't promised.
Be well
Discord: galenkp#9209
The firearm used was my CZ Shadow 2 9mm semi automatic as pictured.
---
---