Boring and tedious

I'm not a huge fan of boring and tedious things; It's no fun you see. I can think up hundreds of things I'd rather do than boring and tedious activities because, well because they are boring and tedious! Here's the thing though...I do boring and tedious stuff all the time.
I shoot hundreds of rounds each month; I usually shoot every week and between my rifle and handgun shooting would send somewhere between 200-300 rounds down-range each week. Over a year that's almost 16,000 rounds. I'd probably say more because when I'm working up for a competition the 300/week is probably more like 500! It's a lot of rounds.
I make my own ammunition for rifle and handgun and, due to the volume of rounds I shoot, I tend to be doing one element or the other of the reloading process every few days just to keep up with my ammunition requirements; I am a bit of a prepper also so don't like my stock of completed ammunition to dip below a certain level. I have...A lot - But always need more of course.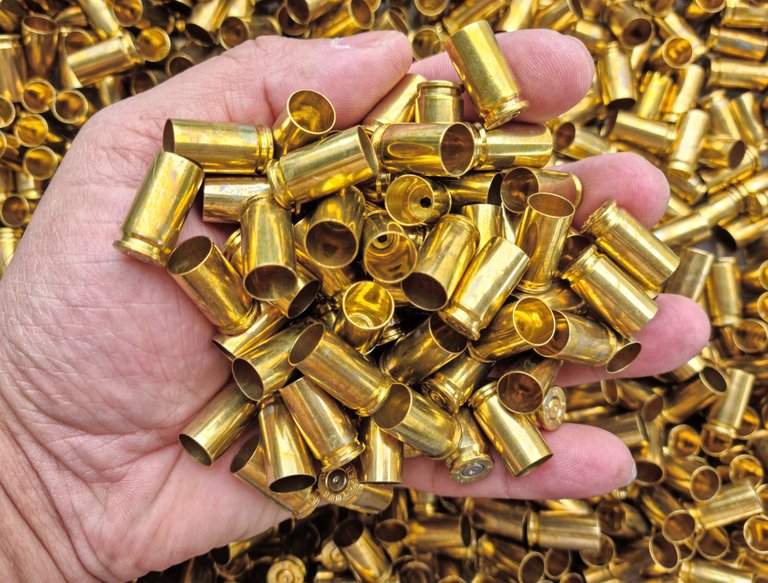 I don't mind the reloading process, in fact, I find it relaxing and am very fussy with my rifle ammunition, being a marksman and all; I am very precise with the process to ensure the rifle ammunition is constant from one to the other and meets the stringent tolerances I require to shoot accurately at great distance. The process for handguns is similar, but I'm not as particular; I need to punch out volume.
The process of making ones' own ammunition isn't difficult, it just requires a lot of care and attention to detail. Getting it wrong can be catastrophic so one must take care to get the equipment and process set up correctly and to check and recheck the work.
There's three phases of the process: Preparation, reloading and quality control. Of course, those three stages have multiple elements within them. Getting any element wrong can prove very dangerous when shooting so I do each with a lot of care...Which brings me to boring and tedious.
Because I reload my ammunition I have to collect the spent brass, the case that holds the primer, powder and projectile, for reloading purposes. They don't just get reused though; They must go through the preparation phase first, a process of many steps, the first of which is checking for damage.
Boring and tedious.
Above you can see me holding a handful of spent 9mm brass. You can see the inner section where the gun powder get's put and in a few you'll be able to make out the primer, the little silver thing with the dot in the middle. On pulling the trigger the primer is struck by the firing pin which ignites throwing that explosion into the case and the gun powder that awaits it. As that gun powder explodes gases expand and as there's only one way for the gasses to go, down the barrel and out of the muzzle, it pushes the projectile in front of it...Simple really.
As cases get used and reused they wear and sustain damage. There's a lot of forces involved in the firing process and it takes a toll on the brass. Essentially it stretches and the metallurgy make-up of the brass changes over time too; The heat cycles it goes through changes it, weakens it. Every time I reload a case it is resized back to factory specifications in a die which further manipulates the metal so over time they crack and split.
If I was to reload then fire a case that was split any number of things could happen, none of which would be very enjoyable, and most of which could end in damage to the gun, severe injury or even death...And so I do the boring and tedious thing.
Every single case goes through the process of being completely checked visually. I do this after the cleaning process which means I stay cleaner and am more likely to see any damage to the case. Checking each one only takes a couple of seconds but I can't do anything else at the same time like watch TV or have a chat. I usually listen to music though, and do a few thousand at a time. I hate it, but it's a necessary aspect of the reloading process.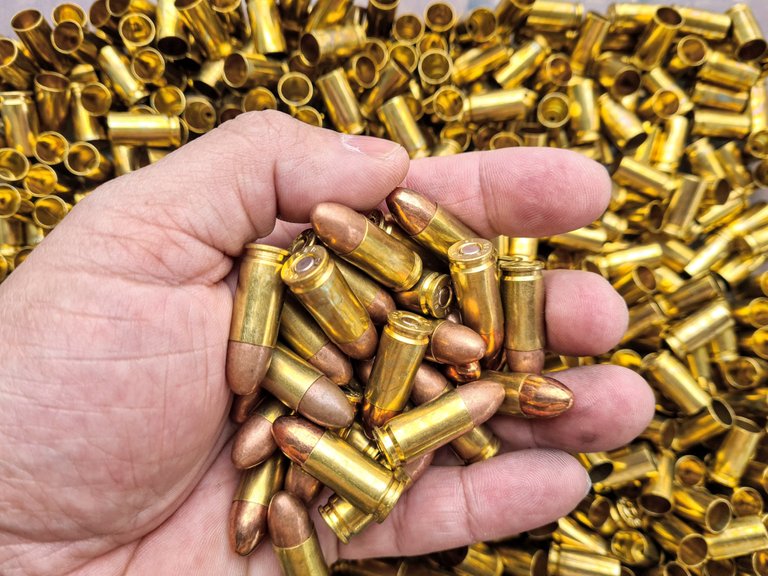 When I shoot handguns I'm not standing still and shooting at paper targets; I shoot IPSC which is a dynamic and practical form of shooting that simulates military and law enforcement scenarios that the shooter needs to strategise and shoot accurately and quickly. So, there's a lot of shooting.
A stage might last for only 10-20 seconds but 30-40 rounds might be shot in that time with running, climbing, opening doors and stuff like that in between. It's pretty hectic and there's a lot of trigger-pulling. Should I have a bad round in the magazine...Well, all sorts of things can go wrong. That's why the process of reloading starts with the boring and tedious process of checking the cases for damage.
My rifle rounds generally get 4-6 reloads each. I run a lot of powder in them, a precise and tested amount, to maximise accuracy through a constant standard deviation (SD) of muzzle velocity (MV); My rifle rounds run a tolerance of under 10 feet per second (fps) in muzzle velocity. That means all of my .243 rounds, for instance, which run at 2914 fps at the muzzle deviate only +/- 10 fps. It's important for repeatability and knowing what's going to happen as the MV is critical to the calculations required to place the round on the target.
Because I run them so fast the cases wear pretty quickly but because I'm not shooting hundreds at a time it's not so boring and tedious to check them. The handgun ammunition is different and lasts a little longer, but then again I shoot so many so the process to check them takes longer.
Anyway, this afternoon I've set aside a few hours to check over a few thousand 9mm cases. I'll throw on some country music, Luke Combs today I think, and embrace the boring and tedious side of shooting.
Have you guys ever done something you find boring and tedious but essential? Many cold say their job I suppose, but I mean something like a hobby or some such thing. Tell me about it below.
---
Design and create your ideal life, don't live it by default - Tomorrow isn't promised.
Be well
Discord: galenkp#9209
Engage the weekend Community - A community dedicated to the weekend!
---
---