Over the last few years I've been heavily involved in the organisation and running of a practical shooting event held three to four times a year in various locations around the State. It's a volunteer thing, meaning it's simply a group of us who get together and put on the event using our own money for equipment and targets. Over the years it's attracted huge interest from shooters from all over the State, several from around the country, and the industry also. It's regarded as an extremely well-run and enjoyable event.
We started it for fun and to give a little back to a sport that has provided so much enjoyment for us over many years, and as a way to introduce new people to firearms and practical shooting.
Events are a mix of single day and two events although us organisers generally have to give up two to three days as they are held at ranges all over the State, some up to five hours away.
We attract around a hundred or so shooters each time and they come from all walks of life including military and law enforcement to farmers, competition and range shooters and people who have had hardly any exposure to practical shooting.
They are fast-past events where shooters compete in various stages we design using props, obstacles, barricades, moving targets and of course running and gunning. It's all timed and scored so speed and accuracy must combine for a person to place well in the standings. It is a lot of fun for the shooters as it allows them to do things they are usually not able to do at a range.
We get very creative with our stage designs and our targets are reactive meaning when hit they provide feedback; They drop or activate other targets that pop up, out and run along rails and cables...It's very dynamic.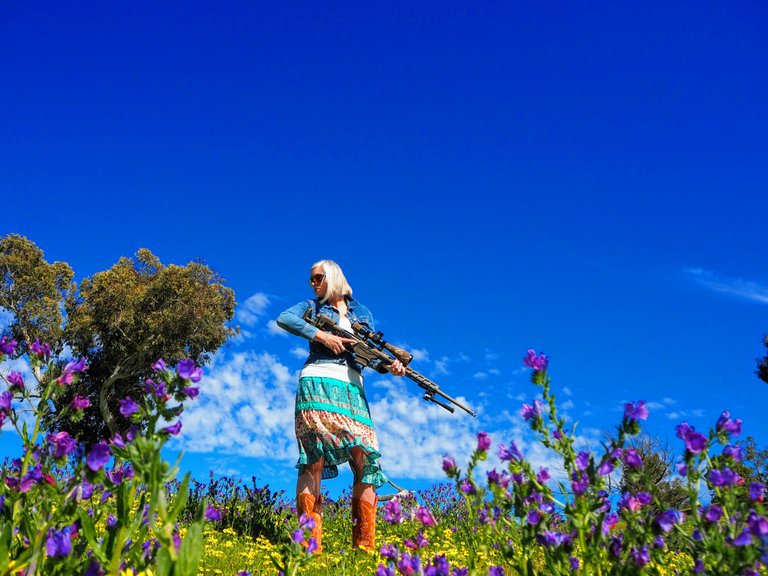 Here's the thing though...In none of the many competitions I have been involved in have I actually ever shot a full event myself! I shoot the stages on set up day to make sure they work well but that's different, there's no competition-pressure.
That's changing in a few weeks though.
I'm not a stranger to shooting competitions as I compete in long range matches all over the country; These events are usually quite serious and use centrefire rifles like the one my wife is holding in the image above; That's my long range competition rifle. I also shoot handgun matches, also run and gun style. That's what practical shooting means - The stages simulate real-world military, law enforcement and hunting scenarios where the shooter has to apply strategy, speed and accuracy.
This competition is similar but uses a rimfire rifles (.22LR calibre) and I haven't done much .22LR shooting at all, certainly not in competition. You can see the rifle I'll be competing with on the right below. It's the CZ 515 with a red dot scope.
This rifle is a very rapid-firing system being almost as fast to shoot as a semi-automatic rifle which, of course, are not permitted here for mainstream firearms owners.
In the lead-up to the event I've been practicing and I'm emptying the ten round magazine, aimed shots, in five to six seconds. Not as fast as a semi, but not too far off. I'm going to do well at the event for that reason, the speed, as scoring is done by dividing the points scored by the time elapsed to get a hit factor...I'll be fast with this gun, much faster than a bolt action rifle shooter and my competition and other shooting experiences will help. Of course, as an event organiser I will be excluded from the results. It wouldn't be fair to charge shooters $70 entry fee and then kick their asses now would it?
Because I'm shooting in the event I'll be let off from my normal event duties as a range officer and will be able to relax and have some fun which is what I'm looking forward to. I have to head up there the day before and set up then pack up afterwards though, there's no getting out of that.
I'm looking forward to this event, the weekend in general, as it's a chance to de-stress from a few pressures Faith and I have going on at the moment and I will be able to distance myself from it a little; A lot really I guess considering the event is being held over two days of competition and the set up day and is at a location 300 kilometres from home! Faith won't be coming with me this time so I'll be able to kick back and chill...After the shooting stages of course, I'll be intense and focused when competing.
Today I was out having a practice and setting up a few things on the rifle in preparation. I put a few hundred rounds through it with zero magazine feed-issues which is pretty good considering the .22LR is somewhat prone to them. I'm happy with the rifle and am pretty much ready to go.
---
Design and create your ideal life, don't live it by default - Tomorrow isn't promised.
Be well
Discord: galenkp#9209