Sometimes doing it in the same position gets boring and at other times it's just not possible. A little variety can go a long way towards keeping things interesting, and at those times when there's no real choice changing things up gives one better results.
I'm referring to shooting positions of course; Shooting in odd, awkward, uncomfortable or confined positions...All of which bring their own unique set of challenges to the shooter, process and the end result.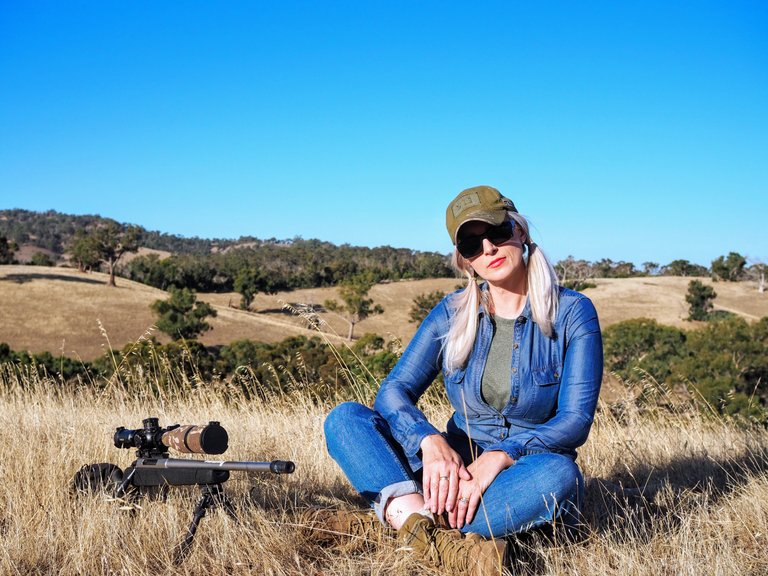 As a long range shooter, one who shoots to kill when culling on the farm, and also in competition around the country, I'm constantly seeking accuracy. However the process of placing a projectile onto a target at long range, being accurate, isn't as simple as taking the time to aim and trigger-pull. Many, many factors come into play when shooting at long range (shooting in general really) and one of those is having the ability to adapt to, and deal with, varied shooting conditions and positions.
Whether clinging onto the side of a mountain, laying prone at a range or in tall grass, curled up in a crevice between rocks, kneeling in the open, resting on a tree, a window sill, fallen log...No matter where one happens to be shooting, being able to work around the obstacle, the shooting position, is paramount to an effective shot.
In the events I shoot in, practical competitions, the event organisers go out of their way to create barricades and obstacles to challenge the shooters ability to adapt to, and overcome, difficult shooting positions.
Some of the obstacles are diabolical, and some not so bad, but all present a challenge. Add in some distance to the shot, in competition it could be 300-1500m or so, and it all adds up to a massive challenge.
Below you can see me shooting a stage at an event; This is actually mid-stage and if you look carefully you will see three spent cases on the ground. I'm sitting on the obstacle and to my left there is another, with a gap between.
The stage was three shots from three positions: The taller platform to my left, the standing position (which is the wooden beam directly above my head) and the seated where the image shows me. The range was about 600m, 490 and 420m and the targets about the size of an adult human head or slightly smaller.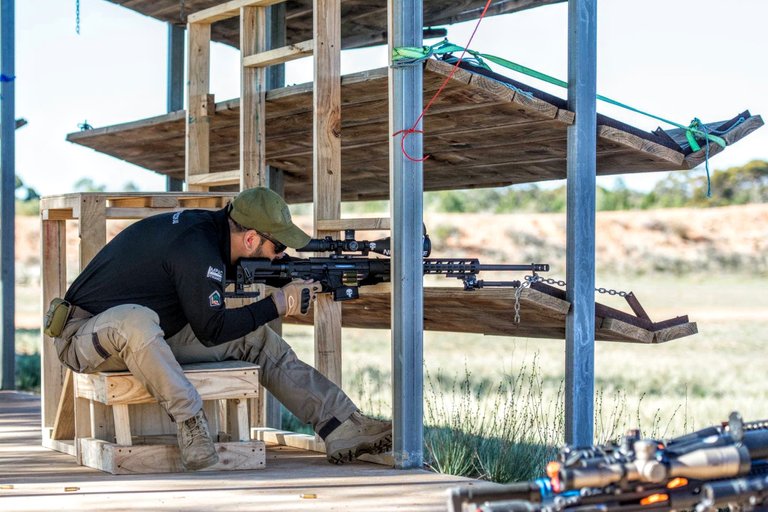 Each position was specifically designed to be odd, uncomfortable and awkward. The seated position was too low to comfortably sit, the taller position too tall and the standing position also too tall. To make matters worse when using the left and right platforms none of the body was permitted to touch the ground. (You can see my left foot almost touching, but not.)
It was a pain in the ass, but typical for a competition; In fact it was one of the easier ones I've shot, but I got mixed results. The time for the stage was 60 seconds...That's just under 7 seconds per shot plus the moving, getting into position, aiming, reading the wind conditions, the actual breathing and shooting process, acquiring new targets, reloading etc. It all comes together into a pretty challenging thing.
The event organisers have no shortage of diabolical challenges but I won't go into them all here. I might outline some at some later date but considering no two are ever the same there's a long list of them.
Working around these challenges is critical to event-success (and the mitigation of potential embarrassment). So, I spend time training and practicing shooting it odd and stressed positions and conditions.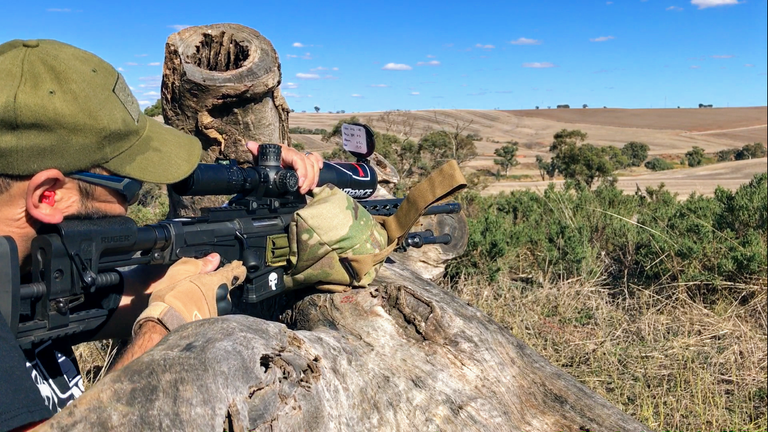 Above you can see me at one of my training locations, resting on a fallen log. I go to this spot which has some ruins on it, some 150-170 years old, and with a mate we practice all sorts of shooting positions challenging each other with more complex and difficult ones and shooting out to pretty decent distances. A day here would normally see 150-200 rounds sent and could be some 5-6 hours of training. It's actually a lot of fun though.
We typically video some of the runs which helps highlight areas for improvement and what we may have done really well also. I keep all the videos and some time in the future will show you a few of them.
Like anything one wants to do well, shooting takes practice and effort. It's not as easy as the movies make it look and adding in obstacles, odd shooting positions, a timer and longer ranges all adds to the complexity. For me this is just fun though; I don't compete for prizes or money although that's certainly there and I've taken my fair share. I do it for the enjoyment.
Having said the above, I'm not the sort of dude who wants to come in second place and if I attempt something I apply effort and hard work with the view to do it as best I can. That's why I'm always practising doing it in odd positions.
---
Design and create your ideal life, don't live it by default - Tomorrow isn't promised.
Be well
Discord: galenkp#9209