Fire release fire
Sunday...I had a list of DIY/handyman jobs to do at home planned...I even wrote a list! However as all good military men know no plan survives contact with the enemy and things went south with my plans. Don't worry, I still got most of the jobs done, just not all...You see, I went to the range instead! Bad G-dog, bad! 😁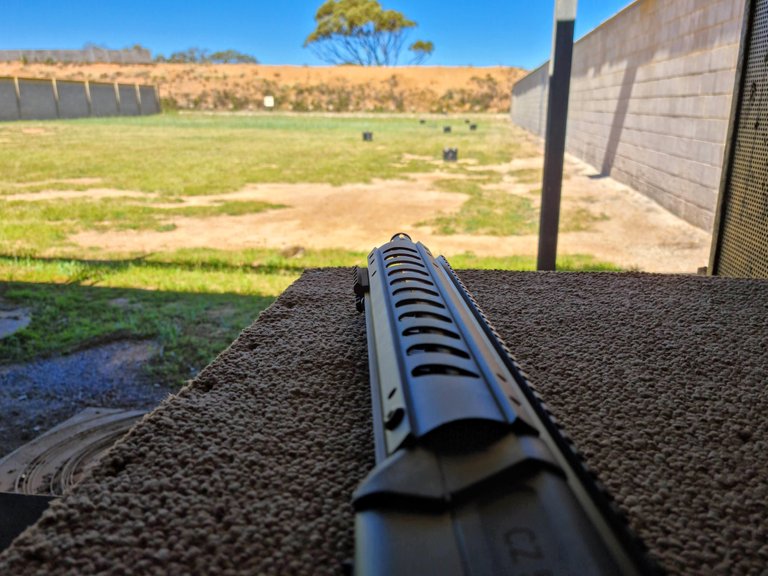 I've been considering purchasing a new firearm recently and last night a mate called and told me one would be available to shoot today at the range; How could I resist? It's not often a person gets to shoot a gun prior to buying it so I went.
The CZ 515
This .22LR rifle is new to Australia, unique actually as there are no other rifles of its kind available. It is an extremely fast-shooting rifle and has proven to be very reliable and accurate.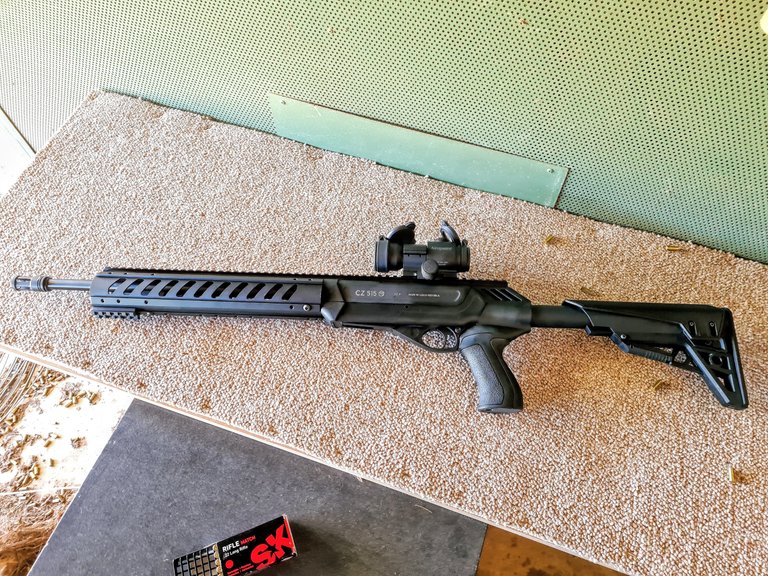 The CZ 515 .22LR tactical rifle.
The rifle is what's called a lever release bolt action rifle and is designed for hunters and target shooters alike. My use for it would be hunting around 70% of the time, small game only. The other 30% would be competition use; Practical run and gun events and general plinking for fun, shooting and breathing practice.
This rifle fires standard and high velocity ammunition and uses the gas to throw the bolt back automatically rather than a standard manual operation bolt. It is fitted with a bolt-stop in the rear (open) position and a lever to close it and chamber the next round. This means the rifle can be fired very quickly; I was getting just over two aimed shots per second from it.
As semi-automatic rifles are heavily restricted to certain very-difficult to obtain licenses here this is about as close to semi-auto as most could ever get.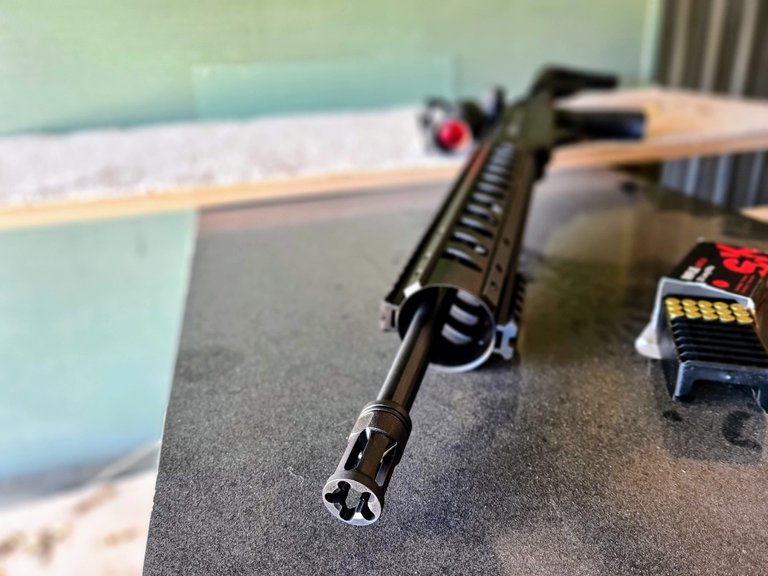 Today I was getting a feel for it and, I have to say, the rifle feels very nice in the hands; It's light, well-balanced and the adjustable stock means it can be set up specifically for the shooter.
The one I shot today was mounted with a red-dot sight which made shooting much further than 50 metres a little difficult although at 50 meters I was holding dead-on a round 3 inch steel plate target and hitting it every time; It's a very accurate gun. That was bench-rested on a shooting bag.
I was able to hit the target freestanding 80% percent of the time so I'm pretty happy with the accuracy; The missing was operator error. Further to that, my mate was shooting half MOA groups on paper at 25 metres last week so I'm pretty confident in its capability to shoot accurately and repeatably. (Half an MOA, minute of angle, at 25 metres is 1/8 of an inch, or 0.3cm - So basically hole in hole.)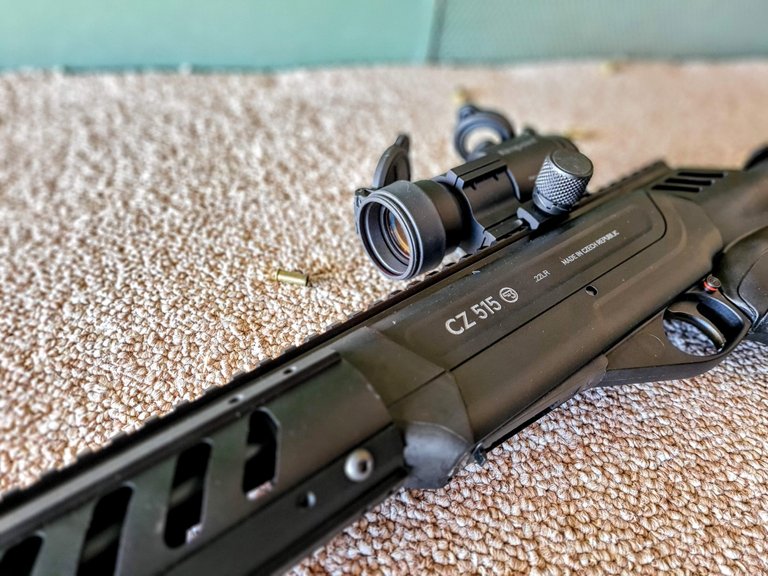 This tactical version of the rifle comes with a pistol grip and two-way adjustable stock; The length and cheek-riser is adjustable. A picatinny rail sits atop the full length barrel-shroud and my mate has mounted a front picatinny rail under the barrel-shroud for the mounting of a bipod. It is sold with a 10rd polymer magazine and is compatible with the CZ455 and CZ457 magazines as well. There is also a 25rd magazine available.
Why is it so fast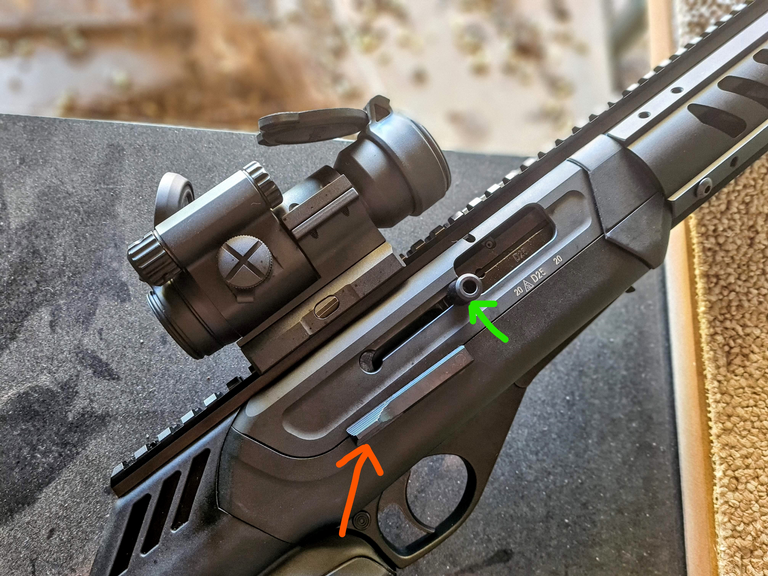 The cocking lever in green and bolt release in red are shown here.
When this rifle fires a round it uses the gases generated to blow back the bolt automatically; The bolt-stop catches it and holds it open. If it closed and chambered the next round ready to fire the rifle would be semi-automatic.
Instead of closing it is held back until the operator depresses a lever mounted just above the trigger and the bolt snaps-closed, chambers the round and is ready to fire once again. If the operator gets into a good rhythm the 10rd magazine could be fired in only a few seconds. My fastest, with aimed shots was about 5.5 seconds measured with an electronic shot timer. Keeping in mind this was only at a 25 metre target; With greater distance a little additional aiming-time would be required.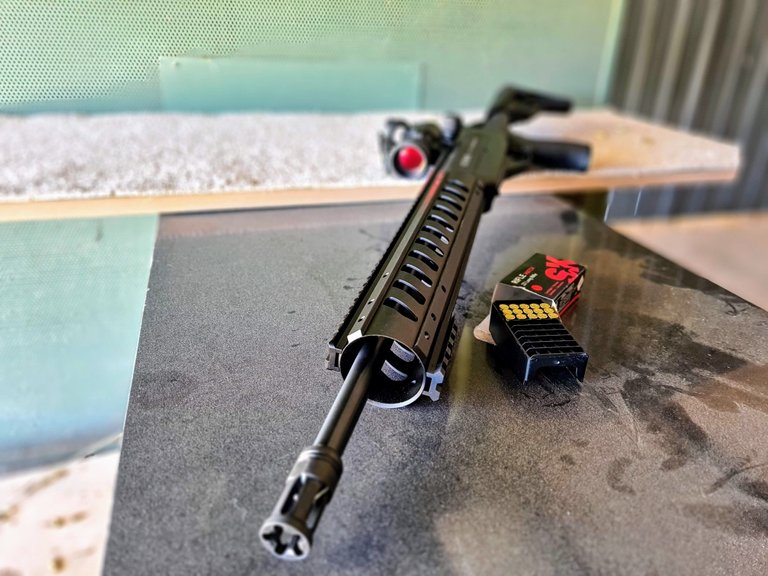 Some may find the grip a little odd considering the right thumb rests on the bolt-release lever rather than fitted snuggly around the pistol grip but this is the grip I use for long range rifle shooting so it felt normal. It means this rifle can be fired very quickly. Fire release, fire release, fire release. Those three shots would take slightly over a second.
When hunting it's very unlikely I'd need to fire that quickly but in a run and gun event where I may be running along shooting targets left and right as quickly as possible it would be perfect.
After shooting the rifle today I'm fairly sold on it. I would probably remove the red dot sight and put a scope with a reticle on it though; That would extend the range as sometimes the .22LR competitions I shoot have long-range stages out past 150 metres, a long shot for a .22 to make. Having a scope that tracks well with a suitable reticle is necessary too as the red dot generally obscures the target at that range.
This rifle is a lot more expensive than a CZ bolt action .22LR rifle which one could buy new (unscoped) for about $600-$700. This one is $1295 (unscoped) and a suitable scope would be in the vicinity of $550 on top of that. It sounds expensive I guess, but when you consider my long range guns start around $5,500 plus a scope at $4,000 it's cheap! The ammunition is cheap too at about $8/50 as opposed to up to $1/round for my long range ammunition.
It's what makes .22LR rifle and handgun shooting so attractive, and why it's very popular. It's cheap! Once can shoot all day and only cost themselves $20 in ammunition.
I haven't made my mind up on buying this gun yet although it's worth buying in my opinion. It's a great shooter and comes with some additional cool-factor due to it's rapid-fire capabilities.
Anyway, that was Sunday...Sure, maybe I neglected my home-maintenance duties somewhat but 80% of the jobs got done after I got home from the range and I had the chance to fire a gun before buying it...Something that one doesn't always get to do.
If you've got any questions or comments drop them below, I'm around and will answer. 👇
---
Design and create your ideal life, don't live it by default - Tomorrow isn't promised.
Be well
Discord: galenkp#9209
Subscribe to THE PEW a hive community for all things firearms, archery, hunting and prepping.
---
---