Hobby friendships
Last weekend I went shooting with a few mates to work on some shooting stage designs for a competition we will be running in October. You can read about it here if you want to take a look at the post from last week.
Essentially, the weekend was about testing shooting-stages in the field to make sure they worked from a practical perspective and we hadn't made them too difficult, easy or boring. We generally just set up each stage and shoot it, as we designed it on paper, and see if it works.
We had a little fun shooting them, tweaking the design and timing and then documenting it so we know exactly what to do when we get back to the property in October the week before competition to set up. Of course, we also indulged in some long range shooting, just for fun, with a couple of us making repeated shots out to a shade over 1400 metres (1531 yards) on 15 inch steel targets which is quite satisfying.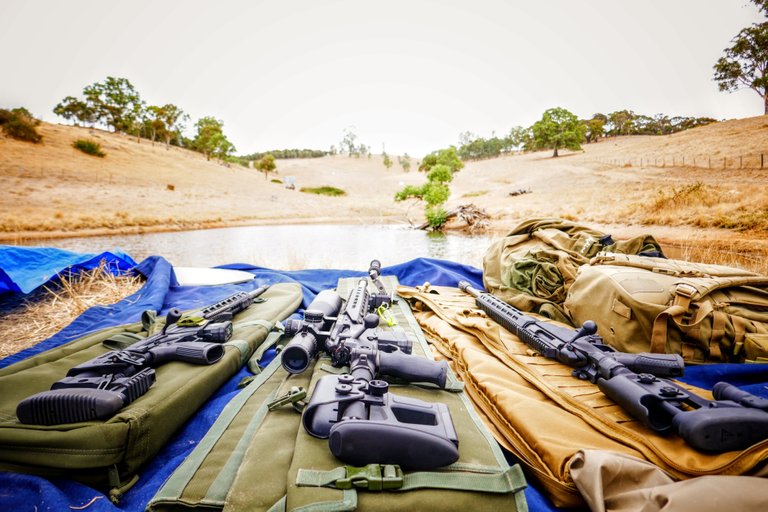 Some shooting sticks.
When the shooting stopped we packed up and headed back to camp to get the fire going as the nights were down at zero degrees celcius; We needed warmth and had to sear some beef flesh on the grill for dinner, hamburgers, and to brew up some coffee. It's also nice to have a fire to sit around and inevitably that's when the bullshit starts.
OK, it's not all bullshit...Some of what we talk about isn't lies at all! One thing's for certain though, the talk is spirited, often inappropriate and usually very funny. Sometimes we have pretty good conversations though and on Saturday night this was the case.
The guys I was with are all former military guys but now one is a police officer, one a farmer and the other lectures economics at one of the universities here in South Australia, and I do what I do. What I find interesting though is the way people who shoot guns are labelled by those who don't;Labelled incorrectly most often. That's what we were talking about; Perception, or false perception more to the point.
You see, all of us have been judged negatively by those who don't shoot or own firearms; It's as if having a gun automatically reduces one's intelligence in their eyes, and makes us cruel or cold-hearted killers...It's really dumb, and not at all true mostly.
Anyway, we had a great chat about the topic and shared some funny stories of conversations we've had with non-shooters or times we've been judged poorly just for being a gun owner; Here in Australia most firearms owners have had it happen.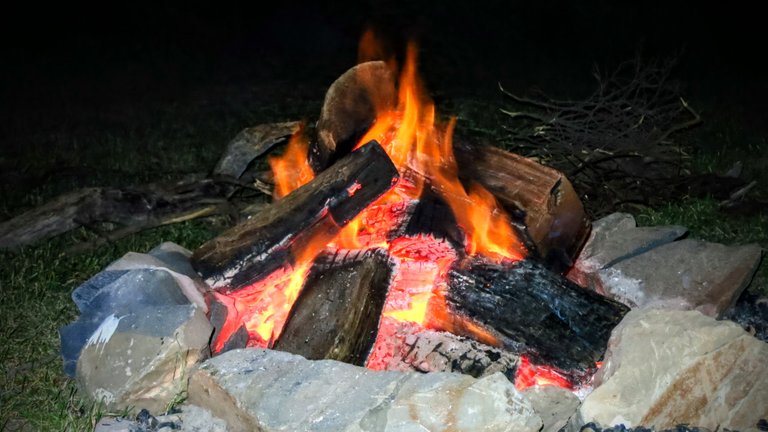 Legit campfire huh?
We sat up late into the night talking about that, then guns, the competition, the military, state of affairs around the world and mates we have lost and miss, our jobs and any number of other things...All whilst chomping burgers and snacks, and sipping coffee...OK, one of the fellas brought a few bottles of a pretty good merlot and some all of it may have been consumed, albeit it from our coffee cups; No fancy glasses in sight! Overall it was a really nice night spend with some legitimately interesting people.
I've been shooting for a long time...I started at around the age of 20 so for the better part of 30 years I've been pulling triggers and sending rounds; I love it. Having said that though, it's the people I met and have befriended through being a shooter that has provided the most enjoyment and value. Yes, shooting guns is very enjoyable and rewarding, but without those guys and gals I've met along the way it would feel a little hollow and certainly wouldn't have been as enjoyable.
I've played team sports in my life and found a similar feeling but with gun owners it feels a little different; We connect differently. Maybe that's because the fact owning guns connects us in ways non-gun owners will never understand.
So how about you? What activities have you done that draw you together with like-minded people. Have you found them to add value to your hobby or activity? Have you built lasting friendships from hobbies, sports or other activities?
Comment below and tell me about it.
---
Design and create your ideal life, don't live it by default - Tomorrow isn't promised.
Be well
Discord: galenkp#9209
---
---