Isaac Newton's third law
Over the last week or so I've had my brother here in South Australia; He lives almost 4,000 kilometres away at the top of Australia and we don't get to see each other much so we did a lot of stuff together including some shooting which is quite foreign to him as he doesn't have guns.
I took him to the farm I shoot on and I also took one of my handguns as I've wanted to try something out for a while and needed two people to do it. Him being here gave me the chance.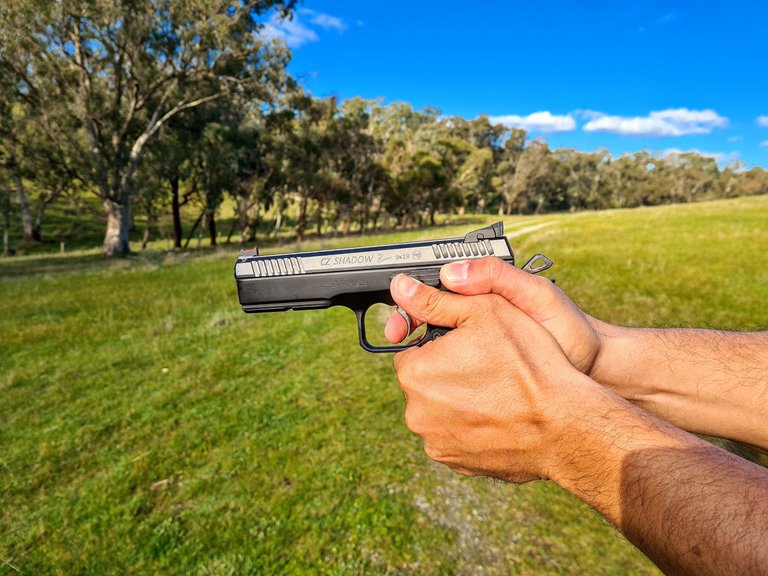 Above you can see his grip on the gun. This is a legitimate grip to use as it controls recoil really well. I taught him to assert an equal amount of force on the gun with each hand and to tilt his wrists slightly forward which helps manage the recoil. It needs work, the recoil-management part, but he went pretty well.
Below is what I wanted to try...A set of sequential photos on my phone of the gun actually firing. Now, before you tell me they're shit you need to remember it's a phone and that the gun firing happens very quickly so capturing it in every stage of the firing process is very difficult; The phone simply can't take photos that quickly. It came out ok though I think.

From left to right above you can see the pre-firing position then the slide fully open. This means he has pulled the trigger and the bullet has left the gun. Obviously the energy of the shot firing opens the slide, ejects the spent case and closes again, picking up a new round from the magazine on the way. It's then ready to fire again.
In the right image above you can see I've circled the spent case which has been ejected from the chamber. You may need to blow the image up to see it. Also note where the gun is pointing. The recoil has forced the gun upwards. It's because of physics.
That's Isaac Newton's third law of motion in action: "For every action, there is an equal and opposite reaction."

This set of images above is interesting for a couple of reasons too. Firstly you can now clearly see the spent case flying away through the air against the blue sky. What I find more interesting though, is where the gun is now pointing; Namely, downward.
In a competition, or real-world scenario a second shot may be required. Double-tapping the target ensures it is eliminated and in a competition scenario it is a requirement to double tap targets which simulates a real-world scenario. It happens very quickly usually, a good shooter will shoot three to four aimed rounds per second if and when required.
Here's the thing though...The gun is not pointing at the target anymore is it? It's pointing downwards...That's ok if you want to shoot a bloke in the balls, but generally the chest or head is recommended. In a competition scenario the same thing applies...There's now points for missing.
What my brother is doing here is over-compensating for the recoil; It's a common thing with new shooters. He has his wrists locked forward slightly, as I told him to do, but he's pushing forward a little too much. A second shot now would miss the target.
We worked on it a little and he got the hang of it after a few rounds. We did some more practice at the range a few days later too. He did pretty well.
Another thing he has done wring here is remove his finger from the trigger which you can see in the above right image.
I think this series of shots is interesting as it demonstrates the recoil very well. This handgun is a 9mm so other calibres will recoil way more than this also, and require more recoil management.
It shows the importance of managing the recoil and the idiocy of the movies where you see little, or no, recoil at all when they shoot. This is because the rounds they use are blanks, they have hardly any gunpowder in them and the recoil springs are very light.
One of these days I'll get Faith to come along and I'll get her to take some footage with my GoPro, which I will be able to lift individual photos off, permitting me to show more of the process better. I think these images are cool though, and prove a point.
I wanted to add in a bonus photo of my brother shooting a few days later. This is whilst I was doing some training with him at my gun range so the distance to the target is quite close, about 8 metres or so.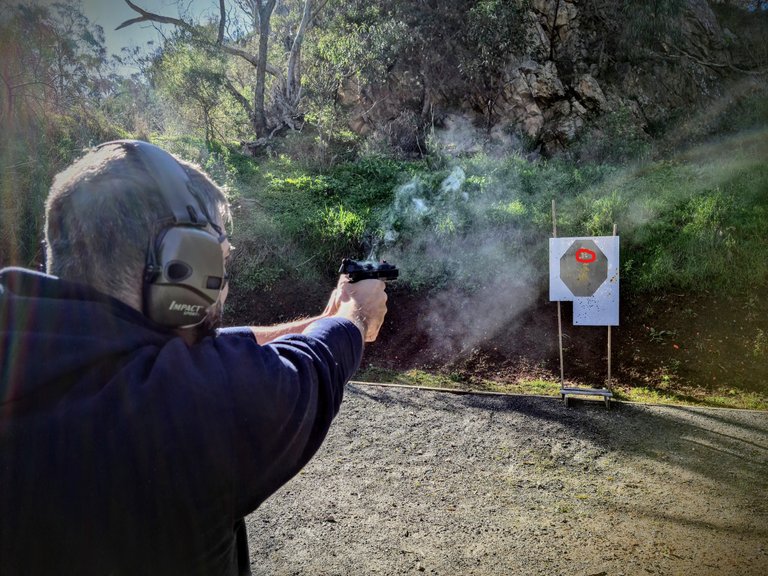 I've circled the group he was shooting but more interesting is the fact I managed to take the shot just as he had fired. You can see the gun is open (the slide is back) and I captured the smoke of the gunpowder exploding. You might need to blow it up a little to see the effect. I think it's cool.
My brother and his wife had an absolute blast shooting with me and are now talking about getting their firearms licenses which I think is a good idea. They were really impressed with how safe it was and a little surprised at how difficult it actually is...Difficult to do well at it I mean. Anyone can shoot a gun, but it takes work and effort to do it well, accurately and quickly.
---
Design and create your ideal life, don't live it by default - Tomorrow isn't promised.
Be well
Discord: galenkp#9209
---
---