Looking for the weekend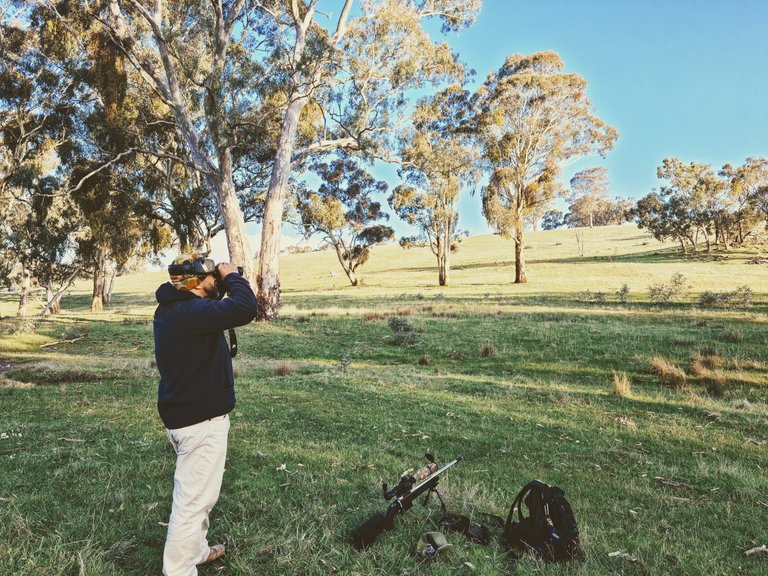 Is it ever too early in the week to start scoping for the weekend? I'll be honest with you hive team...No is the only possible answer to this question. Come on...Don't you agree? Come on!
So, it's just gone 9pm and I have just returned home from work...Yes, I know...WTF! I don't normally work this late but had a full day and, well I won't lie here folks...I'm over it! (The week I mean.) Come on the weekend!
I'm going shooting this weekend, as I do most weekends but this week it's a little different as I'm heading well north of home, about 300km north, to test out a few targets and stages for a big competition I'm involved in as an organiser and range officer due to run in late October. As an organiser I don't get to compete although I get to design, set up and test all the stages and targets beforehand which can be a lot of fun.
This weekend we're testing some long range stages so I'll get to give one of my long range guns a run, blow the cobwebs out so to speak...As if the G-dog let's cobwebs get anywhere hear his guns! Never happens. I'll get to bang away behind a long gun at decent range, over 1200 metres (1312 yards), and test both targets and stage/course design all weekend.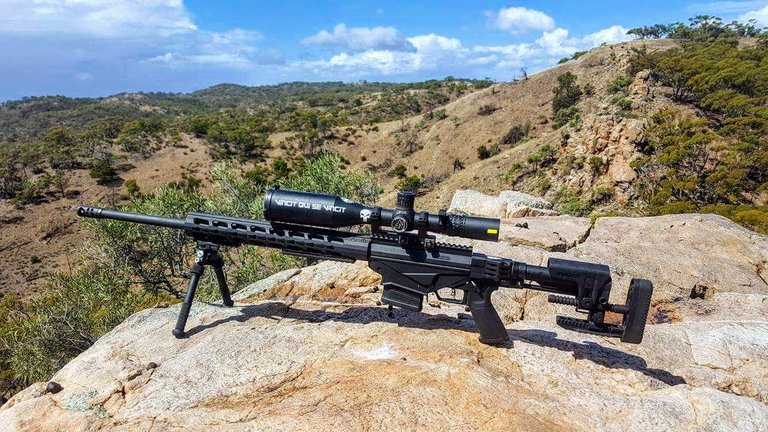 When designing stages for competitions be it long range practical rifle, shorter range rim-fire rifle or handgun competitions it is important to ensure that the stages fit the brief or scope of competition; Some have set regulations that must be met and others are for fun and so those stages must be shootable for a range of skill-levels. This is why we spend so much time designing and testing the stages. If we were to get it wrong a competition stage could be too easy, too hard or simply too boring...We build in an element of challenge to test and push the shooters skills but people won't come back if it's not fun or the stages are simply too difficult to shoot. It takes some effort.
I like doing this sort of thing, designing and testing stages, as it can be quite technical but creative at the same time. We focus on simulating real-world situations and occasionally make up some super fun stages.
One we did for fun was called zombies designed for a two man shooting team...It went like this:
Start standing side by side with all equipment: Gun, ammunition and back packs.
Run 30 metres to a simulated boat which was in fact a 6x6 foot platform suspended off the ground by a long chain at each corner so it rocks around like the deck of a boat on the ocean. Climb on the boat and shoot at two zombies (steel targets) at 550m. When both shooters have hit their targets twice each they can move on.
Exit the boat and run 30 metres to the house (A cubby house).
One shooter climbs inside and engages two zombies (steel targets) at 450 metres and when hit twice each the shooter exits and moves to the second shooter, removes that shooters magazine from his backpack and hands to the second shooter.
Second shooter loads rifle and climbs angled roof of house and engages two zombies (steel targets) at 675 metres. When when hit twice each both shooters run back 60 metres to the boat, board it and engages the first two zombies again (they came back to life) and when hit the stage ends. Keep in mind the boat is moving all the time making the shots very difficult.
A maximum of two minutes was allotted for the stage. Only two teams made it back to the boat and none actually completed the entire stage leaving a targets un-shot through lack of time. It was pretty gruelling.
It was designed as a fun stage and it was a lot of fun! It combined an element of speed, teamwork, shooting skills and physicality. So, it's not a real-world scenario as we called the targets zombies but in a firefight it is not inconceivable that a marksman will need to do this sort of thing so it kind of worked. It was big hit on that particular two-day long range shooting event. I came forth over all on that weekend against some of the best long range shooters from around Australia...Not my best result ever, but the most satisfying considering the event and the entrants.
So...That's what my weekend has in store for me and why I'm so eager to see it come around. A few of my bro's will head north, camp over the weekend shoot during the day and tell lies around the campfire at night. Legit weekend? Yep!
---
Design and create your ideal life, don't live it by default - Tomorrow isn't promised.
Be well
Discord: galenkp#9209
---
---
P.s. The phrase on the scope of my gun in this image says:
Vincit qui se vincit which translates to he conquers, who conquers himself.
I have it there to remind myself that self-mastery is what is truly important...That beating my personal best is winning, rather than beating others.
---
---