Mad minute

Much like people, judging rifles on looks alone can bring the wrong conclusion - Especially for those who don't know firearms. Visually these two weapon-systems look completely different, but they're remarkably similar in fact. Both are bolt-action rifles and both have a removeable ten-round magazine. Differences can be found, when one digs a little deeper, but essentially both are the same.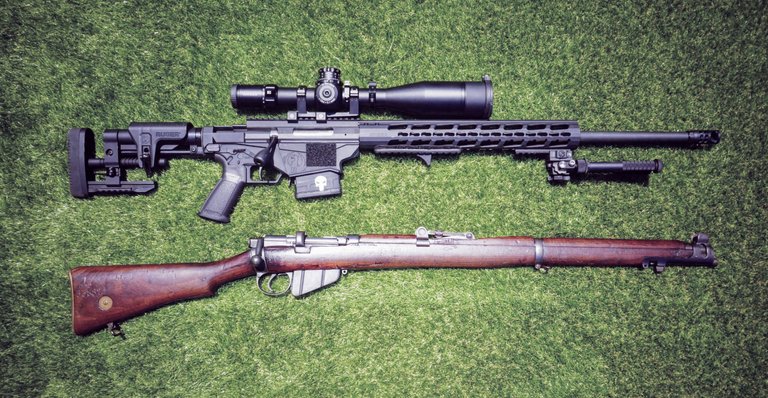 The wooden-stocked rifle is a .303 Short Magazine Lee–Enfield Mk III, which is typically shortened simply to SMLE, or affectionally and rather ignominiously, smelly.
The first iteration of this rifle was introduced to the British Army in 1895 as their standard rifle. It saw service in the South African Boer War fought between Britain and the two Boer Republics of Transvaal and the Orange Free State; My country supported the British Army of course, and our troops would have been issued the 1895 version of this rifle.
Over the years various improvements were made until, in 1907, the MkIII SMLE was introduced. The British and Commonwealth Countries like New Zealand, Canada, my own country of Australia and colonial armies in India and parts of Africa used it extensively.
The SMLE MkIII was used all the way through the First and Second World Wars to 1957; Interestingly it is still in service today with the Bangladesh Police and a few others. I'm serious.
Mine served in World War One has the scars to prove it. It was taken out of military service after the war though, stamped and decommissioned, made civilian, and I bought it with the matching bayonet and scabbard years ago. I'll do a proper post on it someday, with the bayonet and all...It's an evil looking thing when put together and was used to devastating effect; Getting a bayonet in the chest or stomach would have buggered up your day, for sure.
The other is a long range rifle by American company Sturm, Ruger & Co. or just Ruger and is one I compete with sometimes. The calibre is 6.5mm Creedmoor and it's scoped with the Kahles 624i(6-24x56) with the SKMR3 reticle in FFP...It's devastatingly accurate in the right hands and can land rounds on surprisingly small targets well downrange all day long. I love it - I guess because I am so good at shooting it; Comfort through confidence maybe? It's my current go-to rifle-system for long-range shooting.
---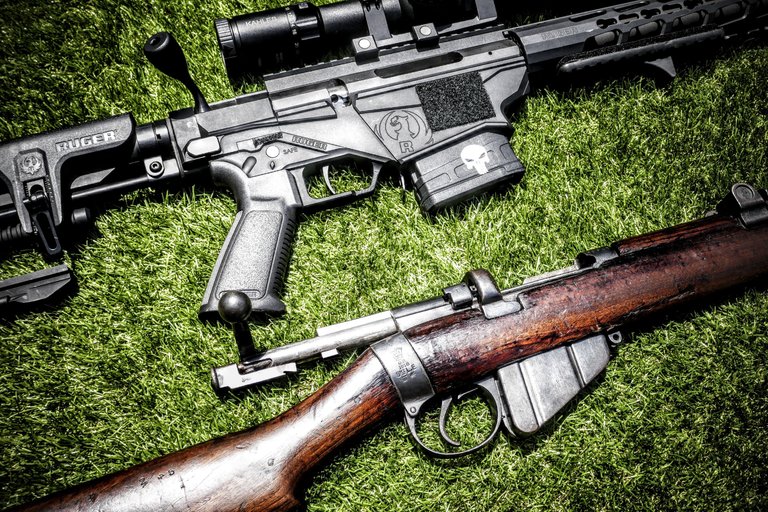 Sending it
Today I'll be shooting both of these rifles with the mission-objective being fun. Although, shooting a rifle that was made over a hundred years ago...Hmm...Better bring a mate.
I don't shoot the SMLE very much, despite how much fun it is to shoot, however today a mate would like to shoot it and that's good because I'm going to make him shoot the first rounds and I'll stand well back in case it blows up in his face. I like my face right where it is and am ugly enough without it being rearranged by exploding steel and wood.
Ok, so I'm kidding! It's not going to blow up and tear his face off at all...I think. It'll perform y'all, and work fine; I care for my firearms so this I know. It's going to be a good day I think, we're planning to do...
The mad minute
The mad minute is a speed-shooting drill used around World War One to train riflemen.
One needed to shoot fifteen rounds at a 300 yard target (274 metres) which was 48 inches square (about 1.2 x 1.2 meters). One started with four rounds in the magazine prior to the target appearing and had to reload by way of five round magazines from pouch or bandolier. Obviously the name indicates the rifleman had a single minute to perform the exercise an there was a minimum hit-percentage to qualify.
Riflemen soon worked out the way to do it was to palm the bolt which is using the palm of the hand to open, work and close the bolt leaving the trigger finger free to meet the trigger and thumb to re-grip the rifle each time and without removing the rifle from the cheek or changing line-of-sight. Typically working the bolt is done with the thumb and forefinger. The palming method made it far quicker to operate.
---
So, this is what we're setting up, just for fun, and we'll do some long-range shooting with our long-guns also; We'll probably spend time trying to kick each others ass at greater distances each time. We'll be shooting at a private property and have a range set up there out to two miles so there's room to operate. We will have a bite to eat out there too...Probably seared flesh on a grill, and some cold beverages...No alcohol though.
---
So that's my Saturday through to around mid-afternoon. I'll come home and spend time in the workshop cleaning guns and other manly stuff...Typical Saturday.
I hope y'all have a great weekend and have something cool planned also. Feel free to drop me a comment and let me know what you're doing, or to ask any questions which I'll be happy to answer.
---
Design and create your ideal life, don't live it by default - Tomorrow isn't promised so be humble and kind
Discord: galenkp#9209
---
---