My greatest competitor
Most weekends I can be found on the range - I train new and existing shooters, operate as a range officer, practice and compete. I sometimes just go there to hang out with my bros and bro-ette's and tell lies too, but usually I'm trigger-pulling.
I greatly enjoy my time there as it breaks me out of the everyday grind of work and life issues - It forces me to concentrate, to focus on the task, and that means I can eliminate some of the other stuff that rolls around in my noggin mostly.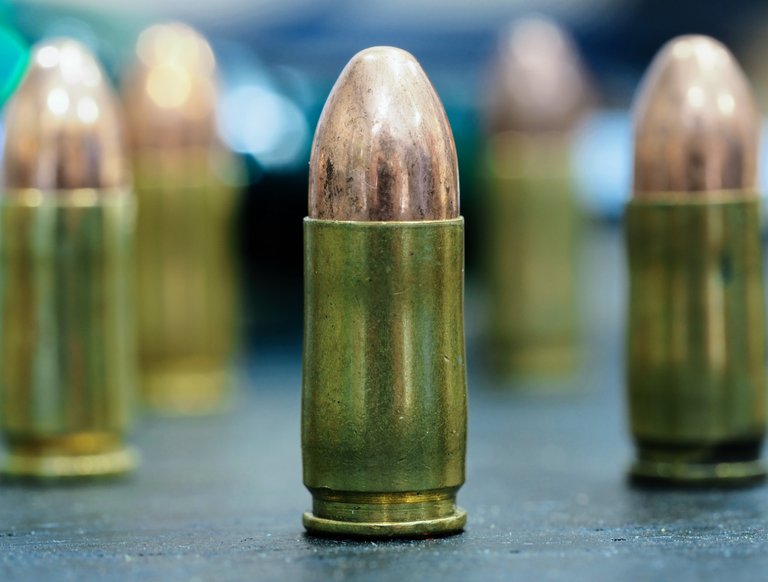 This was the case last Saturday when I turned up to compete in a club IPSC (International Practical Shooting Confederation) match - A run and gun shooting discipline that simulates practical, real world, shooting scenarios; It's fast-paced and involves a lot of shooting in short periods of time. Sometimes 30-40 rounds in only 20 or so seconds including magazine changes and the running.
I'm pretty good at it, not the best mind, just pretty good; I shoot so much, and have done so for so many years, so it's not surprising I'd get good I suppose.
I've been competitive all my life and always wanted to perform at my best no matter what I was doing. I don't see the point in aiming to be bad, or average at something. You've heard that saying, if it's worth doing, it's worth doing well, right?
As I've gotten older though, it's less about crushing my competition and more about optimum performance...I chase my personal best instead of needing to destroy the other competitors. Make no mistake, there's been times in my life when slaying the opposition was my only objective, but not anymore. Does that shift come with age? Hmm, I think not for me...It comes with wisdom, and wisdom doesn't always come with age.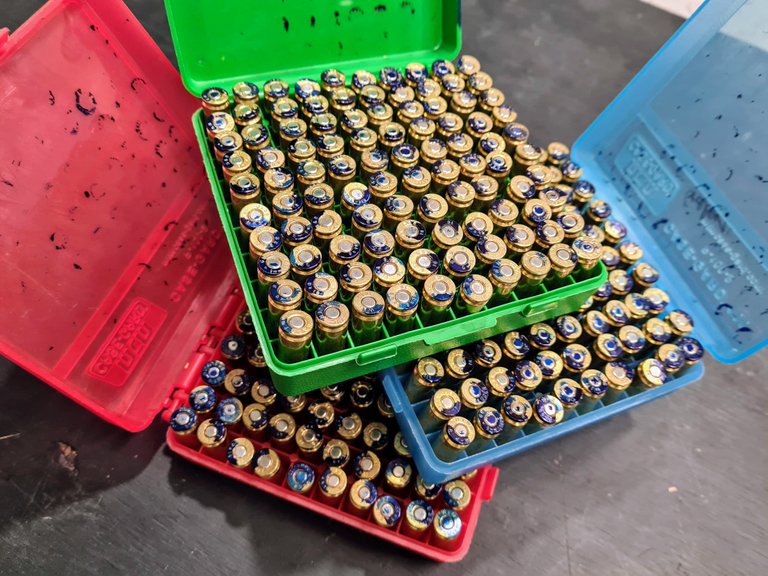 After the enjoyment of shooting comes the enjoyment of making more ammunition. Here's some of the 500 I made tonight. So satisfying.
Seeking my personal best requires the same diligence and effort as crushing competitors though...The difference is in the mindset and attitude, not the work that goes into it.
No one likes the feeling of losing I think, me included, although I've done my fair share of it. I used to hate losing despite being a good loser, able to deal with it well; I also won gracefully and with humility which is important. But losing wasn't my desired outcome, winning was.
That was a while ago. These days...Meh, I'm just there for fun. It doesn't matter if I'm playing Jenga or slinging lead down range at a furious rate, running and gunning, I just want have some fun...It's not like my life depends on the win. At the range and competitions all around the country my aim is my personal best and to represent well.
On Saturday I shot myself into seventh place out of 43 shooters. Hmm, not too bad. More importantly was my percentage against the winner who is given 100% as a total. Everyone else is graded off that percentage. I shot at 71.491% of the winner...I'm ok with that. But did that beat my personal best? You bet it did, by a fair margin. So...I declared that a good result.
I'm comfortable and confident with my abilities, and [mostly] the man I am. I've no need to prove anything, least of all at the range. What means the most to me is working hard towards gaining optimal performance, to beat my personal best.
My greatest competitor is myself and I work hard to perform the best I can against my last result - In everything! It's a nice way to be I think and I often wonder what my life would have been like had I reached this conclusion twenty years ago. Maybe I would have achieved greater success.
How about you? Are you a go for the jugular competitor or a who cares what happens type, or maybe even a personal-best seeker like me...Comment below and tell me.
---
Design and create your ideal life, don't live it by default - Tomorrow isn't promised.
Be well
Discord: galenkp#9209
---
---